Workshops
Recorded Webinars
Past Workshops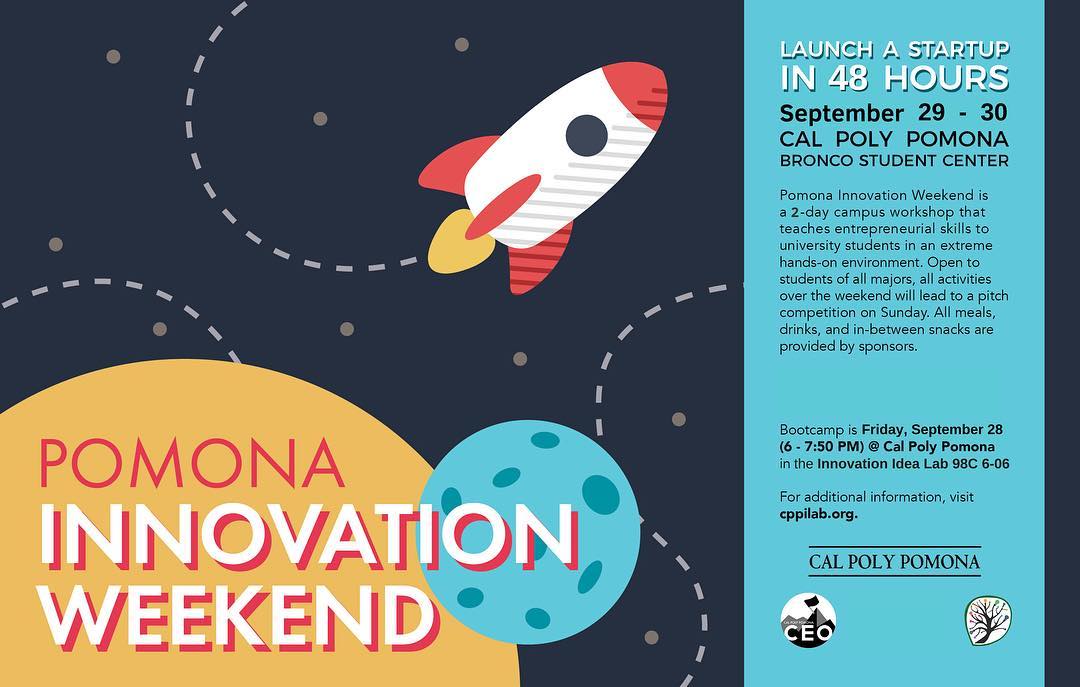 Innovation Weekend
Spring 2021 | 1 Session | via Zoom
Start: Apr 08, 2021, 7:00 PM
End:  Apr 10, 2021, 6:00 PM
Pomona Innovation Weekend is a FREE, two day, learn-by-doing campus workshop that teaches new venture creation skills to university students in an extreme hands-on environment. This workshop will allow you to experience what it takes to turn a bright idea into a for-profit, nonprofit, or social venture.
This year, students will work in teams to develop a frugal innovation that can be implemented in a disadvantaged community. This design sprint will challenge students to tackle complex problems a community is facing through collaboration and rapid prototyping.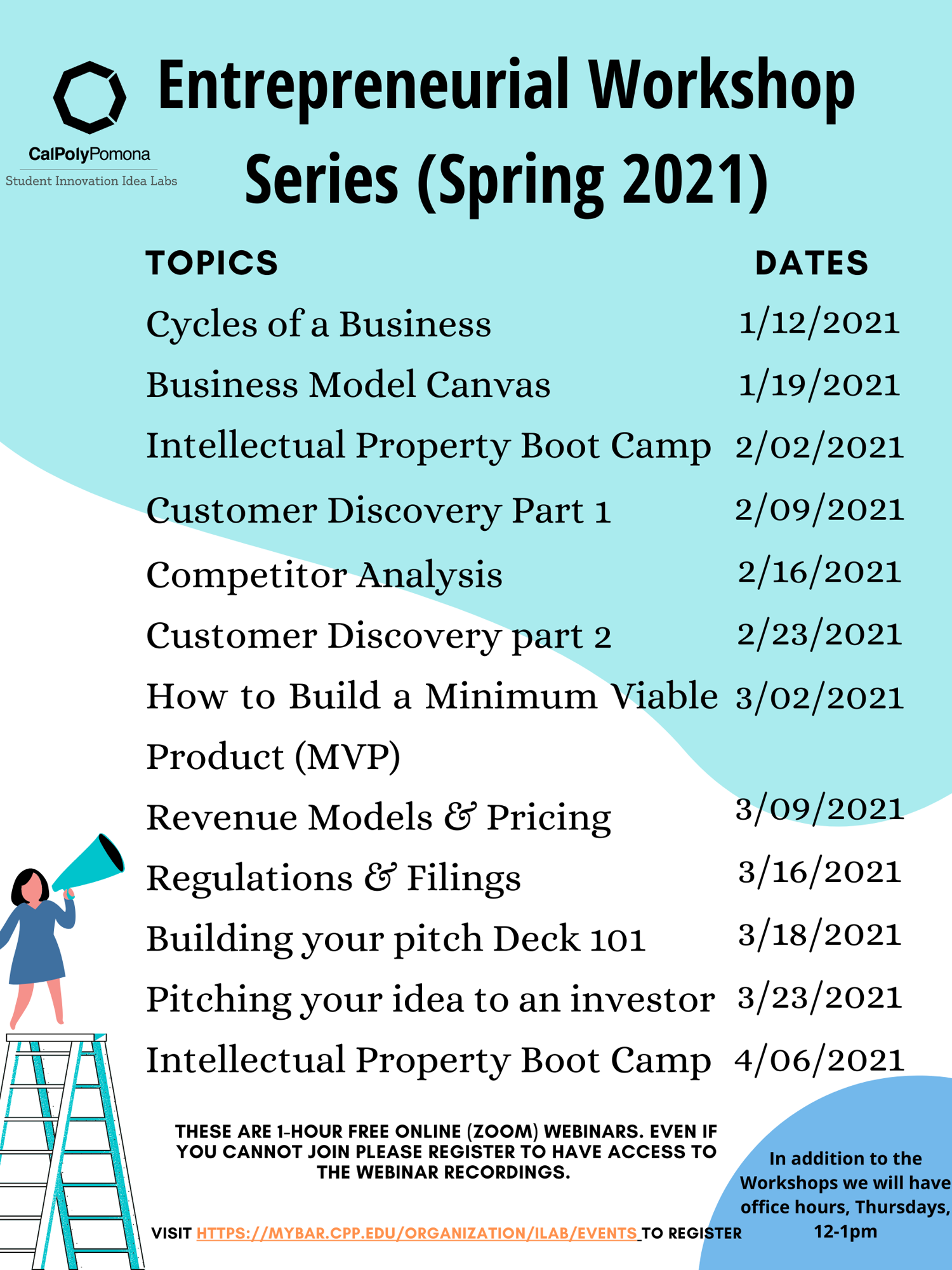 Entrepreneurial Workshop Series
Spring 2021 | 13 Sessions | via Zoom
Start: Jan 12, 2021, 12:00 PM
End:  Apr 06, 2021, 1:00 PM
This spring semester, the Student Innovation Idea Labs (SIIL) wants to support you through your journey to build your own business through our Entrepreneurial Workshop Series. These workshops are designed to help you understand the foundations of launching your business and develop a entrepreneurial mindset. 
We hope that our students and those part of the Cal Poly Pomona community take advantage of these FREE workshops to further develop their ideas that can help their communities and the world.
*Webinar recordings available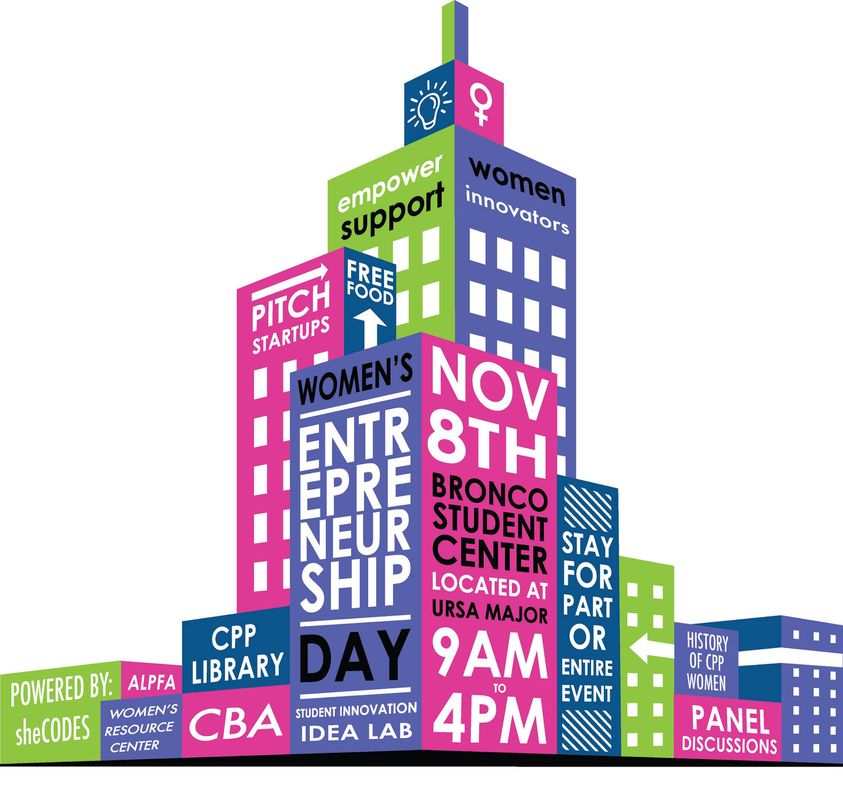 Women's Entrepreneurship Day
Fall 2018 | 1 Session | @ Bronco Student Center, Ursa Major
Start: Nov 07, 2018, 11:30 AM
End:  Nov 07, 2018, 8:00 PM
Cal Poly Pomona and the Student Innovation Idea Lab will join the United Nations and women in 144 countries to celebrate Women's Entrepreneurship Day (WED), a global movement created to empower and engage women of all ages through innovation and collaboration.

Join us for stories of determined women delivered by keynote speakers, a discussion from a panel that made their ideas and innovations a reality, interactive workshops, and a vendor's fair. The event is open to everyone!