About the Spaces
The mission of the Cal Poly Pomona Student Innovation Idea Labs (SIIL) is to create and maintain an ecosystem to foster creativity, innovation and entrepreneurship.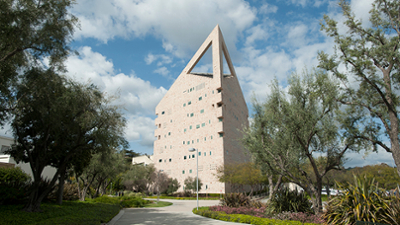 iLab

The iLab is the home base for the university's makerspaces as well as the main office for SIIL. At the iLab, students can:
Learn how to develop their ideas into prototypes
Receive training on how to start their own business
Attend workshops and seminars to learn how to use different types of equipment or spark the ideation and innovation process
Utilize the 3D printers to create their own models
Create button badges or their own designs to press onto shirts and hats
Location: Bldg. 98C, Room 6-06
Hours: Temporarily Closed
Phone: (909) 869-3741
Email: siil@cpp.edu
Website: https://www.cpp.edu/ilab/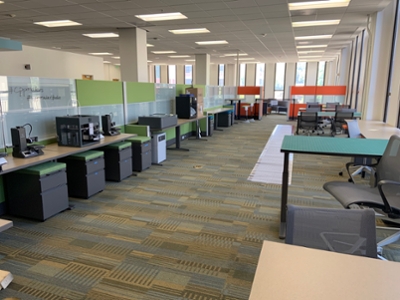 Maker Studio

The Maker Studio is a collaborative project between the University Library, the Student Innovation Idea Labs, and faculty members across the university. This makerspace serves all Cal Poly Pomona students, and provides easy access to resources and a creative space for students in pursuit of innovation regardless of major or college. In this space, you can find equipment such as:
3D Printers
Laser Cutter
Sewing Machine
Letterpress
Vinyl Cutter
...and more!
Location: University Library, 2nd Floor
Hours: Mon - Thur (9am - 5pm), Fri (9am - 4:30pm)
Website: https://www.cpp.edu/makerstudio/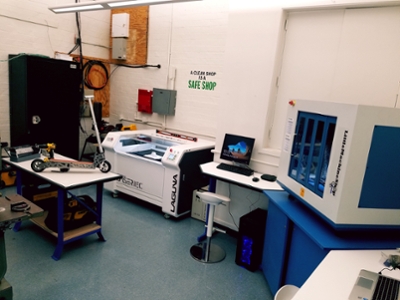 Innovation Orchard

The Innovation Orchard is a a design and fabrication hub serving Cal Poly Pomona and the Pomona Unified School District (PUSD). Located at Ganesha High School in the city of Pomona, the Innovation Orchard provides student project teams with the resources they need to elevate their ideas to the next level. This space provides:
An open-space environment for teams to share ideas, energy, and collaborative power
Amenities invaluable to a business during its growth such as mentorship, a conference room, and general office space
Equipment for prototyping and product creation
Tools for cutting, shaping, and additive processes
Location: Ganesha High School
Hours: Wed, Thurs (5pm - 9pm) Fri (3pm - 9pm)
Website: https://www.cpp.edu/io/