University Catalog 2008-09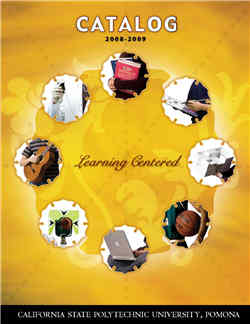 Cal Poly Pomona's Mission
Cal Poly Pomona's mission is to advance learning and knowledge by linking theory and practice in all disciplines, and to prepare students for lifelong learning, leadership, and careers in a changing, multicultural world.
View the President's Message
About the Catalog
The Cal Poly Pomona Electronic Catalog published in CD ROM format and on the Web is updated annually and constitutes the university's official document of record hereafter referred to as the University Catalog. Catalog information is also printed every two years in book form. The CD ROM and printed versions are available for sale at the Bronco Bookstore.
Students are responsible for the information contained in the University Catalog. Failure to read and understand the deadlines and regulations will not exempt a student from whatever consequences may occur.