In Memoriam: Bruce Baltin (1943-2023)
Celebration of Life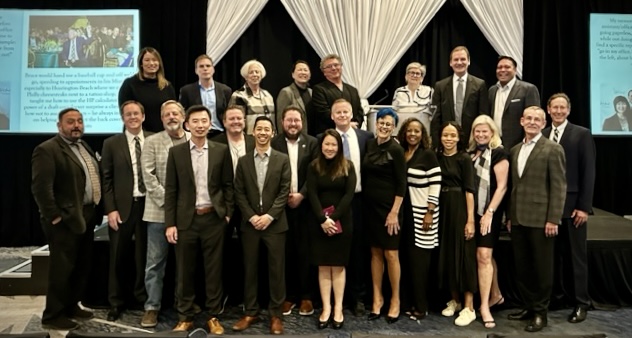 It was wonderful to see that so many friends and colleagues were able to join us to celebrate Bruce Baltin and his many contributions to the hospitality industry. Bruce would have been pleased to know that his village came together to honor him and his acknowledge his legacy. 
The personal stories about Bruce's love for The Boss, basketball, and the Miata reminded us that we had a few more fun facts that you might enjoy:
Did you know that Bruce's favorite movie was Hoosiers? Or that his favorite cuisine was Japanese and if he could enjoy it with someone famous from history, he would dine with Martin Luther King? Bruce's favorite wine was Burgundy, which is often touted for its ability to express the culture of the place where it is made. Bruce was certainly the Burgundy to LA and hospitality consulting. We will miss him!
Warm regards,
The Bruce Baltin Celebration of Life Planning Committee
Thank you to the many contributors that made this event possible!
Event Donors:
Javier Cano, Amy Danner, Mark Kaussner – JW Marriott Los Angeles L.A. LIVE | Ted Tanner and Ben Young – AEG | Baron Ah Moo and Channing Henry – PKF hospitality | William Reynolds | Larry Shupnick | Stacy Silver – Silver Hospitality Group | Barbara and Pat Deming | Tristine Lim | David Mirharooni
Program Presenters:
Raj Chandnani – WATG, Emcee |  Larry Shupnick – LARAL Group | Lauren Schlau – Schlau Consulting | David Brown – GP Resorts | Brandon Feighner – CBRE | Steve Baltin
With Appreciation:
Bridget Bilinski, Chair | Larry Shupnick | William Reynolds | Javier Cano  (Collins College Board of Advisors)
Margie Jones | Jake Fry | Diana Garcia (The Collins College Staff)
Scholarship Donors:
John Strozdas | Cary Wheeland | James F. Burke and Susan Dowler | Bridget A. BIlinski '79 | Raleigh Enterprises | Tristine E. Lim, '06 | Brett D. Berglund | Frances Kiradjian | Kamla Hotels | Tiffany Cooper | James Burba | Kristen Johnson | James Anhut | James Stockdale | Joseph G. Gatto | Bill Dobbs | Larry Shupnick and Jo Frank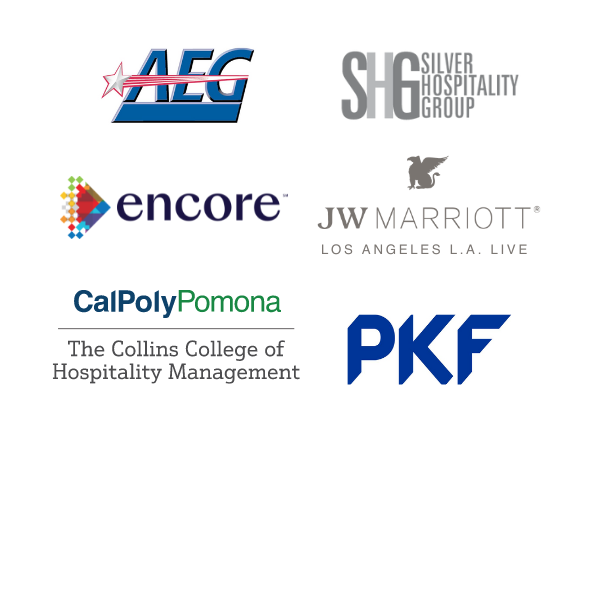 Hotel Industry Icon, Bruce Baltin, Passes Away
Hospitality consultant Bruce Baltin, an industry icon for more than five decades, passed away suddenly at age 79 on March 9, 2023. He is survived by his wife, Tammi Baltin, his sons, Steven Baltin and Brian Baltin.
A graduate of Cornell University, Baltin was corporate operations analyst for Sheraton Corporation of America prior to his long-time hospitality consulting career. He became a partner at Pannell Kerr Forster (PKF) in 1978 and a founding shareholder in the newly launched PKF Consulting practice in 1992. He served as Managing Director of the Los Angeles office until 2014, helping grow the consulting practice to 15 U.S. locations. In 2014, PKF Consulting sold to CBRE Hotels and Baltin continued as Managing Director in the Los Angeles office until 2020, when he created his own hospitality consulting practice. He then returned to PKF hospitality group as a Director in the U.S. Office in 2022.
Baltin worked on market demand studies, valuations, economic and operational assessments, and dealing with leases, franchises, and management companies. His industry experience included hotels, resorts, clubs, restaurants, theme parks, and national and state parks, and he often worked with governmental entities on tourism and hospitality real estate issues. He was quoted extensively in the national and local press and testified as an expert witness on various industry issues. Honoring his significant contributions to the hospitality industry, Baltin was presented with a Lifetime Achievement Award from the Los Angeles Tourism and Convention Board at the Los Angeles Market Outlook Forum in 2019.
Baltin was committed to hospitality education throughout his career. He guest-lectured and taught undergraduate and graduate-level classes at Cal Poly Pomona, the University of Nevada, Las Vegas; the University of Southern California; and the University of California, Los Angeles. He was also active on the Board of Advisors for Cal Poly Pomona's Collins College of Hospitality Management, and he generously offered his time, expertise, and mentorship to the program's students and alumni. For 31 years, he partnered with The Collins College to host the Southern California Visitors Industry Outlook Conference where he annually released his sought-after Southern California Lodging Forecast used by hotel owners, developers, and others for planning and budgeting.
He was a member of numerous professional and community organizations including the International Society of Hospitality Consultants (ISHC), which he joined in 1989 as its eighteenth member.
A Look Back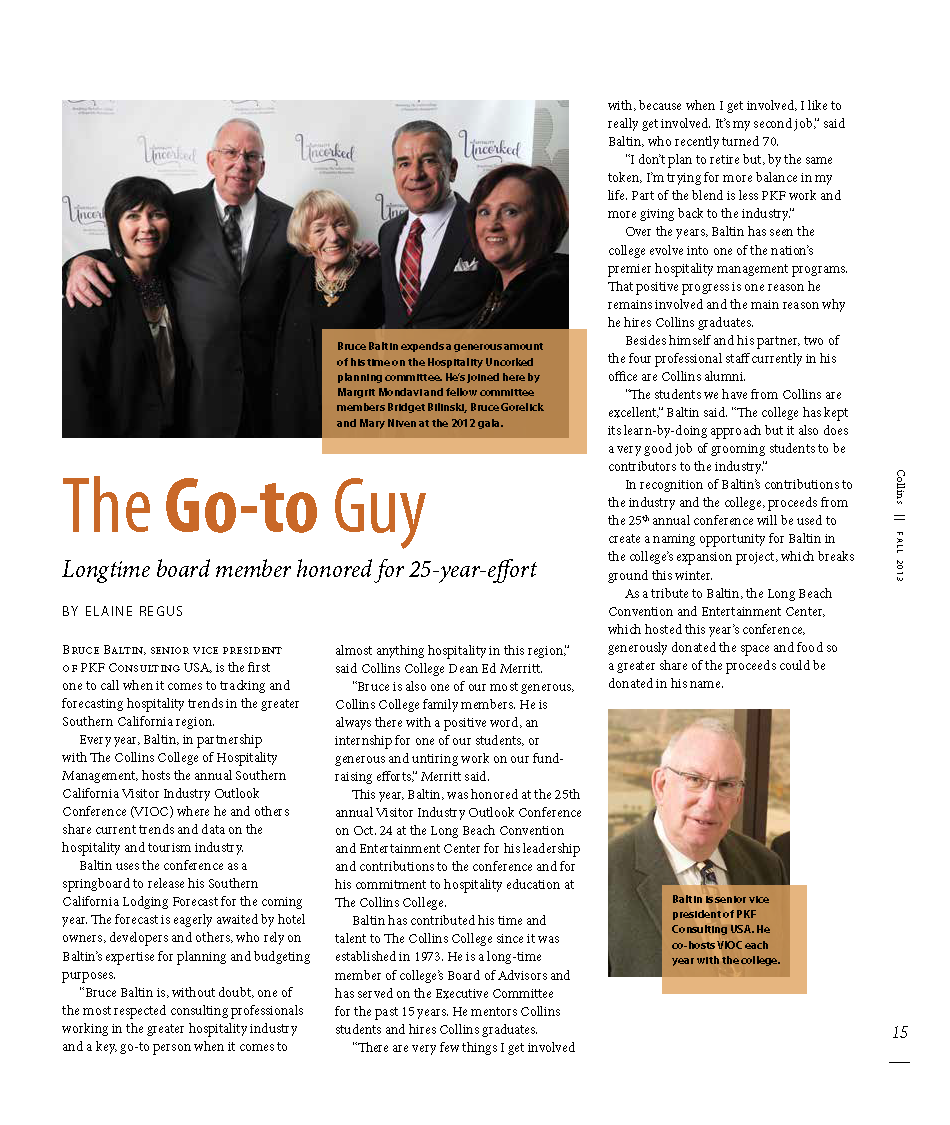 The Go-To Guy
Longtime board member honored for 25-year-effort. (Collins Magazine, Spring 2009)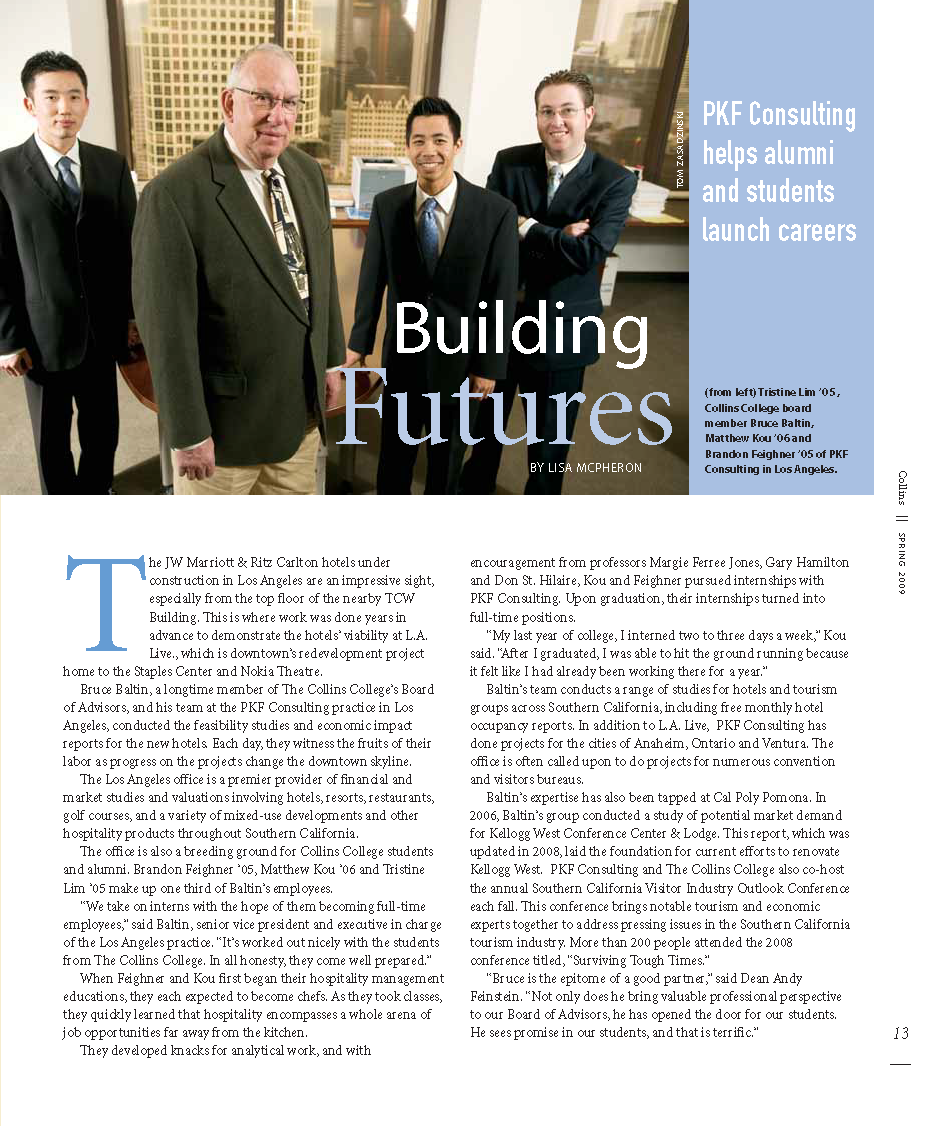 Building Futures
PKF Consulting helps alumni and students launch careers. (Collins Magazine, Fall 2013)
A big congratulations to @CBRE's Bruce Baltin who was awarded the Lifetime Achievement Award by the Los Angeles Tourism and Convention Board at the Los Angeles Market Outlook Forum. @tourismLA @CBREHotels (Photo credit to John Tyler Curtis) pic.twitter.com/jWoEmOGIIy

— CBRE SoCal (@CBRESoCal) August 28, 2019