Commencement
COVID-19 Impact on Commencement

We understand that commencement is an important part of the Cal Poly Pomona experience and we want to honor our student's significant milestone. While the formal pomp and circumstance did not take place in May, we are working to create an experience that honors the commitment and sacrifice made by you and your family.

After listening to feedback from students, faculty and staff and inviting our graduates to participate in an online survey, we understand that the interest is still very high to hold an in-person event in either December 2020 or May 2021. Our goal is to announce new dates for the Class of 2020 during the Fall Semester so that you and your family can plan accordingly. We are still exploring a variety of options to properly manage the event and will continue to hold discussions with students to ensure that our plans reflect the significance of the occasion. The safety and wellbeing of our students and guests remain paramount, and we will work with LA County officials to ensure the activities meets the standards necessary for a safe physical distanced ceremony. We ask for your patience and understanding as we continue to find solutions during these unprecedented times.

Please note that commencement is NOT being cancelled. It is being postponed to a later date. Also, know that this decision will not affect the timing of degree completion. Degree conferral will be governed by the completion of the academic work for the relevant degree.
Commencement Update

The University is postponing the May 15, 16, 17 graduation ceremonies until we can ensure the safety and security of our students, their families, and friends.  Please check back for future updates.
The Class of 2020 degrees are currently being conferred and diplomas are being ordered. You will receive an email from Michael Sutter Co., the e-mail will include information about your diploma and a complimentary eDiploma which is a gift from the Commencement Committee, to students who were registered to graduate at the May 2020 Commencement Ceremonies. If you have any questions, please contact the Registrar's Office at diplomas@cpp.edu.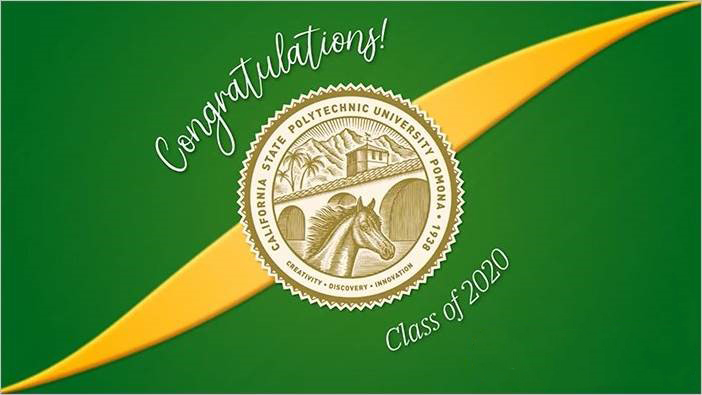 Congratulations Class of 2020!
Congratulations to the Class of 2020! We are so proud of all your accomplishments, creativity and resilience, especially during a time of enormous change. We wish you the best in the next chapter of your journey, and we look forward to celebrating with you in person.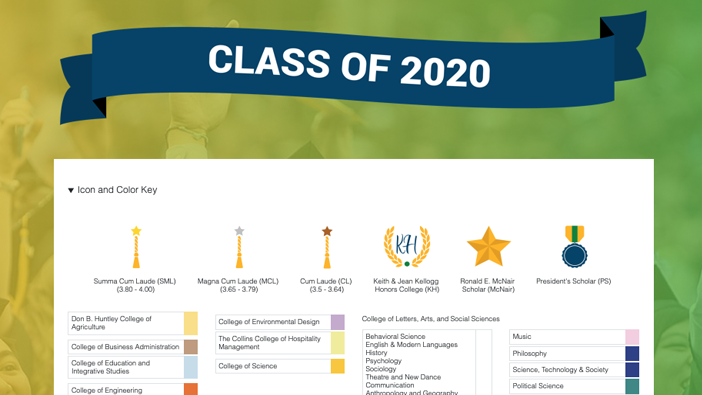 Class of 2020 Showcase
The commencement website includes the class list with graduates from summer 2019, fall 2019, those who and applied for graduation in spring 2020. The list denotes each graduate's college/major and academic honors.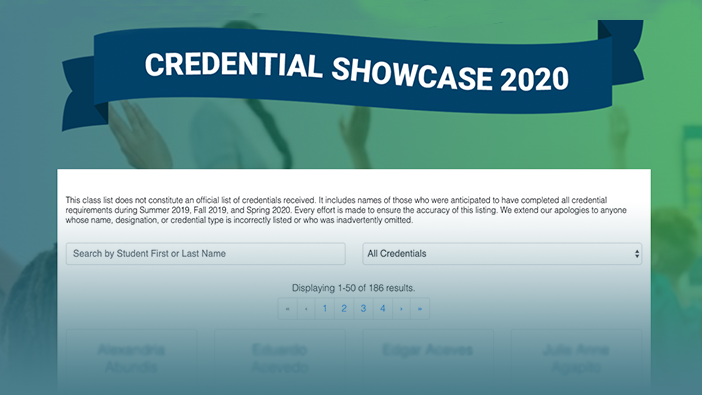 Credential Showcase 2020
The Credential Showcase 2020 includes names of those who were anticipated to have completed all credential requirements during Summer 2019, Fall 2019, and Spring 2020.