Walkway Conversion Into Two-Lane Road to Start on Monday, Dec. 2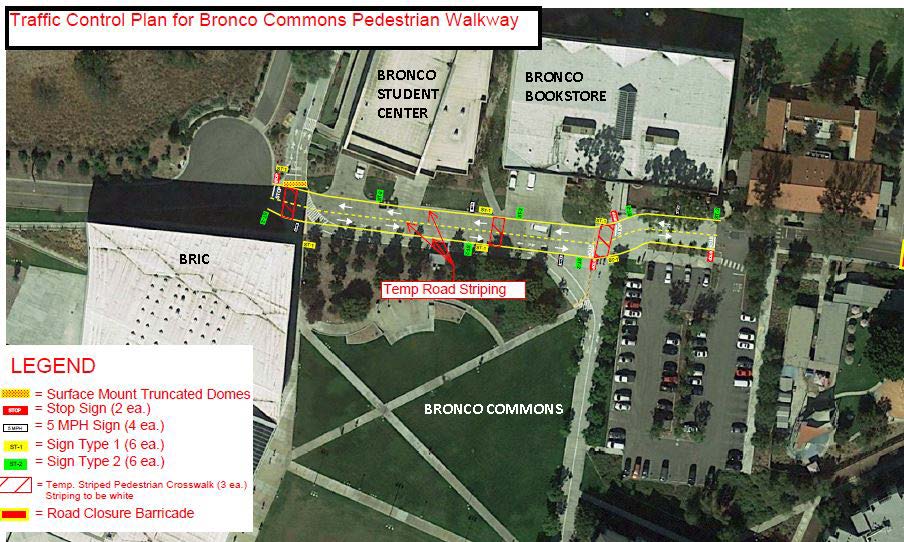 Summary of Disruption: The walkway adjacent to Bronco Commons will be converted into a temporary two-lane road. Contractor crews will install temporary road striping and traffic signage on Monday, Dec. 2, from 9 a.m. to 5 p.m. The project will allow vehicles using Eucalyptus Drive from University Drive to access Parking Lot G. The speed limit on the temporary road is 5 mph. Road markings and signage are expected to be removed by Wednesday, Jan. 22, 2020.
Reason for Disruption: The road conversion project is in preparation for a temporary closure of Eucalyptus Lane at Kellogg Drive that is scheduled to start on Monday, Dec. 16 (A separate Newsbreak will be sent before the closure.).
How does this affect me? Use caution if driving or walking near the work area.
What do I need to do? Occupants of the Bronco Student Center and Bronco Bookstore should inform vendors and delivery companies that there may be intermittent interruptions in accessing the building loading docks after 9 a.m. Pedestrians are urged to take detours around the work area. Drivers should watch for pedestrians and use caution when approaching the work site.
For any questions or more information, please contact: Mooris Taylor, Senior Project Manager, at moorist@cpp.edu.