Industrial and Manufacturing Engineering Laboratories
Beginning with an introductory course in computer numerical control programming, students use a variety of software programs for editing and tool path verification. They continue with advanced CIM applications using state-of-the-art commercial CAD/CAM software. Students gain hands-on experience not only in CNC programming, but also controls, robot operations and computer interfacing for sophisticated computer integrated manufacturing.
Cal Poly Pomona is the home of the largest and best equipped university foundry in the west. Students experience the thrill of producing castings of their own design. Patternmaking, coremaking, molding, melting and pouring by students provide real world encounters with foundry processes. In addition to molding by green sand, sodium silicate and investment casting, cores can be produced by other processes. Melting is accomplished using an induction furnace as well as a gas-fired unit.
Multiple stations accommodate students as they learn the techniques, advantages and limitations of various joining processes such as gas and arc welding. Demonstration capabilities exist for TIG, MIG, needle arc, submerged arc, spot welding, soldering and brazing.
Machine tools and tooling in this laboratory are oriented toward providing the student with manual control over machining processes such as turning, boring, drilling, milling and grinding. Students learn the capabilities of the various machines and the experience variables that control size, surface finish and other aspects of machining. The lab is part of the study program for all students in Manufacturing, Industrial and Mechanical Engineering as well as those in Engineering Technology.
Both manual and power equipment is utilized by students in this lab to produce sheet metal parts of various gages and then to join them using conventional seam or spot welding. Punching, grooving, roll forming and various shears and brakes are provided for student use. As this lab moves into the new facility, it is planned to augment the basic equipment with newer state-of-the-art facilities.
The IE/Simulation Lab is used for system analysis and problem solving using simulation and other IE and operations research tools. Computer models of production and service systems are built and analyzed. Additional uses for the lab are for statistical analysis, statistical process control, DOE and Robust DesignTM (Taguchi Methods.) Electronics Manufacturing and
The basics of electronics manufacturing and plastics engineering are taught in this lab using small scale production and lab equipment. Students learn the chemistry and production engineering considerations involved with these processes.
The IME Department at Cal Poly Pomona offers computer aided design and drafting courses for students in various engineering majors. The CADD labs are equipped with state-of-the-art computers and peripheral equipment. Students are taught the fundamentals of graphics, solid modeling and design.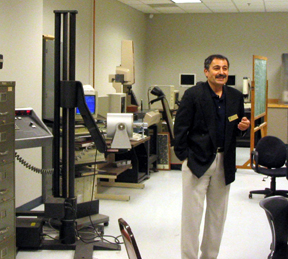 Human factors, work design and measurement, and metrology are taught in this lab using a variety of equipment and laboratory exercises. Major equipment includes a BTE Work Simulator and Mitutoyo Coordinate Measuring Machine.