Uploading Your COVID-19 Vaccination Record
The CPP MyHealthPortal is the approved and HIPAA-compliant method for uploading immunization records on campus. While this portal is used by both students and employees, only Point and Click Solutions will be reviewing uploaded employee health records. The University's Information Technology Security Office determined that PNC meets the University's requirements to process, store and transmit Personal Health Information (PHI).
In the event of a reported COVID-19 exposure on campus, the CPP Safer Return Incident Investigation team may review self-reported information provided in the upload process, including dates of injection, to determine if self-quarantine instructions or other health and safety protocols are necessary.
1. Prepare your COVID-19 Vaccination Record
Create a digital copy/picture of your COVID-19 vaccination document. You can also upload a photo from your mobile device or photo library.
Accepted file types are (PNG, JPG, JPEG, GIF, and PDF). There is a 4MB size limit for each document upload.
2. Navigate to the Health Services Portal
Open your browser to https://myhealthportal.cpp.edu

3. Enter your Bronco campus username and password

4. Duo Authentication is Required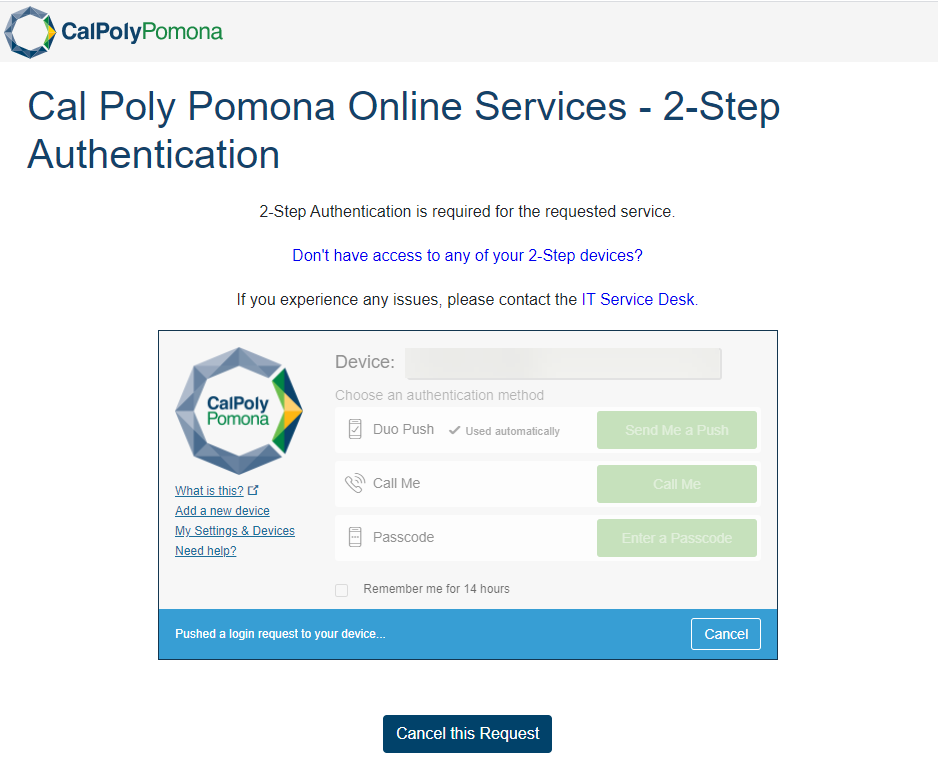 5. Enter your date of birth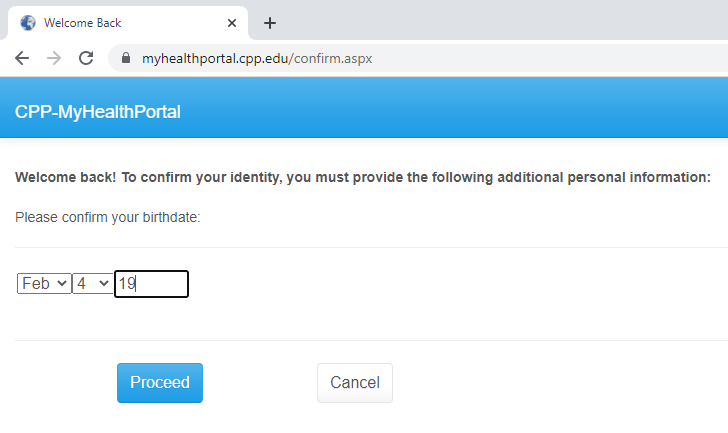 6. Click on "Enter My COVID-19 Vaccine Information"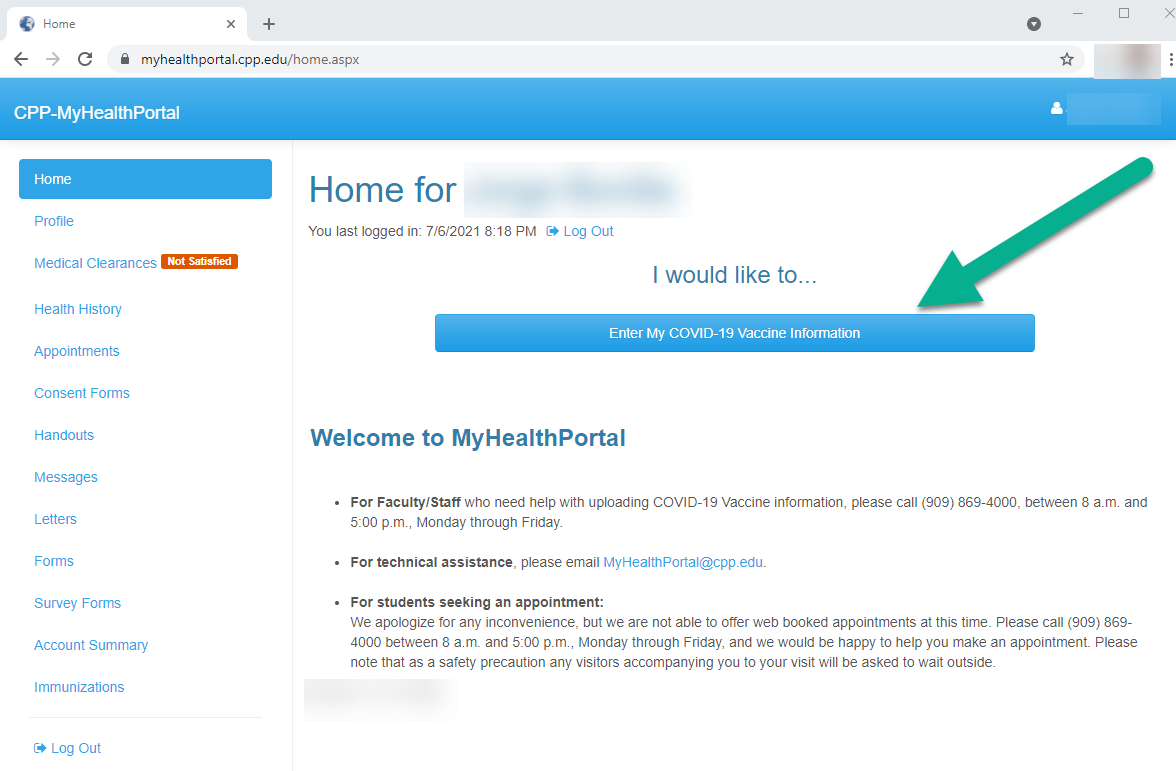 7. Upload picture of your vaccination card
Click Upload and choose a picture or other image file (PNG, JPG, JPEG, GIF, and PDF) of your COVID-19 Vaccination Record. Then enter the date(s) of when you received one or both vaccine doses. Also, choose the vaccine type that you received.
Vaccination records uploaded by CPP employees (not including student employees) will be reviewed and verified by Point and Click Solutions.  Information uploaded by students (including student employees) will be verified and reviewed by Student Health Services personnel.  Data is shared with Dean of Student Office (for Students),the Office of Employee Organization Development & Advancement/EODA (for employees), Office of Equity & Compliance (for employees & students), Associated Students Incorporated Human Resources (ASI Employees), Foundation Human Resources (Foundation Employees), and/or the CPP COVID-19 Campus Safer Return Task Force; data shared will include compliance with the vaccination requirements, not specific vaccination records.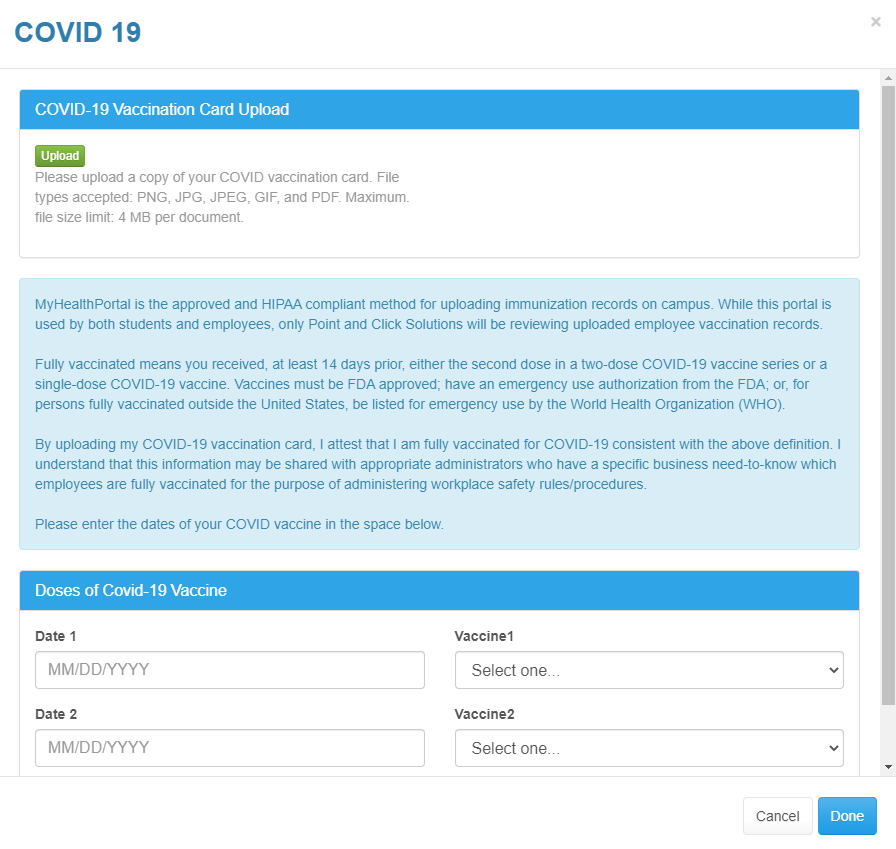 8. COVID-19 Medical Clearance - Awaiting Review
Once your vaccine record has been uploaded, it will be reviewed and verified. Records uploaded CPP employees will be reviewed by Point and Click Solutions. Information uploaded by students will be reviewed by Cal Poly Pomona Student Health Services.
If additional information is needed, a secure message will be sent to you through the Health Portal and an email alert will be sent to your CPP email address. You can check the status of your submission by navigating to "Medical Clearances". Please allow 3 to 10 business days for this process to be completed.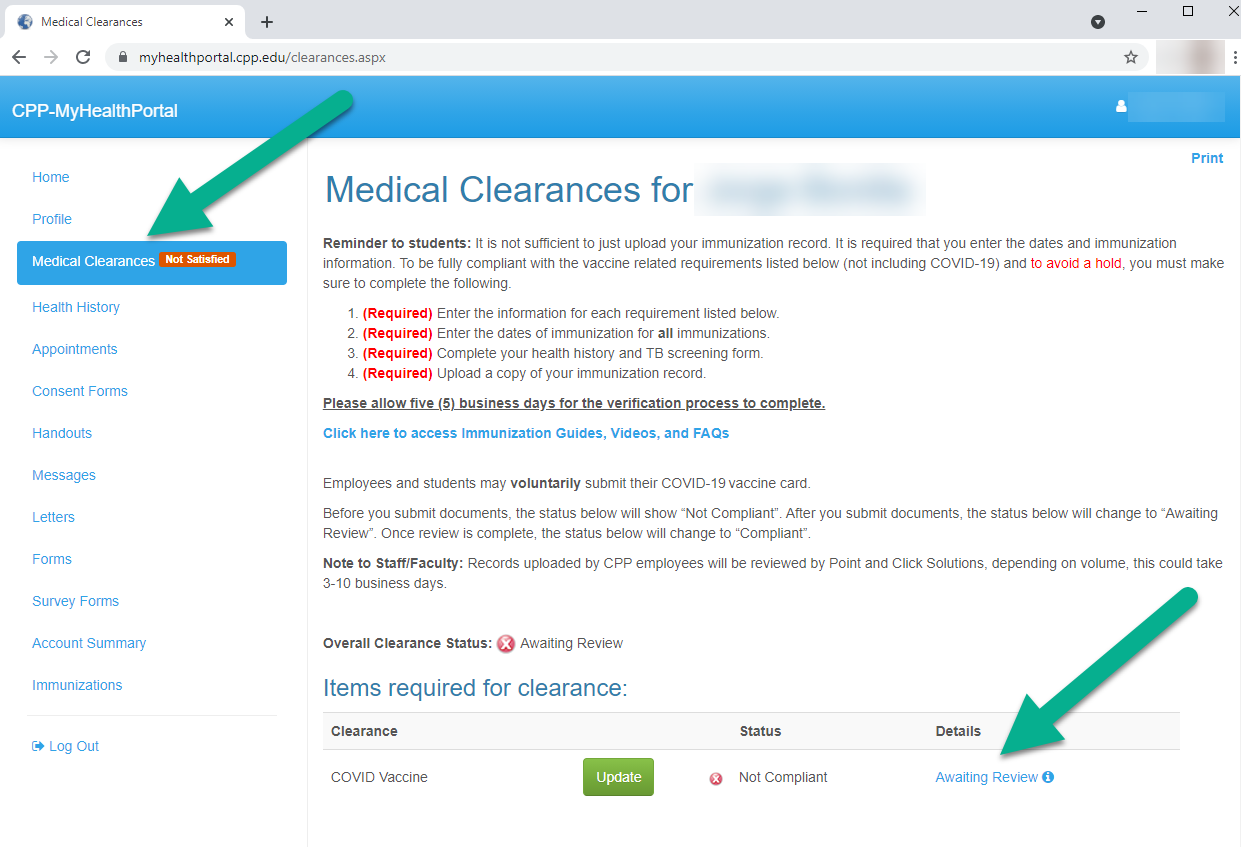 9. Log out of the Health Services Portal