Welcome!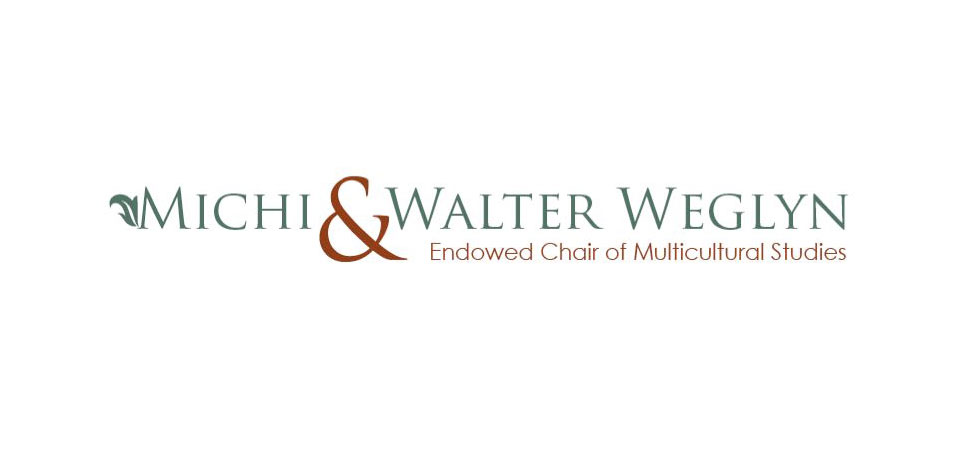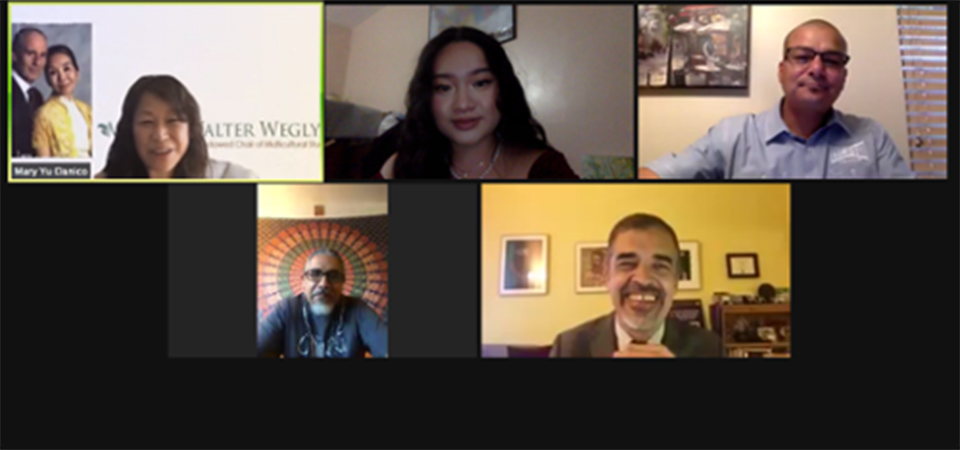 Slide2
Dr. Huerta, Mr. Huerta, and Mr. Verdugo presenting "Latino Males, Violence and Healing in the Barrio"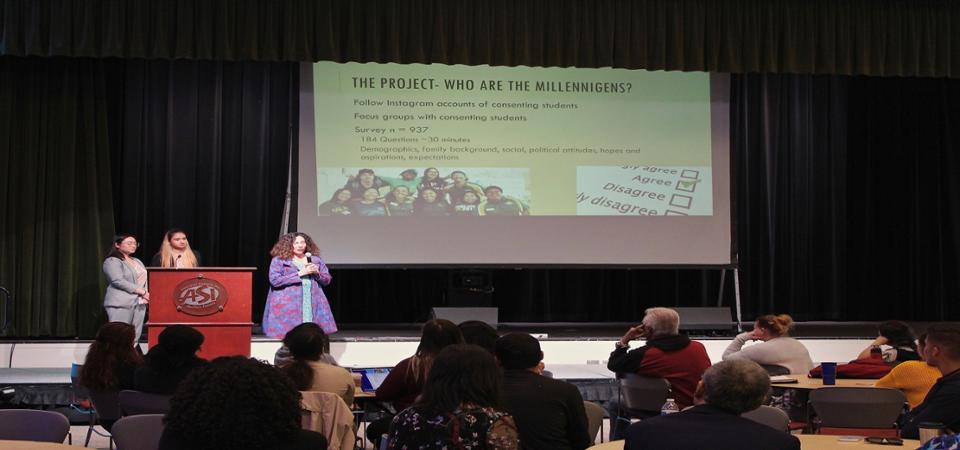 Slide3
Dr. Faye Wachs and her research assistants presenting their research on MilleniGenz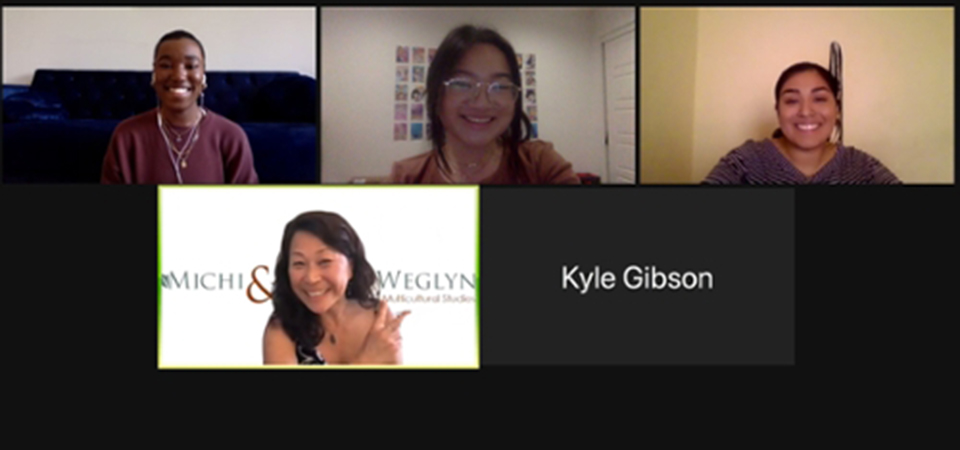 Slide4
Sekani Robinson, Ph.D. candidate presenting "Controlling the Image of the Black Swan: Race, Gender, Class and the Discourse around Black Women's Bodies in Ballet"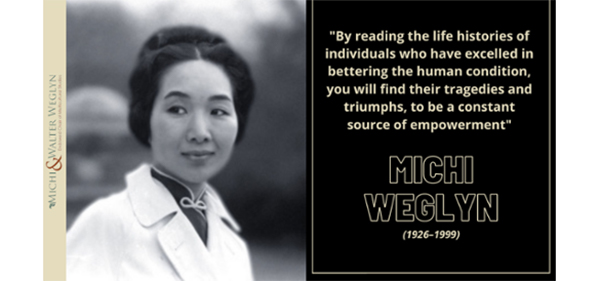 Slide5
Michi Weglyn. "By reading the life histories of individuals who have excelled in bettering the human condition, you will find their tragedies and triumphs, to be a constant source of empowerment". Michi Weglyn (1926-1999)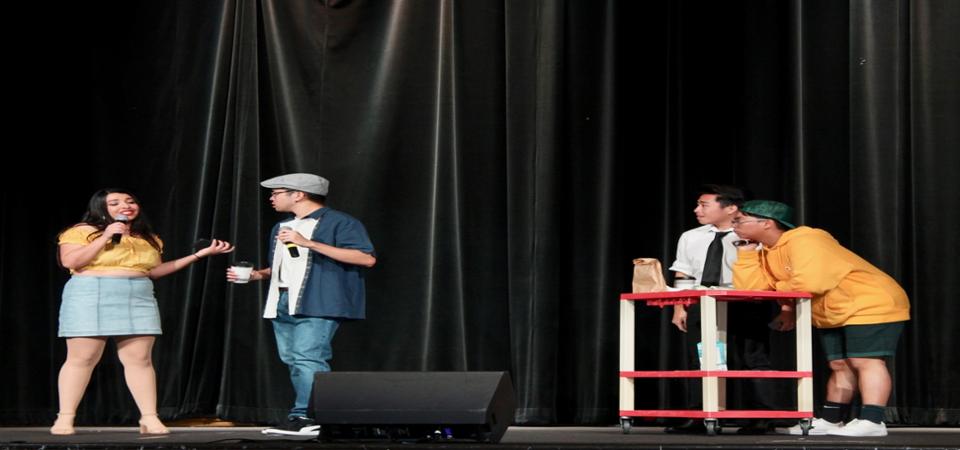 Slide6
Cal Poly Pomona students performing "In the Heights"
Previous
Next
Dr. Mary Kunmi Yu Danico, Director
3801 West Temple Blvd.
Pomona, CA 91768
Weglyn@cpp.edu
STATEMENT CONDEMNING ANTI-ASIAN RACISM, VIOLENCE, AND MISOGYNY MARCH, 2021
THE DIRECTOR OF THE WEGLYN ENDOWED CHAIR AND THE ADVISORY COMMITTEE ARE HORRIFIED AND SADDENED BY THE RECENT STRING OF HATE CRIMES COMMITTED. AGAINST ASIAN AMERICAN ELDERS AND BY THE TARGETING OF AN ASIAN WOMAN OWNED BUSINESS THAT ENDED THE LIVES OF 8 PEOPLE. SIX OF WHOM WERE OF ASIAN DESCENT. PLEASE KNOW AND HONOR THEIR NAMES.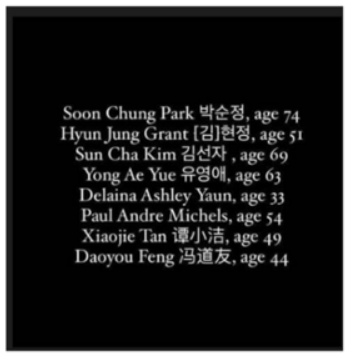 WE WANT TO SHOW OUR SUPPORT TO OUR STUDENTS, CAMPUS COMMUNITY, LOCAL AND THE GLOBAL COMMUNITY WHO HAVE BEEN IMPACTED BY THE COVID-19 PANDEMIC AND RECENT HATE CRIMES AND HATE SPEECH. THE LEGACY OF WHITE SUPREMACY IN THE U.S. HAS TERRORIZED AND ATTACKED ASIANS WHO HAVE PUT FOOD ON OUR GROCERY SHELVES, SERVED US MEALS AT RESTAURANTS, CONTRIBUTED TO THE ECONOMY BY BUILDING SMALL BUSINESSES, AND WHO HAVE WORKED TIRELESSLY TO RESPOND TO THE PANDEMIC IN CONVALESCENT HOMES AND HOSPITALS AS CAREGIVERS, NURSES. DOCTORS, AND JANITORIAL STAFF. WE KNOW THAT ANTI-ASIAN RACISM IS INTERWOVEN WITH ANTI-BLACK AND ANTI-BIPOC RACISM THAT HAS BEEN A PART OF THE AMERICAN SOCIAL FABRIC. NOW MORE THAN EVER. WE STAND IN SOLIDARITY WITH OUR BIPOC COMMUNITIES TO CONDEMN THE RISING OF ANTI-ASIAN VIOLENCE AND RACISM.
THE ATLANTA SPA MURDERS GLARINGLY BRING TO LIGHT THE MISOGYNY AND RACISMS THAT TARGET WOMEN OF ASIAN DESCENT. AS THE AUNTIE ASIAN SQUAD NOTED IN THEIR STATEMENT,
SINCE THE ENACTMENT OF THE 1875 PAGE ACT THAT CAST ALL CHINESE IMMIGRANT WOMEN AS PROSTITUTES, THERE HAS BEEN A LONG LEGACY OF STEREOTYPING ASIAN/ASIAN AMERICAN WOMEN AS 'SUBSERVIENT AND EXOTICIZED SEXUAL OBJECTS FOR WHITE, MALE CONSUMPTION. THE U.S, MILITARY [REINFORCED THESE STEREOTYPES BY BUILDING CAMPTOWNS IN KOREA AND PERPETRATING SEXUAL VIOLENCE AGAINST WOMEN DURING THE COLD WAR AND SEVERAL U.S. WARS IN ASIA. MAINSTREAM U.S. POPULAR CULTURE CONTINUES TO PERPETUATE THESE STEREOTYPES IN FILMS, TELEVISION SHOWS, AND OTHER MASS MEDIA.
THE NARRATIVE FRAMING OF THE PERPETRATOR HAVING A SEX ADDICTION LED TO RACIST ORIENTALIST AND SEXUALIZED CONFLATION OF ASIAN MASSAGE WORKERS. WE CALL TO STAND WITH OUR EXPLOITED SERVICE WORKERS WHOSE WORK IS UNDERVALUED IN OUR CAPITALIST SOCIETY.
THE SERIES OF ATTACKS AND KILLINGS OF ASIAN AMERICANS ARE A SYMPTOM OF THE MUCH BROADER PROBLEMS OF WHITE SUPREMACY, MISOGYNY, CAPITALISM, AND THE INTERSECTIONAL OPPRESSION THAT MAKES ASIAN/ASIAN AMERICAN WOMEN AND BIPOC PARTICULARLY VULNERABLE, IN LOS ANGELES COUNTY. THERE HAS BEEN A 114% INCREASE IN ANTI-ASIAN HATE SINCE THE 2020 PANDEMIC, WITH ROUGHLY 3,800 REPORTED INCIDENTS OF ANTI-ASIAN HATE, MOSTLY AGAINST ASIAN AMERICAN WOMEN.
SO WHAT CAN BE DONE?
We ask law enforcement to recognize reports of Asian American racism as hate crimes
We ask law enforcement to take incident reports of racist sexual harassment and assault seriously and to view them as hate crimes
We ask scholars, Media, and community leaders to include Asian Americans when writing or speaking about diversity, inclusion, and ethnic studies
We commit to creating space for dialogue about community building, self-care, and to address the mental health strain that impacts BIPOC
We commit to working unapologetically to put Asian American issues at the forefront rather than as an afterthought in regards to racism, discrimination, and representation
We commit to stand with our Asian and Asian American, Black, Indigenous, and people of color to create space to dismantle white supremacy.
WE STAND IN SOLIDARITY WITH OUR ASIAN AMERICAN AND ASIAN IMMIGRANT GREAT GRAND PARENTS, GRAND PARENTS, PARENTS, SIBLINGS, PARTNERS, COLLEAGUES, STUDENTS AND. FRIENDS AND EXPRESS OUR COMMITMENT TO WORKING THROUGH AN INTERSECTIONAL LENS TO DISMANTLE WHITE RACISM AND MISOGYNY AGAINST CISGENDER. TRANSGENDER, AND QUEER WOMYN.
WHERE CAN | FIND SUPPORT/COMMUNITY/CONTRIBUTE?
http://auntiesewingsquad.com/
https://stopaapihate.org/
https://www.advancingjustice-chicago.org/what-we-do/bystander-intervention-trainings/
https://www napawf.org/?fbclid=IwAR3xtp9Aewa7YKc3FsN4I7UOH20_eUMUnTMoaEoBSyJmTB4IhDzxD9mxXql
https://makenoisetoday.org/
https://compassioninoakland.org/volunteers
https://www.ocapica.org/
An Amazing Legacy
A message from Dr. Mary Danico,
Director of the Weglyn Endowed Chair
It has been over 20 years since one of the greatest minds and hearts left us. Michi Weglyn passed away in 1999 leaving a legacy of activism, hope, social justice work, and true inspiration to make our world a better place. At Cal Poly Pomona, we are honored to have an endowment that continues to work on behalf of Walter and Michi Weglyn.
President emeritus Bob Suzuki and Mrs. Agnes Suzuki, close friends of the Weglyns, were instrumental in gathering like-minded, civilly engaged community members to help launch this endowment. I am privileged to serve as the director of the endowment. My involvement with this endowment began with its launching in 2003 when I organized the first West and the Pacific Regional Association for Asian American Studies Conference at Cal Poly Pomona. Since then, we have had two endowed chairs, Dr. Jose Calderon and Enrique Ochoa, who worked tirelessly to support civic engagement, community service, and scholarship promoting social justice and peace.
The year 2020 marks the 21-year anniversary of Michi Weglyn's passing, and in tribute of her and Walter's lifetime work, we are devoting this academic year by honoring their memory and their commitment to social justice and peace.
We have an amazing academic year ahead of us addressing the varied social issues impacting our society. Here on the website, you will find the calendar for the academic year, but I wanted to point out a few highlights during winter, 2009. Phil Nash wrote a beautiful piece in Asian Week to the supporters and friends of Michi Weglyn, urging them to mark 2009 as The Year of Michi Weglyn. His writing inspired us to mobilize universities and high schools to read The Years of Infamy and on Remembrance Day, February 19, discuss the impact of this book on the redress movement and the larger impact the book has had for Japanese Americans and all Americans who are persecuted due to their race, gender, or sexuality.
I hope you will consider attending our events on and off campus or consider sending a gift to support the establishment of the scholarship endowment for underserved communities. This endowment will aid us in our efforts to continue building on Michi and Walter's life work.
We have a wonderful year ahead of us and I hope to see you at the various events scheduled throughout the academic year. I look forward to meeting and talking with you about how we can continue the work and legacy of Michi and Walter Weglyn.
If you have any questions or comments, please feel free to contact me at: phone: 909-869-3895, email: mkydanico@cpp.edu or send your letters to: 3801 West Temple Blvd, Pomona CA 91768.