James A. Collins
James A. Collins

President Emeritus Collins Foods International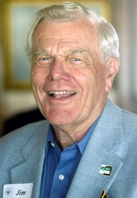 Born in Huntington Park, California, Mr. Collins served in the U.S. Navy from 1944 to 1946 and graduated from UCLA in 1950 with a Bachelor's degree in civil engineering.
Mr. Collins began his restaurant career in 1952 when he opened a self-service hamburger stand in Culver City. He became a franchisee of Kentucky Fried Chicken (KFC) in 1960, and in 1963 he became the Southern California Franchise Representative. In 1967 he purchased the Sizzler Family Steak House chain from the founder. In 1968 he formed Collins Foods International (CFI), a public company. In 1991, CFI restructured as Sizzler International and currently includes 300 Sizzler restaurants worldwide and 113 KFC restaurants in Queensland, Australia.
Mr. Collins is a member of numerous organizations and is on the Board of Directors of Lawry's. He has also been a generous contributor to the California State Polytechnic University, Pomona, and to the community.