Richard N. Frank
Richard N. Frank

Chairman Lawry's Restaurants, Inc.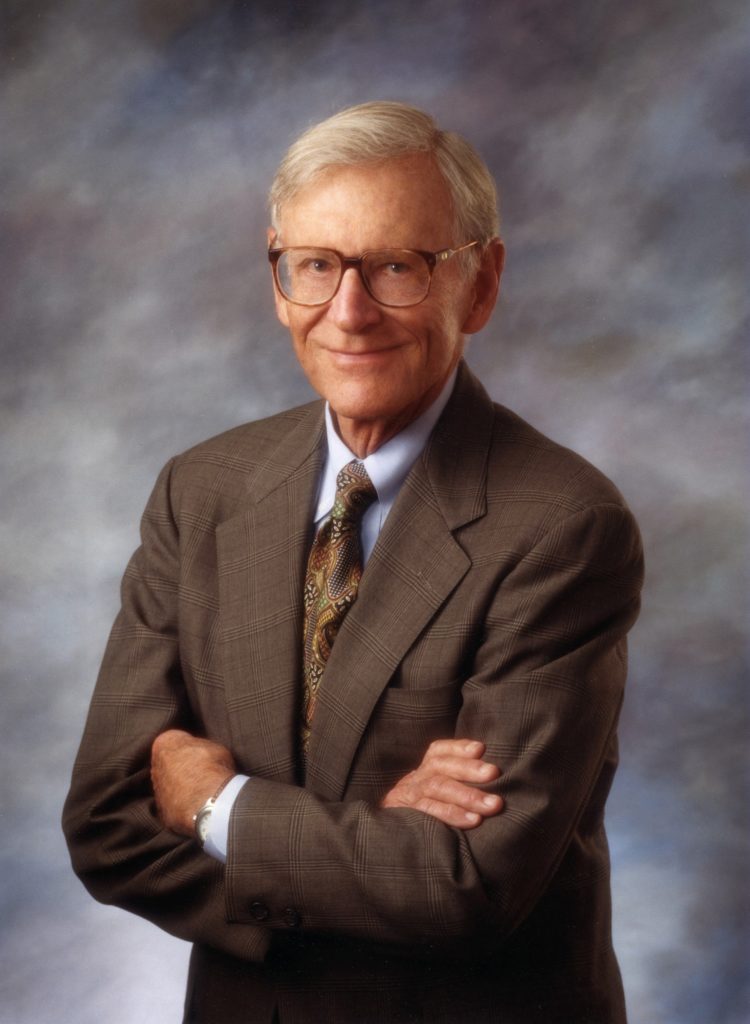 Richard N. Frank was Chairman of Lawry's Restaurants, Inc., a family-owned enterprise consisting of six distinguished and award-winning restaurants in the United States, including its flagship Lawry's The Prime Rib in Beverly Hills, as well as those in Chicago, Dallas and Las Vegas, the Five Crowns in Corona del Mar, and the 90-year-old Tam O'Shanter Inn in Los Angeles. The company has also licensed Lawry's The Prime Rib Restaurants in Singapore, Taipei, Tokyo, Hong Kong and Osaka and, several years ago, opened a new multi-unit venture, Lawry's Carvery, a quick–casual restaurant featuring hand-carved sandwiches.
In 1950, Frank joined the restaurant company which was founded in 1922 by his father, Lawrence L. Frank, and his uncle, Walter Van de Kamp. For many years, Richard also served as president and chief executive officer of Lawry's Foods, Inc., which produces some 100 products, including Lawry's Seasoned Salt, America's best-selling blended seasoning. Under his leadership, Lawry's Foods, Inc. grew from a fledgling family business into a multi-million dollar company that made the Lawry's name and its fanciful "L" trademark famous.
In addition to his continued role at Lawry's Restaurants, Inc., Frank was an emeritus trustee of Pomona College in Claremont, and of the Art Center College of Design in Pasadena, a member of the Board of Advisors of The Collins College at Cal Poly Pomona, and a long-time member of the Los Angeles Rotary Club and Chief Executives Organization. He was a past president and director of the California State Restaurant Association, past director of the Massachusetts Mutual Life Insurance Company and Thomas J. Lipton Company, and a former member of the Young Presidents Organization.
The Tournament of Roses, in 2006, made Frank a member of its Rose Bowl Hall of Fame on the 50th anniversary of the famous Lawry's Beef Bowl tradition, which Frank founded. Players and coaches of the winning teams annually visit the Beverly Hills restaurant on separate evenings prior to the game.
The California Restaurant Association, in June 2008, presented Frank with its Lifetime Achievement Award, "established to honor extraordinary individuals who have greatly influenced the restaurant and hospitality industry," and in June 2009, the California State Polytechnic University, Pomona recognized Frank by awarding him an Honorary Doctorate of Humane Letters (or L.H.D.) because of his "dramatic impact on the restaurant industry and service to the university."
Philanthropy, especially in education, is an important part of Frank's personal life, and he had long been a generous contributor to many community charitable and educational organizations. In 1982, Frank provided principal funding for the construction of The Richard N. and Mary Alice Frank Dining Hall at Pomona College, along with a sizable sum to maintain that facility in perpetuity. In 1989, he established The Richard N. Frank Distinguished Lectureship Series at The Collins College at Cal Poly Pomona, and was also instrumental in the funding effort to construct the (then) school's Collins Center facilities. In 1985 and 1988, he funded the Laurie & Susan Frank Art Studio and the Richard N. Frank Athletic Field at Westridge School for Girls in Pasadena. In memory of his father, he was instrumental in establishing the Lawrence L. Frank Center for Crippled Children and Adults (now AbilityFirst) in Pasadena.
Frank received a bachelor's degree from Pomona College, and he then attended the Graduate School of Business at Stanford University. He and his wife, Mary Alice, also a graduate of Pomona College, reside in Pasadena. They are the parents of three children – Laurie Wilson, Susan Frank D'Angelo, and Richard R. Frank, who as President and CEO of Lawry's Restaurants, Inc. represents the third generation of the Frank family active in the management of the company. The Franks have five adult grandchildren, one of whom represents the fourth generation at Lawry's.
Company Profile
Lawry's Restaurants, Inc. owns and operates a group of fine dining restaurants, including the renowned Lawry's The Prime Rib restaurants in Beverly Hills, California, Chicago, Illinois, Las Vegas, Nevada, and Dallas, Texas, as well as the Five Crowns in Corona del Mar, California, and the Tam O'Shanter Inn in Los Angeles, California.