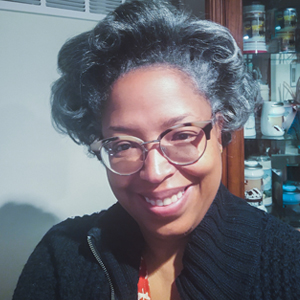 Annalise H. Fonza
Lecturer, Urban and Regional Planning, College of Environmental Design
Office location
Office hours
T | 11:15 AM-12:15 PM (VIRTUAL) W | 10:30 AM - 11:30 AM (VIRTUAL)
About Me
Dr. Annalise Fonza is a Lecturer in the Department of Urban & Regional Planning at Cal Poly Pomona. She is a writer, a womanist, an atheist, and she is a full-time federal civilian employee. Currently, at Cal Poly Pomona Fonza teaches URP 1051, Ethnic Communities, Places, and Urban Planning, which is cross listed in the Department of Ethnic and Women's Studies. Dr. Fonza continues to present and publish her work in urban planning as a womanist scholar. Presently, she is an online instructor at Planetizen, Inc.; in 2016, she was the first Scholar-in-Residence at the Center for Neighborhoods, which is an arm of the Department of Architecture, Urban Planning + Design (AUPD) at the University of Missouri Kansas City (UMKC). She has designed and developed curricula in urban planning, public administration, and political science in higher education institutions, including her alma mater, Clark Atlanta University, a historically black college and university (HBCU) located in Atlanta, Georgia. In addition, she is active in teaching and advising children and families at the elementary and secondary school levels in the state of Missouri.
Conducting oral histories and thus preserving the cultural and collective histories of black communities are dominant features of Dr. Fonza's research, teaching, and professional profiles. In 2007,  she established her own digital collection of oral histories of black residents, black state lawmakers and staff from the Commonwealth of Massachusetts at the Lyman and Merrie Wood Museum of Springfield History in Massachusetts. Wherever she is, Dr. Fonza is committed to and active in public service. Her professional work in urban and government administration began in what is now the Missouri Department of Health and Senior Services. She was employed as a political aide for a member of the Massachusetts House of Representatives following the historic same sex marriage decision of 2003; and, for a brief time she served as chief legislative assistant for a member of the Atlanta City Council assigned to the proposed redevelopment of Fort McPherson, which is now owned by producer/director/actor Tyler Perry. Finally, for about a decade, as the Reverend Annalise Fonza, she gave of her time and talents as an ordained clergywoman in the United Methodist Church, and she served under episcopal appointment as pastor to six separate congregations in three different states. She is currently certified (since 2013) by the American Humanist Society as a humanist celebrant.
Dr. Fonza's approach to academic scholarship is interdisciplinary and intersectional in orientation, and she believes that the published work of planning scholars is something that should often be accessible to all, not just to those in college or academia. With her 2010 dissertation (University of Massachusetts Amherst) she explored urban renewal planning in Springfield, Massachusetts, as it pertained to the city's burgeoning black population during the mid-to-late twentieth century. In this groundbreaking effort, she used the method of emancipatory historiography as proposed by the late-great womanist theologian Rev. Dr. Katie Cannon. Dr. Fonza is the first in urban planning in the United States to write and publish about the significance of womanist thought as a theoretical/methodological approach to urban planning, and as a means of affirming and empowering a growing number of planning academicians and practitioners who are courageously embracing their unique identities and ideas in the academy that continues to this day to hold them back or keep them out through various means, including the tenure process. In 2019, Dr. Fonza published a short electronic/digital proposal, which is available on most digital platforms entitled Rebuilding Black Communities, With Love; and, presently, she is collaborating on a project with Dr. Jerry Rafiki Jenkins (Palomar College) to examine the brave stories, poems, art, and essays of "Black Nones," also known as black atheists, freethinkers, secularists, and humanists. Without a doubt she believes that not only is there power in embracing who you are, but this power is amplified when we speak out and bring it to life!