Support the College of Business Administration

Support the College of Business Administration
The College of Business Administration has a long tradition of delivering innovative and transformational experiences necessary for our graduates to become the global business leaders of tomorrow. Students receive a technologically driven education and graduate as skilled problem-solvers instilled with a sense of life-long learning, a spirit of civic engagement and the ethical framework necessary to "hit the ground running" to experience immediate success. The college is a diverse and inclusive community of students, teacher-scholars, and staff, committed to active learning through the application of theory in practice to produce "work-ready" graduates.
Funding Priorities
Student Success Initiatives
In support of the CSU Graduation Initiative 2025 and campus-wide student success initiatives, the College will use funding to enhance strategic investments in technology infused support programs focused on academic advising and degree completion, high-impact polytechnic practices for career readiness and college-based student financial support
Enhancement of Academic Centers of Excellence
The College of Business Administration has long been recognized nationally for its Centers such at the California Center for Cyber Risk, Singelyn Center for Innovative Analytics and the Mitchell C. Hill Center for Digital Innovation. The College will maintain its focus on enhancing its academic programs, collaborative research projects and will continue to expand industry partnerships and globalization of its programs.
Fellowships and Scholarships
Providing the opportunity for our student to live the "Polytechnic Experience" is of upmost priority for the College of Business Administration. Through student fellowships, the College provides students one-year appointments to industry-related fellowships – working alongside faculty and other leaders on projects and applied research directly related to their field of study or career paths. In addition to fellowships, the College continues to offer scholarships to promote student success, mentorship opportunities and attending professional conferences, competitions and other networking events related to their studies.
College Contacts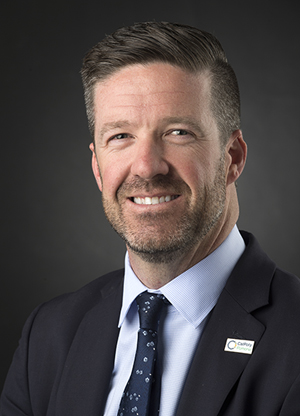 Jeff Cox
Sr. Director of Development
phone number or extension

909-869-2755