Current Exhibitions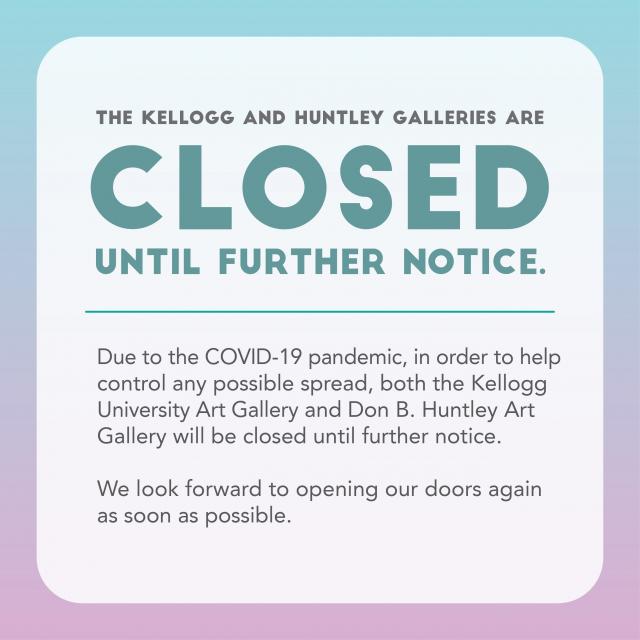 COVID-19 Closure Alert

Gallery Closure as of March 17, 2020
Due to the COVID-19 pandemic, and in order to help control any possible spread, both the Kellogg University Art Gallery and the Don B. Huntley Gallery will be closed until further notice.
We look forward to opening our doors again as soon as possible.
All Galleries' operations continue on a remote basis. Please continue to stay engaged.
Social media and websites will remain active as we continue to develop exciting future exhibition programming!
At the official CPP Health Alert website you'll find up-to-date information about campus status, important announcements, health advisories, and frequently updated information for students, faculty, staff, and members of the public.
---
Through the Toy Shop and Behind the Curtain: The Artistry of Gina M.
January 21, 2020 to August 31, 2021
Enter a toy shop of childhood fantasy, fun and games! But look closely: what you think you see, may not be what you think. Well-loved toys and plush animals gradually melt into a melancholy menagerie of misfits, displaying their busted and corroded wheels, sorrowful and broken faces, and worn-out and rusty exteriors. On display are the nostalgic elements of one's youth –a toy box of whimsy, over-stuffed with humor and symbolism. Upon first glance, they are full of joyful memories. Upon closer look, they are aged and ragged, unmasking the gloomy overtones of childhood desolation.
Read more
---