Creating an Endowed Fund
An endowment can serve as a university's financial cornerstone, allowing it to fuel progress in research, student scholarships and hands-on learning and teaching excellence. Through allowing an institution to be less dependent on the unpredictable sources of annual revenue, such as sponsored research or state or federal aid, endowments ensure that promising programs, individuals, and initiatives have the continual, steady support they need to take the intellectual risks that can pay off in monumental leaps in knowledge.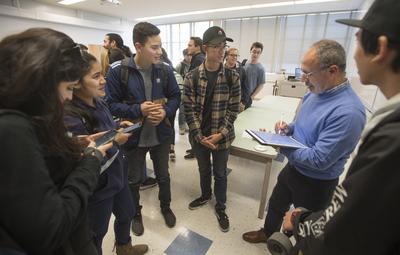 An endowment consists of funds donated to the Cal Poly Pomona Philanthropic Foundation that are invested in perpetuity. Endowed funds can be unrestricted, providing a resource that can be used to meet current university priorities or invest in exciting new opportunities as they arise, or can be designated for specific purposes, including scholarships; professorships, academic or research programs; and even facility maintenance.
A portion of the invested return is distributed annually to the program you designate, while the remaining portion of the return is reinvested back into the principal for continued market growth of that endowment fund. This allows for endowment to provide both immediate funding and long-term financial security for the institution, ensuring that the fund will benefit future generations of scholars, faculty, and students.
Establishing an endowment is an act of great generosity and vision.  Donors who decide to create an endowment do so because they understand the importance of supporting the institution not only during their lifetime, but for generations to come. These visionary individuals, families, and organizations build an extraordinary resource.
Many donors choose to establish an endowed fund in order to honor a loved one, or to memorialize an important figure in their life, ensuring that their name and generosity will forever be a guiding force in our institution's success.
For additional information on creating an endowed fund at Cal Poly Pomona, contact:
Pam Jones-Tintle

Executive Director of Development

Phone: 909-869-2875

Email: pajones@cpp.edu