Faculty and Staff Spotlight
Provost Award 2019
Excellence in Service:  Felicia Friendly Thomas
 Being one of six African American children who integrated an all-white school in rural South Carolina in the 1960's, Dr. Felicia Friendly Thomas became a passionate champion of under-served and under-represented people, especially first-generation college students like her. At Cal Poly Pomona, Dr. Friendly Thomas co-founded the Cal Poly Child and Family Services Friendmobile Program, a parenting and tutoring/mentoring center on wheels that provided free services to local communities. The Friendmobile evolved into a program where psychology students went into community facilities and schools to provide much needed services. Additionally, Dr. Friendly Thomas has been recognized for her research on diversity, bias and mentoring - conducting numerous workshops and invited presentations including being a Distinguished Speaker and "Terman Master Teacher" for the Western Psychological Association and James Jones Invited Speaker for the American Psychological Association. Finally, she was a Malone Fellow with the National Council on U.S – Arab Relations and has served on city and county agencies and commissions.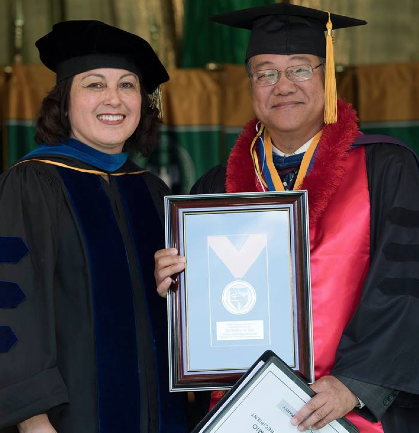 Provost Award 2016
Congratulations to Dr. Jeffery Mio who received the 2016 Provost Award for Academic Excellence in Service.
Dr. Jeffery Scott Mio, a professor in the Psychology department, joined Cal Poly Pomona in 1994 after earning a Ph.D. in Clinical Psychology from the University of Illinois, Chicago and a decade of teaching at other universities. Mio's service has a remarkable scope and influence. It includes service to Cal Poly Pomona, his profession and the community.
At Cal Poly Pomona, Dr. Mio serves at the department and university level, with particular contributions to the AsianPacific Faculty, Staff & Student Association. At the national level, he made many contributions to the American Psychological Association and the Asian American Psychological Association. At the community level, Mio was president of the Media Action Network for Asian Americans, a media watchdog group.