Purchase Your Health Insurance
Health insurance is provided by AETNA Student Insurance through JCB Insurance Solutions. Please visit the JCB website to purchase the insurance plan, and view the benefits. 
International students are REQUIRED to purchase this health insurance plan for each semester that they attend CPELI. 
Insurance Coverage Length and Cost
| | | | |
| --- | --- | --- | --- |
| Coverage Period | Start Date | End Date | Cost |
| Summer 2023 | 05/29/2023 | 08/14/2023 | $313 |
| Fall 2023 | 08/15/2023 | 12/31/2023 | $590 |
| Spring 2024 | 01/01/2024 | 05/26/2024 | $624 |
| Summer 2024 | 05/27/2024 | 08/14/2024 | $340 |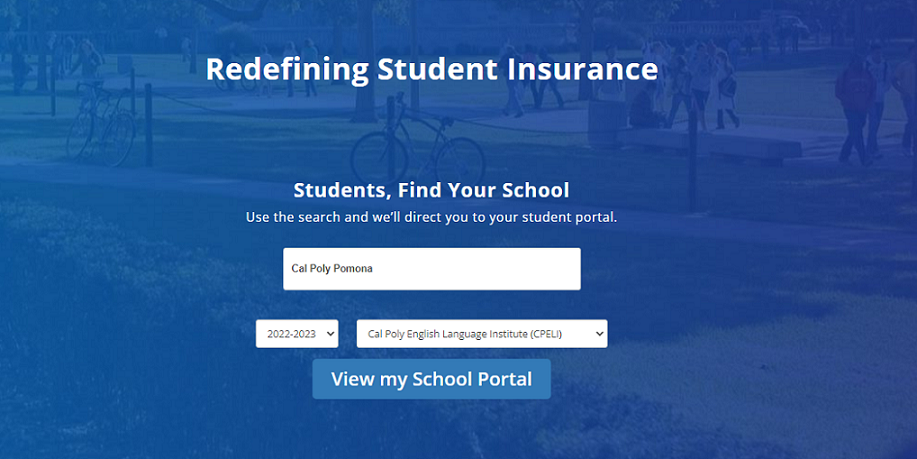 Enroll or Renew Coverage

To enroll or renew your health insurance plan, go to JCBins.com.
Find your school by typing in

 

Cal Poly Pomona.
Select the correct plan year (select 2022-2023 for purchase of Summer 2023 plan. And select 2023-2024 for purchases of Fall 2023, Spring 2024 and Summer 2024).
Select

 

Cal Poly English Language Institute (CPELI)

 

and then click View my School Portal.
Click Enroll. (on this page, you may also view the insurance plan brochure)
Click

 

Select This Term. 
Check Yes, I agree to the above inforamtion. And then click Continue to Next Step.
Create an account or use your existing account (if you are a returning student), complete the form, and then proceed to make the payment. 
Insurance Services Information
Below are some of the services covered by your insurance:
Routine physical exams
Preventive care immunizations (such as the Flu shot)
Preventive visits for women (gynecological exams)
Counseling services
Etc.
For a complete list of covered services, please visit the policy information here.
To find a doctor close by who speaks your language, please visit the directory here. You will need your login information.
A "deductible" is the amount of money you pay before your insurance starts to pay for services.
Students are required to pay a $50 deductible per policy year.
The deductible is waived for all of the following eligible health services:
In-Network Care

Preventive care and wellness
Physician or Specialist office visit expense
Walk-in clinic visit expense
Consultant expense
Outpatient mental health expense
Outpatient substance abuse treatment
Adult vision care exam
Pediatric dental services
Aids vaccine expense
In-Network and Out-Of-Network

Pediatric vision care services and supplies
Outpatient prescription drugs
A "co-payment" is the amount of money you pay each time you go see a health care provider. It is the amount of money you pay after you have paid your deductible.
With AETNA, there are no co-payments required.
CEU Footer


3801 W. Temple Ave.


Bldg 86



Pomona CA 91768
https://www.cpeli.cpp.edu
Phone: 909-869-4599
Email : cpeli@cpp.edu
Office Hours:
Monday – Friday 
8:00 AM to 5:00 PM


Follow Us on Social Media