Legacy of Learning
Patrons of Modern Architecture Secure a Legacy of Learning
By Samantha Gonzaga
Not many people had a math class like the one Steve Dodge took in high school — the kind that connected numbers and design, sparking a lifelong appreciation of modern architecture.
"I had been exposed to the Eames House in high school," Dodge says. "Our teacher had a very different kind of math class. We would see Eames films every Friday. It was just enhancing."
His wife, Marian Dodge, was drawn to the clean design of modern architecture. The couple spent their early years together touring Los Angeles, mapping their way with David Gebhard and Robert Winter's "An Architectural Guidebook to Los Angeles."
The drives, the math class and architecture tours fostered the couple's mutual love affair with modern architecture. When it came time to buy a house, the Dodges had researched 10 to 12 modern architects. They knew what they were looking for. Their realtors did not.
"We saw a two-line ad in the Los Angeles Times, and it said 'Soriano.' We jumped on it, looked at it, and I fell in love the moment we walked through the door. That's as far I got, we walked through the front door, and that was it," Marian says.
"Modern architecture emphasizes the house blending in with the landscaping. That's the other thing that really attracted me to the house we bought. It was adjacent to Griffith Park. Our view is the whole park."
In 1987 the Dodges bought the Schrage House and began its restoration. They relied on their private collection of Raphael Soriano drawings and those kept in the College of Environmental Design Archives and Special Collections, a repository of work by Soriano (who was also an adjunct faculty member in the architecture department in the late 1980s), Craig Ellwood, Richard Neutra and Donald Wexler.
In 2011, the Dodges pledged $3 million through an estate plan to establish the Dodge Institute of Modern Architecture at Cal Poly Pomona. In 2018, the couple finalized the second installment, giving the university 60 percent majority ownership of the home through a retained life estate plan.
"We wanted to make sure the Soriano house is preserved, not bought by somebody who doesn't care and tears it down," Marian says. "The second goal was to preserve our assets instead of giving it all to Uncle Sam. It turned out to be a win-win."
What is a Retained Life Estate?
Working with the university, the Dodges have planned for their home to be a permanent lab to enhance students' learning experience. Through the retained life estate, they donate their home and retain the right to live there as part of their financial and estate plan. This thoughtful and strategic planned giving technique maximizes the charitable income tax deduction and reduces their taxes over 18 years.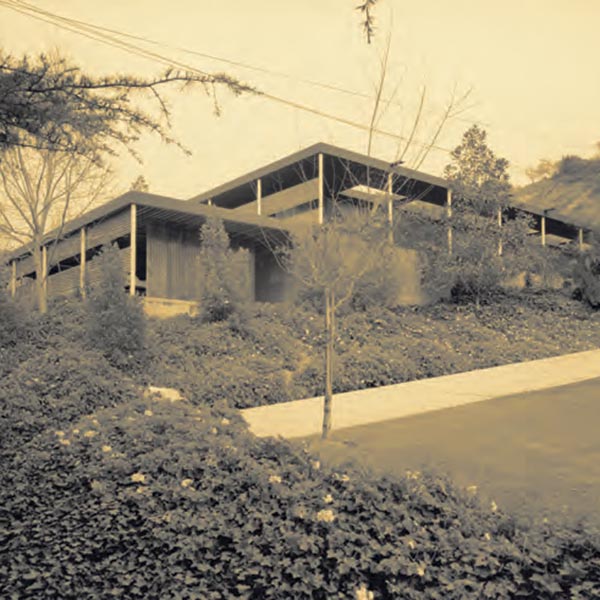 About the Schrage House

The Schrage House in Los Feliz was designed by renowned midcentury modern architect Raphael Soriano, a former faculty member at Cal Poly Pomona. Built in 1952, it is the only steel-and-glass Soriano residence still existing in its near-original state. It bears the hallmarks of his pioneering style: modular, incorporating prefabricated steel, glass and resin-bonded plywood. Historians consider it one of Soriano's finest designs.