Electromechanical Engineering Technology | CPP College of Engineering
The Electromechanical Engineering Technology Program is accredited by the Engineering Technology Accreditation Commission of ABET, http://www.abet.org. This degree provides the student with a firm background in mechanical and manufacturing engineering technology. Our hands-on, high quality education process enables graduates to be productive members of the engineering team from the first day of employment. Job titles include field engineer, project engineer, superintendent, as well as estimator, scheduler, manufacturing manager, and project manager.
Mechanical Emphasis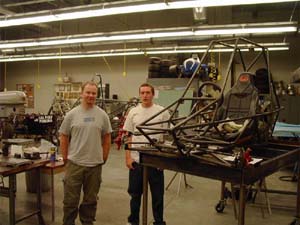 This emphasis area stresses the application and design of mechanisms and power transmission systems utilizing strength of materials, statics, dynamics, fluid mechanics, metallurgy, thermodynamics, and heat transfer. Graduates may be involved in applied design, development, application, and production of mechanical devices and systems.
Graduates may also be involved in data analysis, planning, calibrating and maintaining plant equipment and systems utilized in large facilities. They may be employed in manufacturing, commercial, medical, institutional and government organizations. This may also involve the overall needs of society where problems related to the environment, pollution, and energy conservation may need to be considered.
Manufacturing Emphasis
This emphasis area stresses technological competency and managerial skill in solving problems of utilization of raw materials and resources through planning, selecting, and organizing of manufacturing processes in the most economical manner.
The manufacturing technologist is concerned with problems in mass production of manufactured goods. This includes production design, tooling, selection of machines, marketing, and consumer psychology.
Student Activities and Clubs
Electromechanical Engineering Techhnology students are encouraged to join the Southern California Engineering Technologist Association (SCETA), Society of Automotive Engineers (SAE), Mechanical Contractor Association of America (MCAA), American Society of Heating Ventilation, Refrigeration and Air Conditioning Engineers (ASHRAE) and the Society of Manufacturing Engineering (SME). There is also a chapter of Tau Alpha Pi, the National Honor Society of Engineering Technologies on campus.
The program has close ties with the mechanical building industry and manufacturing industry. The student organization is the Mechanical Contractors Association of America (MCAA). Students also compete in the Associated General Contractors (AGC) annual Mechanical Division student competition and have been ranked in the top 3 universities in the country in mechanical HVAC and plumbing design. The EMET program offers a number of scholarships through ASHRAE, MCAA and AEE.
ABET
Electronic Systems Engineering Technology Enrollment and Degree Data.
Electromechanical Systems Engineering Technology Enrollment and Degree Data.