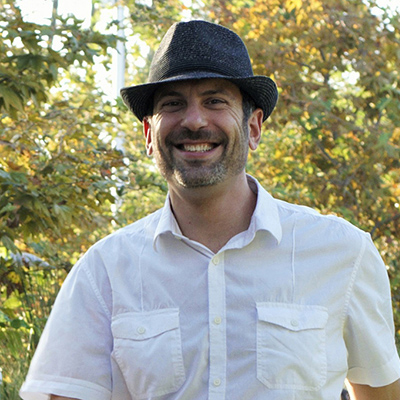 Barry Lehrman
Associate Professor, Landscape Architecture, College of Environmental Design
Email
Phone number
(909) 869-2673
About Me
Visualizing the interface between infrastructure, ecology, and culture.
A landscape futurist, Lehrman utilizes emerging design methods and technology to poetically visualize the dynamic connections between water, energy, ecology, and culture. His research and upper division/graduate courses explore methods to visualize the hidden world around us and expanding the sustainable practice of landscape architecture using environmental sensing, parametric design, and mobile mapping.
Current Research
For his fall 2017 sabbatical, Lehrman began a deep dive into environmental sensing, circuits, coding, and visualization though developing InfraDRIP: Infrastructural Display of Real-time Information for Persuasion. In 2019, a $24,500 Special Project to Improve Classroom Experience (SPICE) Grant enabled him to create of the Physical Computing Discovery Collection, an expansive tech-lending library with 350+ microcontrollers, sensors, actuators, networking and signal processing boards, components, and tools now available in CPP's Maker Studio.
A second (SPICE) Instructional Innovation grant ($24,975) in 2021, funded the creation of the Advanced Design Computing + Sensing Lab with Prof. Li that will house our UAVs, in situ and remote sensors, and our new mobile mapping tools (Insta360 Pro 2 8K video camera, precision RTK GPS units, and more), a Dell Precision 5820 workstation for video editing photogrammetry, machine learning, virtual reality, along with a mult-touch table computer for participatory design. Inspiration for this grant was getting to borrow a Pro2 camera to document the shore of the Salton Sea for a Spring 2021 virtual field trip.
Beyond technology, Lehrman has been mapping/visualizing California's water infrastructure for over 15 year. Highlights of this research include the Aqueduct Futures Project (exhibited at LA City Hall in 2013 and Los Angeles Contemporary Exhibitions in 2016), his Recharge City proposal for integrating water recycling/ground water recharge into the urban fabric of Southern California, placed 3rd in the 2015 Dry Futures Competition, and a 2018 article in Journal of Maps. 
Professional Background
Prior to joining the Department of Landscape Architecture at Cal Poly Pomona in 2011, Lehrman taught at the University of Minnesota. From 2001 – 2009, he practiced as a landscape architect (MN license # 47285) and urban designer in New York City, Philadelphia, Los Angeles, and Minneapolis. He learned the craft of telling stories as a set designer and art director in Hollywood (1995 – 2001).
Research Themes
Urban resilience/climate change adaptation
Mapping and visualizing dynamic systems and changing landscapes
Dry lake restoration/dust mitigation landscapes
Interactive environmental sensors and ambient displays
Measuring and modeling landscape performance/ecosystem services
Water recycling and urban groundwater recharge
Prof. Lehrman welcomes inquiries to collaborate from students and practitioners, along with consulting opportunities.