Learn by Doing
Not only does the Farm Store hire Cal Poly Pomona students from across campus, the Huntley College of Agriculture supports a "learn by doing" environment through student enterprise projects. Using the latest technology on the Cal Poly Pomona fields, facilities, and in the greenhouses, students have the opportunity to learn everything about food production from start to finish. All of the products eventually end up for sale in the Farm Store, sold to distributors, or given to local food banks. Click on the Cal Poly Pomona Grown page for items currently available.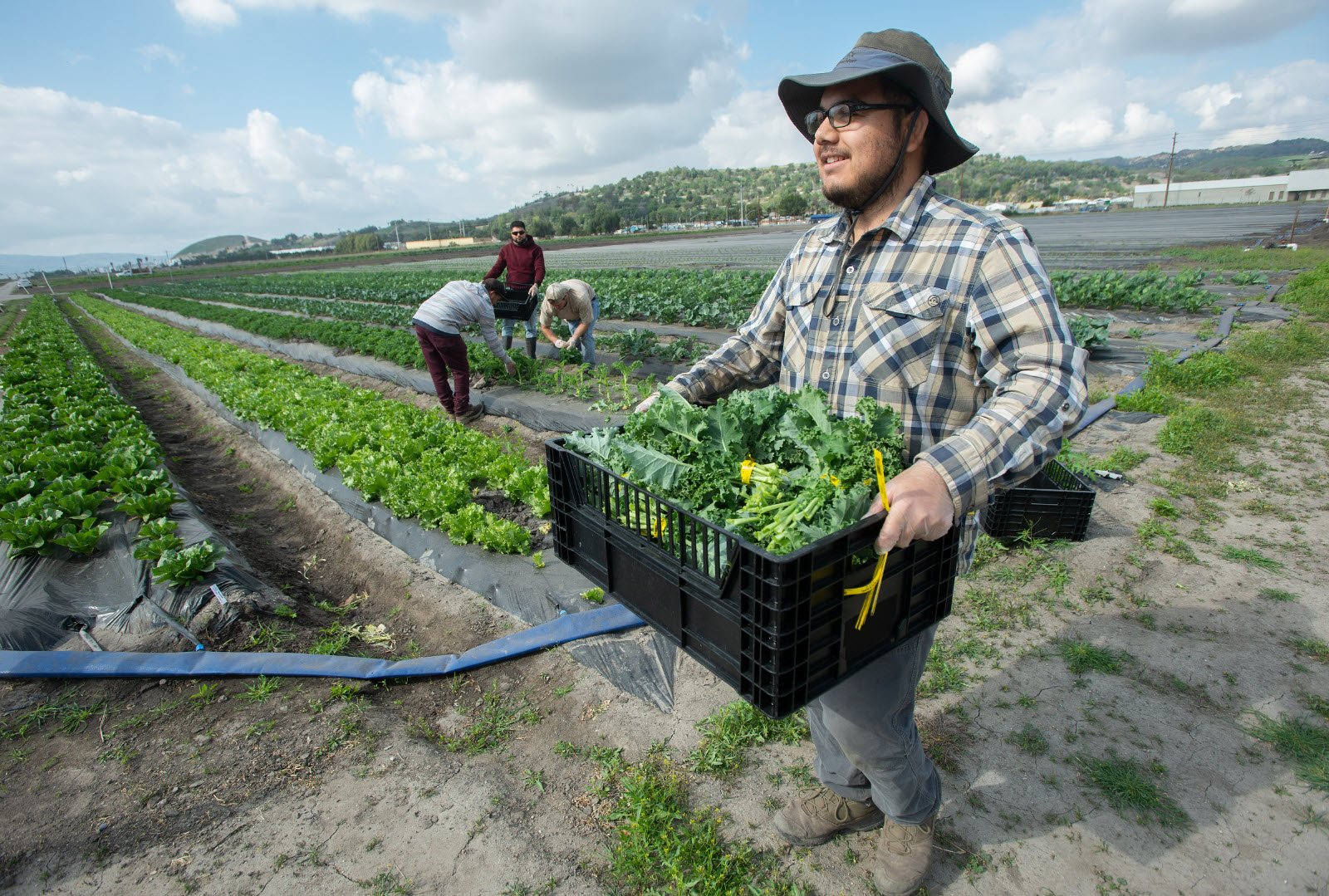 ORGANIC FARM
In 2019, nearly 10-acres of Cal Poly Pomona's Spadra Farm was certified for organic production. Students learn the organic practices of growing and maintaining a variety of produce items and then deliver them for sale at the Farm Store.
Read more about the Organic Farm.
GETTING READY FOR TOMATOZANIA
Preparing for the huge tomato plant sale held every March is quite the task. Olivia Miethke, a Landscape Architecture major, is up for the challenge. Her responsibilities include care and maintenance of the plants and transplants in the greenhouse. Hundreds of tomato plant varieties are grown for this event.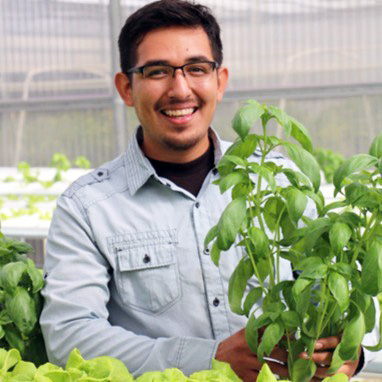 NURSERY, GREENHOUSE, AND MORE
Graduate student Danny Munoz was involved in projects incuding hydroponics, propagating, watering, and grafting. He got his best hands-on experience doing soil and growth media preparation but his favorite part of the job was helping customers select the best plants for their individual needs when he worked at the Farm Store Nursery.
A LITTLE BIT OF EVERYTHING
Kelsey Swayze is a CPP graduate student who has done a variety of things during her academic career including working with crops and managing social media accounts. She is currently finishing her master's degree in Plant Science and is working as the Nursery/Greenhouse Coordinator.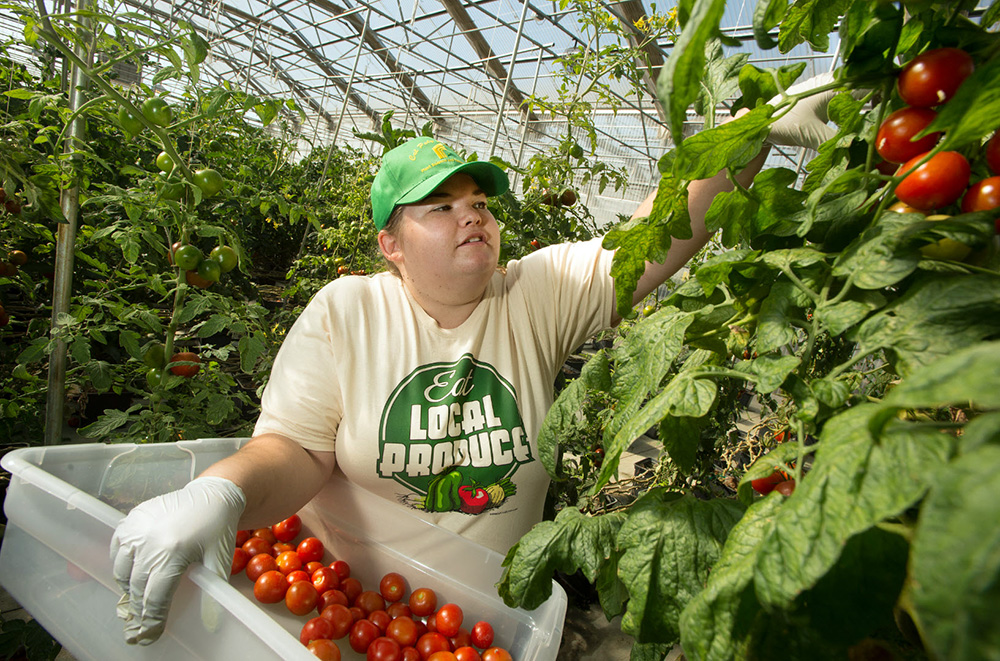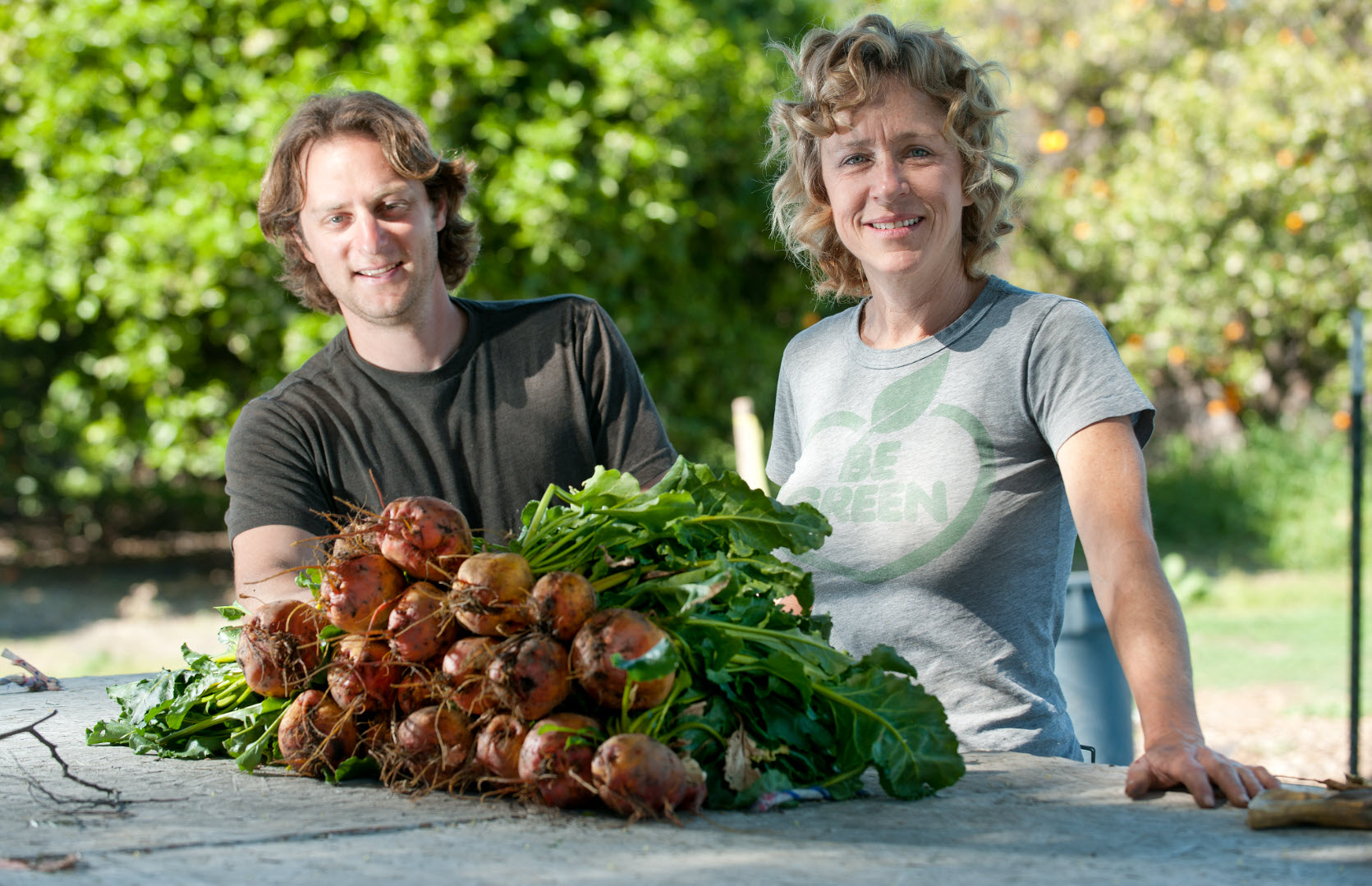 ORGANIC FARMING
Students Joanne O'Sullivan and Andrew Esterson found the experience of organic farming to be both challenging and rewarding. They grew a garden of organic produce like tomatoes, peas, beets, and a variety of lettuce. They even had chickens raised organically for their eggs.
WORLD'S HOTTEST LITTLE PEPPER
Ghost peppers or bhut jolokia have the distinction of being one of the hottest peppers in the world. Students who work with them in the hydroponics greenhouse must handle with care. In addition to being hotter than a habanero, the ghost pepper was the hot item in the Farm Store and sold quickly.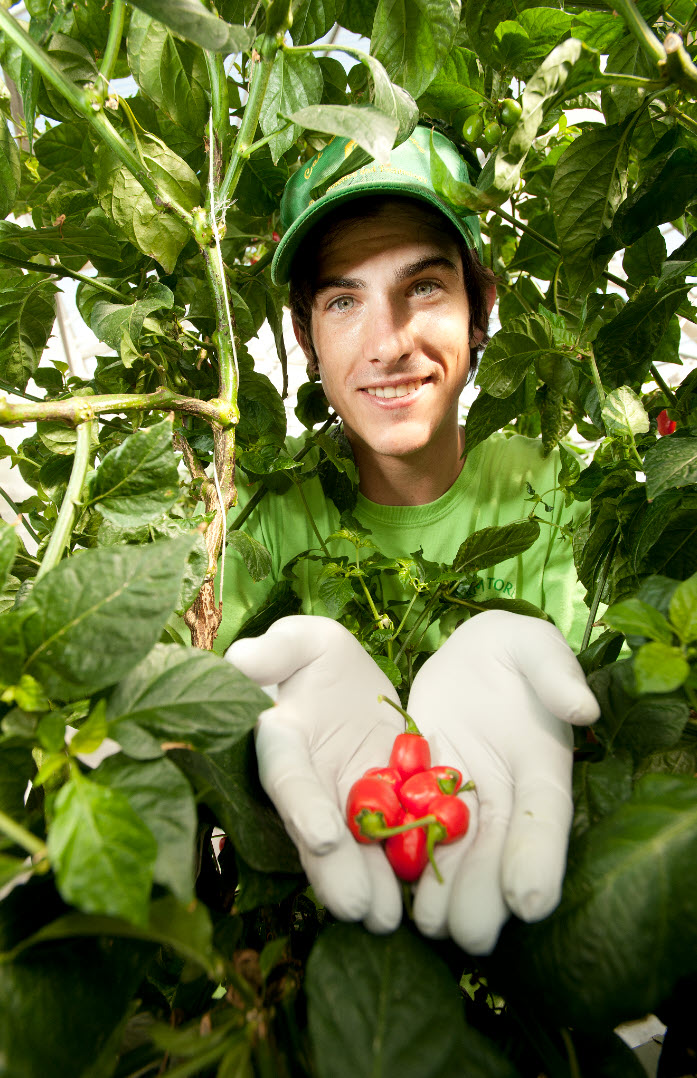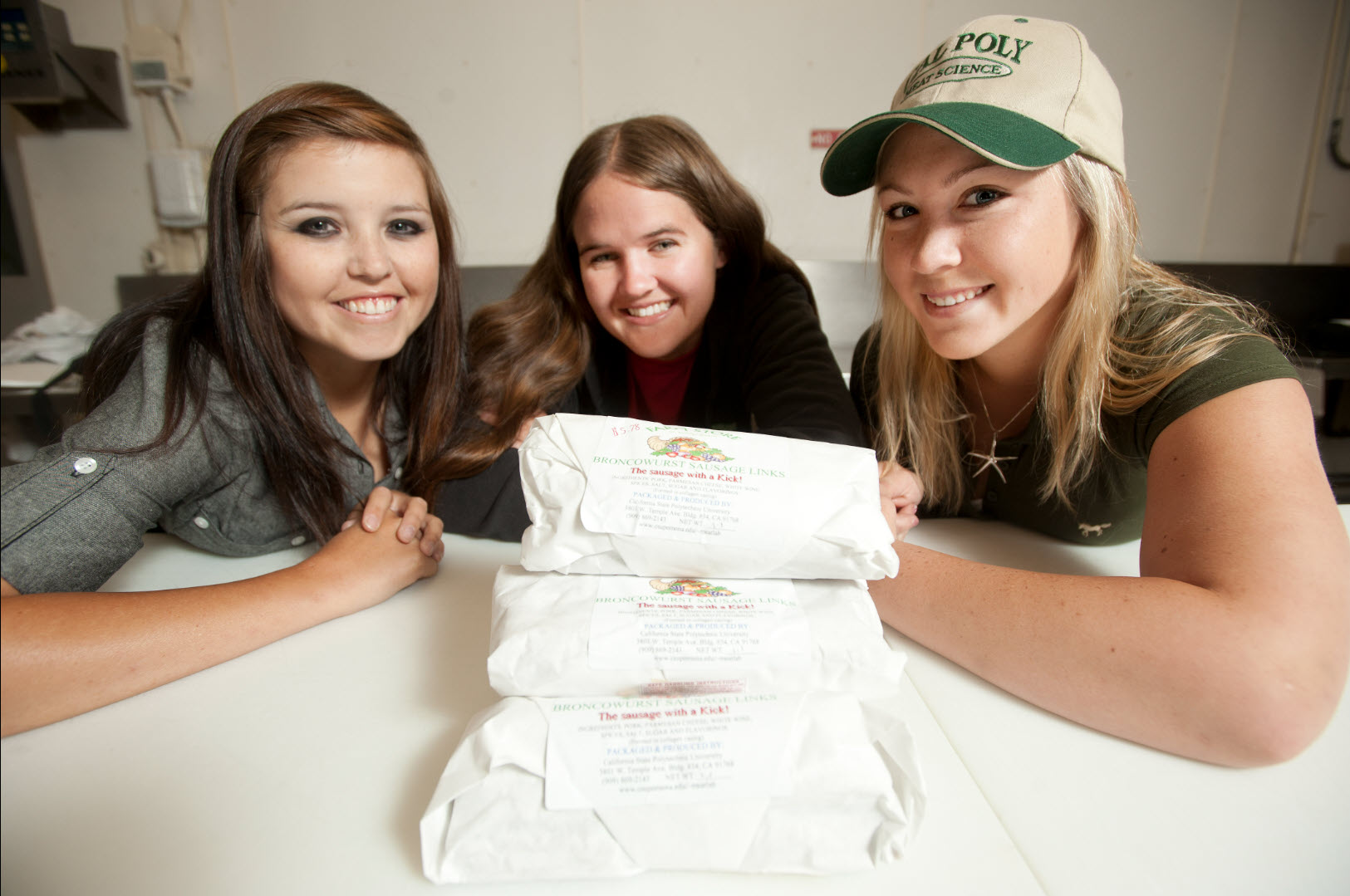 SAUSAGE WITH A KICK
Members of the Meat Club were challenged to come up with a sausage that included Cal Poly Pomona green and gold spirit. From left to right, Jeannie Knuchell, Sara Beth Dick and Brittany Ball present Broncowurst filled with parsley and yellow seeds which was sold at the Meat Lab and the Farm Store.
MAINTAINING A VINEYARD
Jonathan Allred, a Plant Science major, picks zinfandel grapes that he has helped grow at one of the Cal Poly Pomona vineyards. The grapes eventually produce zinfandel rose and red zinfandel wine, sold at the Farm Store and the Restaurant at Kellogg Ranch.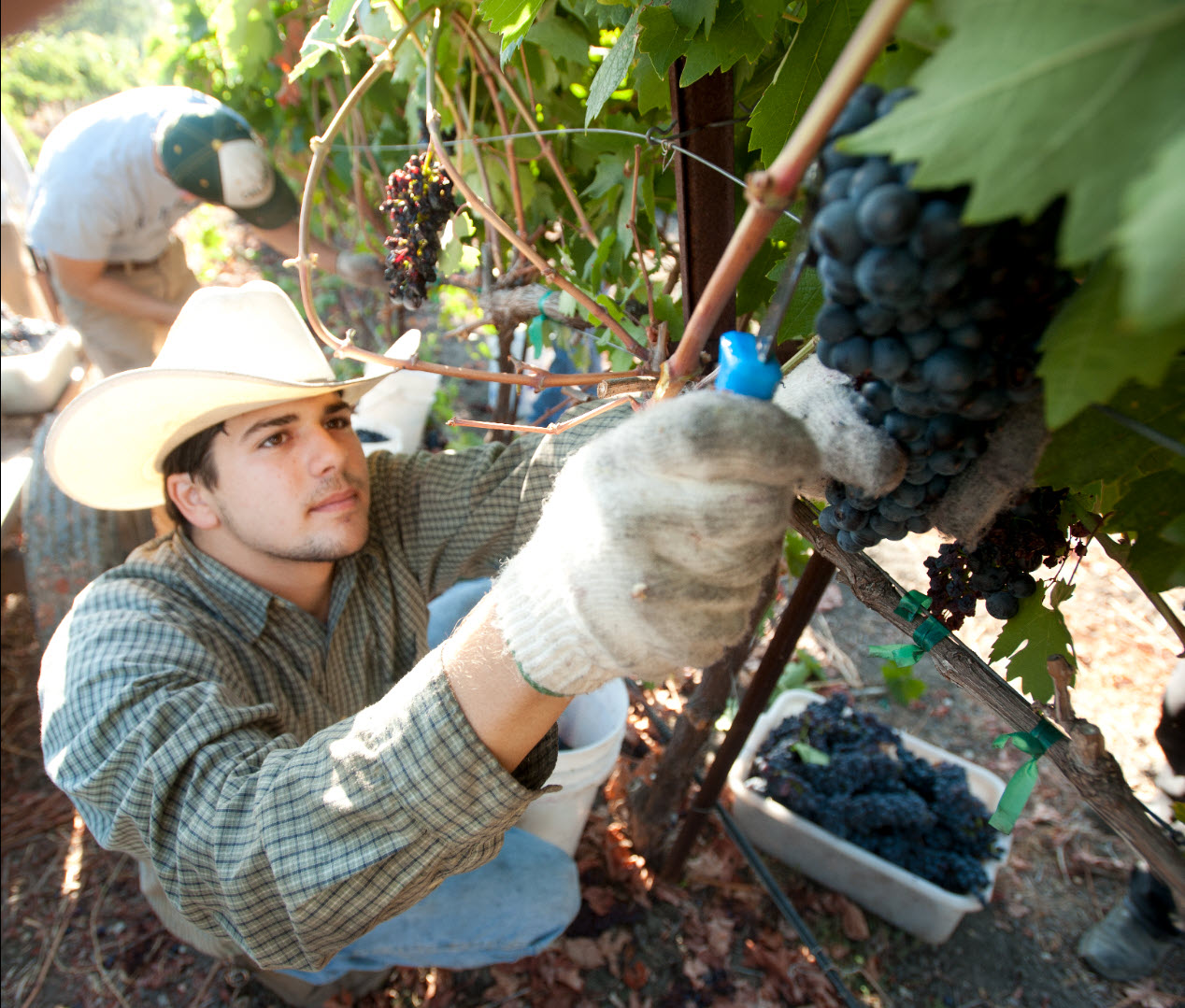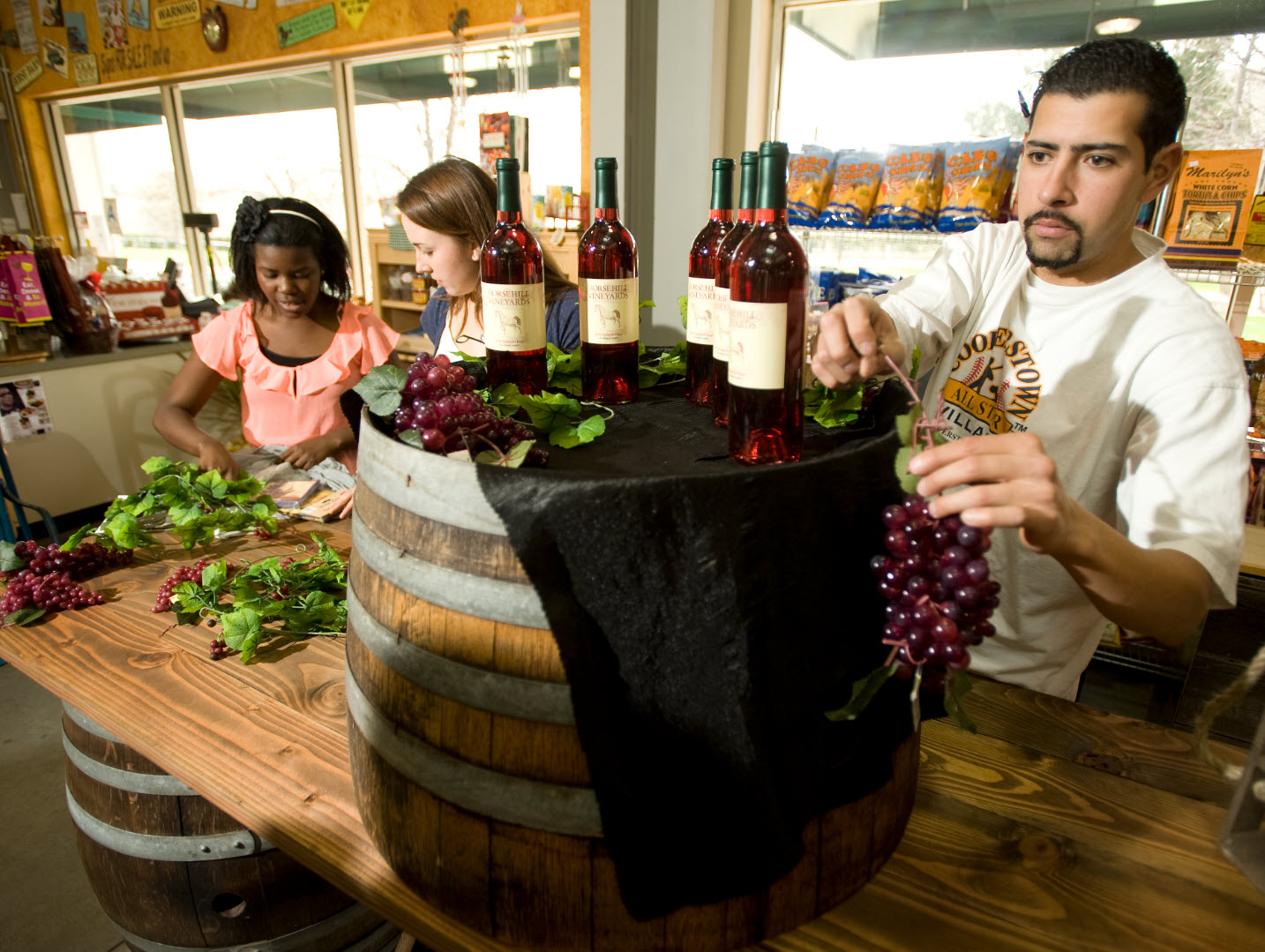 STUDENTS CREATE A MARKETING DISPLAY
Food Marketing & Agribusiness Management students work on a Horsehill wine display in the Farm Store. Pictured from right to left are Leo Carrera, Tatiana Assemian, and Fiona O'Connor. These students were part of the Food Marketing Team that developed a marketing plan for selling the wine.
HYDROPONICALLY GROWN BASIL
Kirk Weatherton, a Plant Science major, tends hydroponic basil in the AGRIscapes greenhouses. Once harvested, the fresh basil was sold in the Farm Store.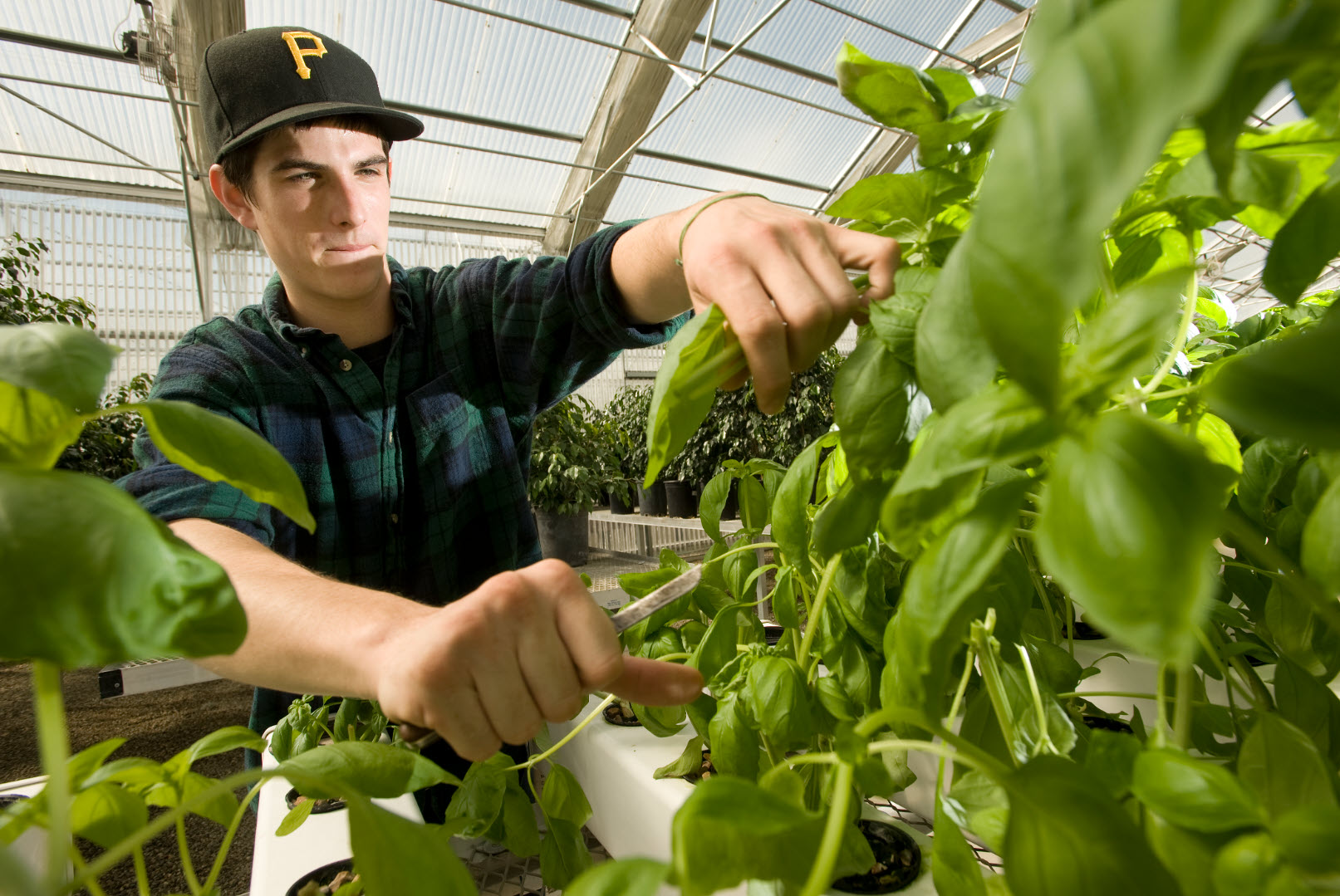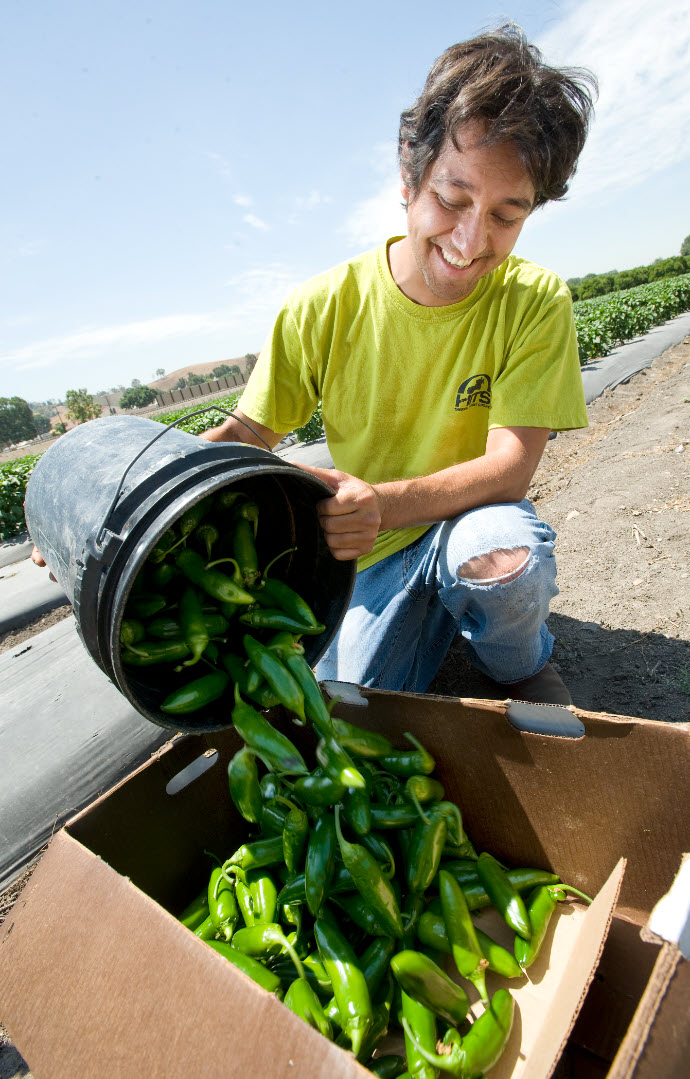 JALAPENO PEPPERS
Jalapenos are a popular item in Mexican cooking. Growing them became a specialty of three College of Agriculture students. The trio included Cesar Gonzales (pictured), Miguel Macias, and Daniel Pinedo. Over 22,000 plants were grown and about 265,000 peppers harvested on Spadra Ranch. A new fertilization system was developed in the process. Both sweet and hot jalapenos were sold in the Farm Store.
BUILDING AN IRRIGATION LINE
A group of students learned to assemble an irrigation line for the Verti-Grow hydroponic planting system. The produce grown in the system provides a U-pick experience for visitors of the AGRIscapes Farm.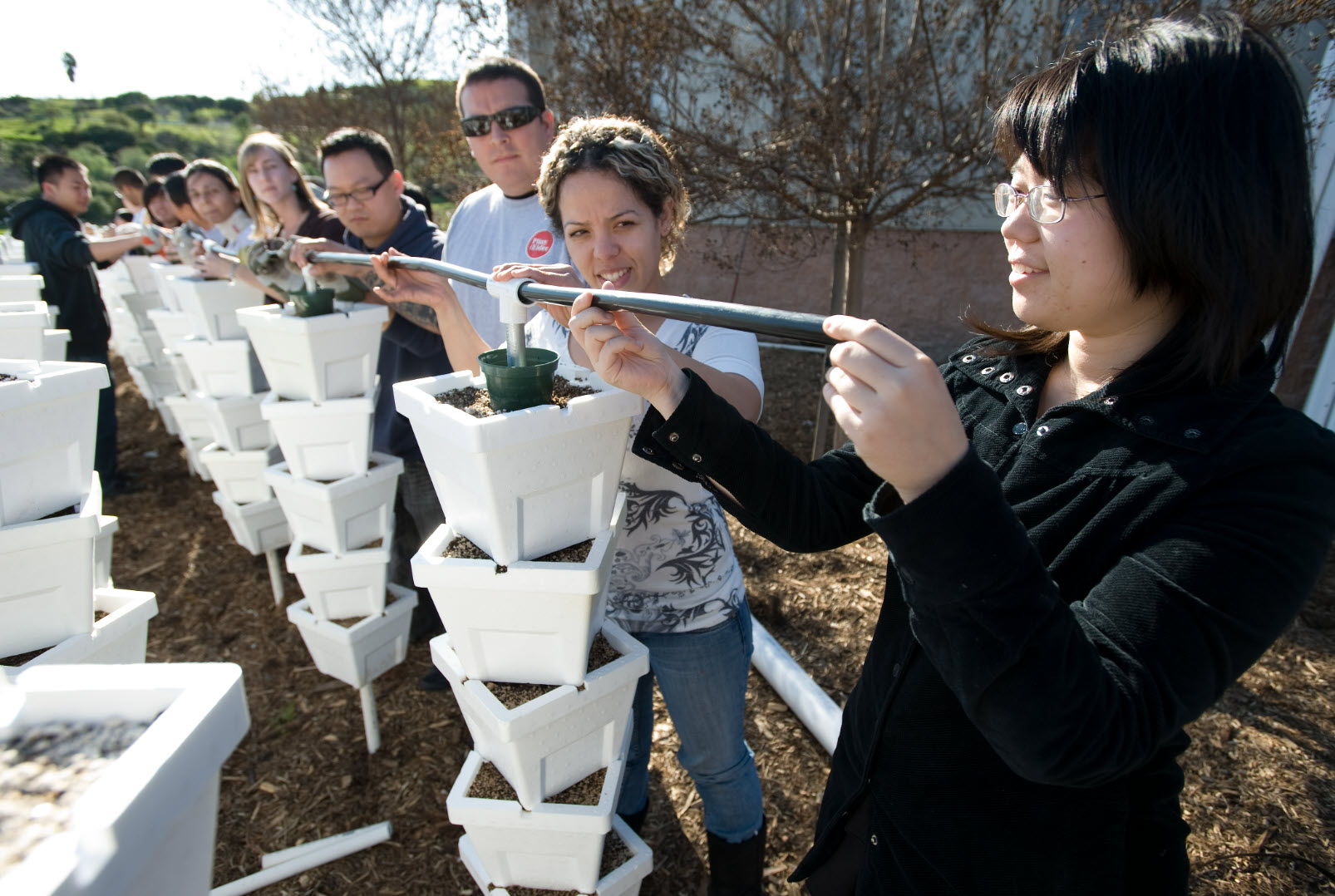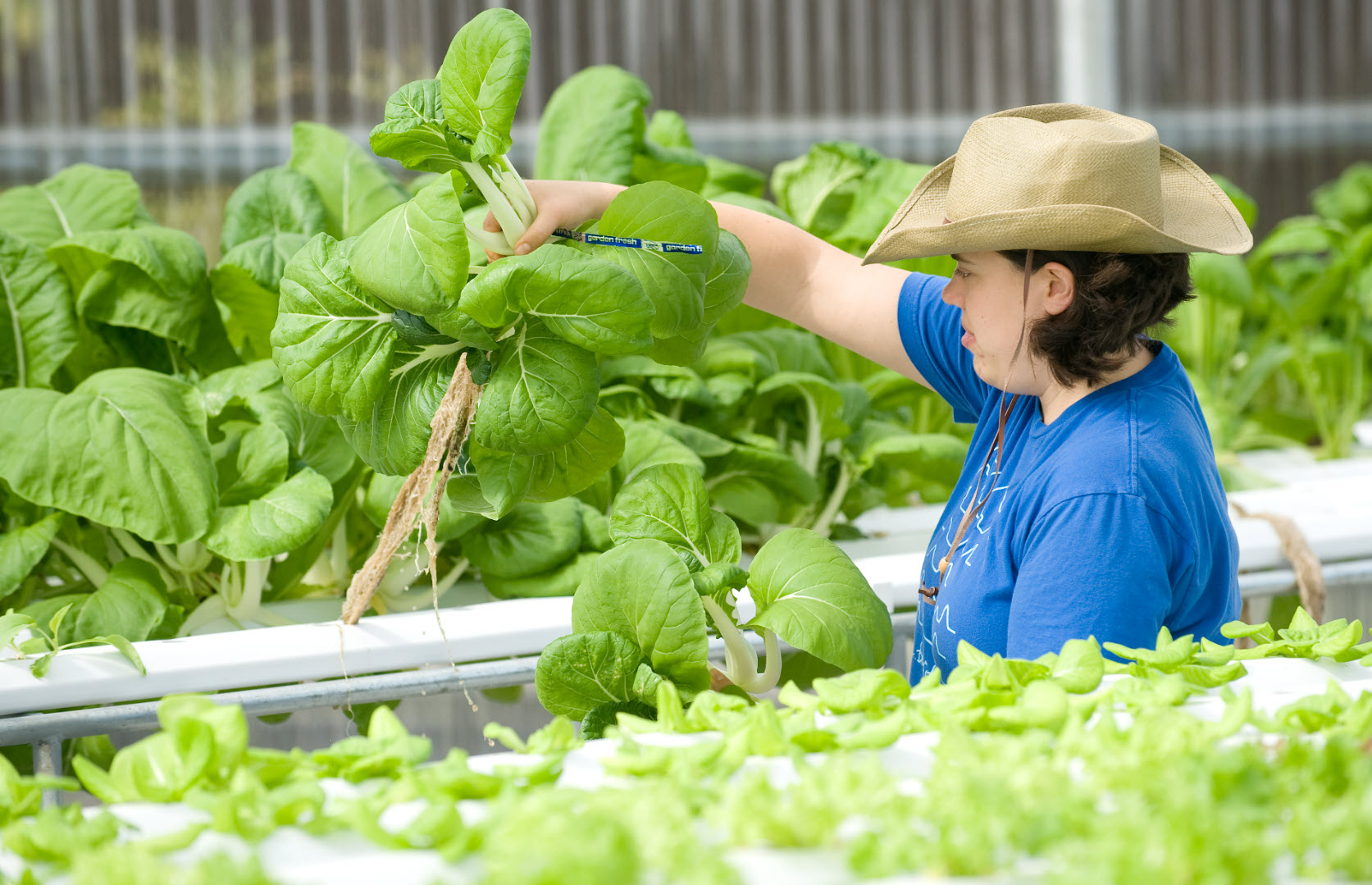 HARVESTING HYDROPONIC PLANTS
Sarah Ulloa, an Agronomy student, oversees the growing of hydroponic Komatsuna or Japanese Mustard Spinach. This large leafy vegetable is a popular item for the Farm Store to sell at farmer's markets. Sarah is about to deliver a fresh batch to the Farm Store.
GROWING AND HARVESTING WATERMELONS
Annette Hernandez knows a lot about watermelons thanks to her hands-on experience. Everything from irrigation schedules, planting, weeding and marketing is part of the deal. Several varieties such as seeded, seedless, and orange flesh watermelons were sold in the Farm Store and also sold to a distributor.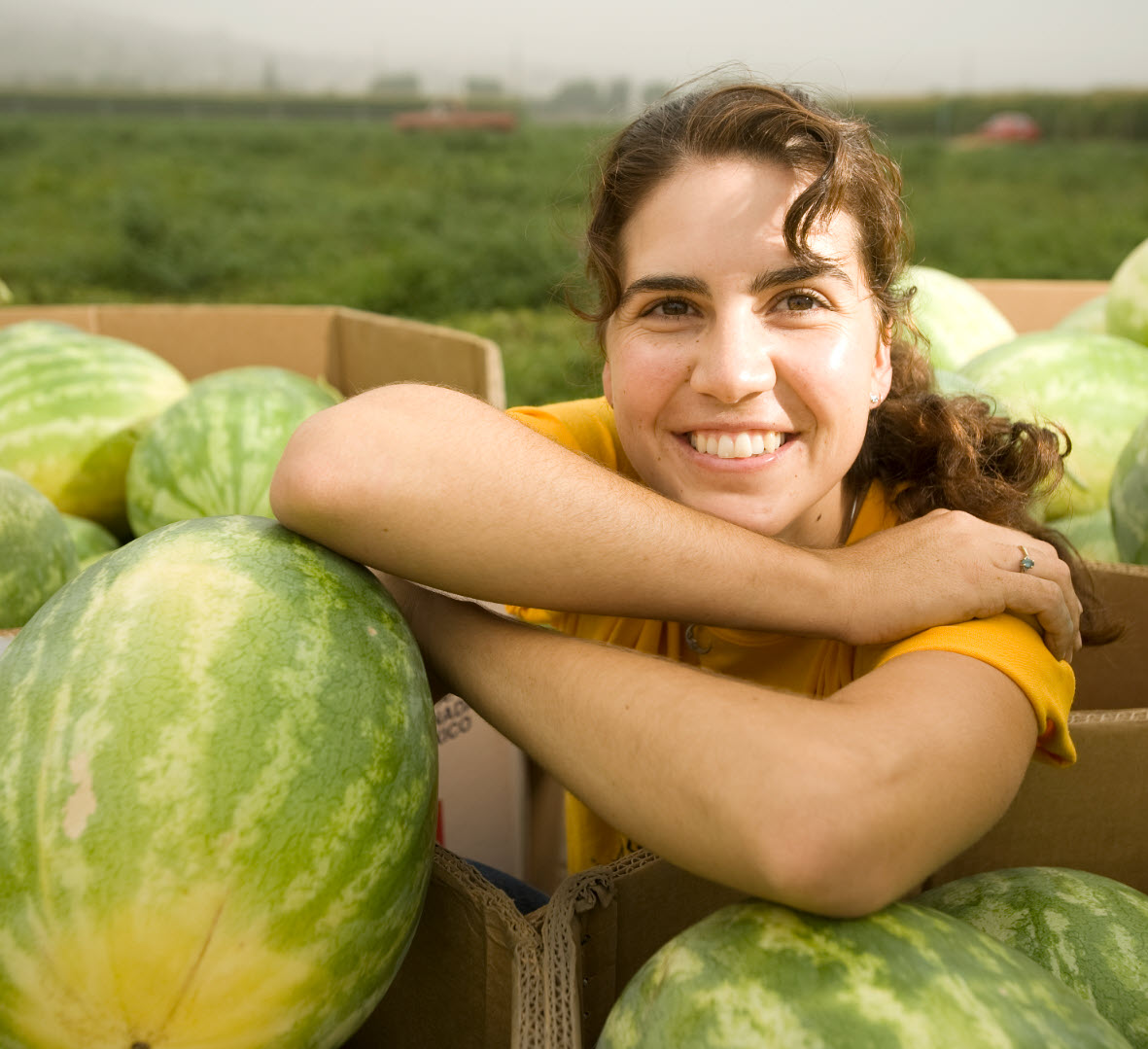 ---
Contact Us  |   Bronco Express Routes  |   Plant Sciences  |   Huntley College of Agriculture
Home  |   Events & Activities  |   Gift Shop  |   Directions  |   About Us  |   Learn By Doing  |   Petting Farm  |   AGRIscapes  |   Join our Email List
Cal Poly Pomona Farm Store at Kellogg Ranch: 4102 S. University Dr., Pomona, CA 91768 | Open Daily 10am-6pm | © 2022  Cal Poly Pomona