McNair Scholars Program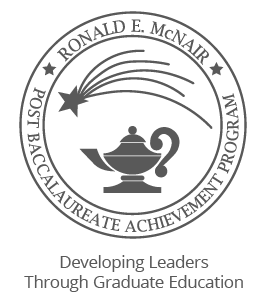 The Cal Poly Pomona McNair Scholars Program prepares eligible undergraduate students for PhD programs by promoting student success through undergraduate research, faculty mentorship, and a series of skill building workshops. The program aims to increase the number of first-generation, low-income and/or underrepresented students in PhD programs, and eventually, to increase diversity among faculty at higher education institutions across the country.
McNair Scholars are provided with opportunities to participate in research activities during the academic year and summer. Scholars attend our McNair Course (CPU 4750 and CPU 4760), seminars and workshops on topics related to graduate school preparation, conduct research under the guidance of a faculty mentor, and have the chance to present their research at conferences.
Important Dates
| Date | Name | Description |
| --- | --- | --- |
| Dec. 1 | Online Eligibility Form | Eligibility Form is now open. Click Here to Apply. |
| Jan. 27 | Online Eligibility Form  | Eligibility form due by January 27, 2020. |
| Jan. 27 | Supporting Documents  | Supporting documents should be submitted online by January 27, 2020. |
| Feb. 28 | Application | Full application and supporting documents should be submitted online by February 28, 2020.  |
| March | Interviews | Interviews for candidates will be held (March 11-24, 2020). |
| March | Notify Candidates | We will notify candidates by the week of March 26-27, 2020. * |
| April | New Scholar Orientation | New scholar orientation will be held on April 10, 2020. * |
| May | Scholar Bootcamp | New scholar academic bootcamp will be held in May 2020. * |