Keynote & Affiliated Programs
Ashish Hingle
Keynote Speaker
Ashish Hingle (he/him) is an Information Science and Technology Ph.D. student in the College of Engineering and Computing at George Mason University (Fairfax, VA). His research interests include technology ethics, people's everyday interactions with artificial intelligence, and interactions in online communities. Ashish works with qualitative and quantitative projects and uses natural language processing, topic modeling, and other data-focused techniques to explore large datasets. Ashish is a first-gen, first-to-college, transfer student from Pasadena City College (Pasadena, CA) and received his bachelor's degree in Computer Information Systems and master's degree in Information Assurance from Cal Poly Pomona (Pomona, CA).
Ashish is currently working on several projects bridging technology, education, and society. Ashish is the Graduate Research Assistant for an NSF funded-project on helping students improve their situated algorithmic thinking, with a focus on preparing the future computing workforce for ethical decision-making through interactive case studies. The work has spurred over two years of data collection, and the findings have been published across several conferences and editorials, including ASEE, FIE, SEFI, and IEEE ETHICS (honorable mention). Ashish also has projects related to artificial intelligence awareness and literacy. These include what influences everyday peoples' knowledge of algorithms and AI and how people can be made more aware of the technology's impact on their lives. This work includes exploring novel research methods such as analysis with large-language models and the user of generative AI (GAI).
Ashish has received several merit fellowships since beginning his doctoral work. Ashish is an ICICLE Educational Fellow working with the ICICLE National AI Institute based at The Ohio State University to create an interactive case study to help the Institute democratize AI. Ashish was recently selected as a George Mason University Fellow for the Mentoring for Anti-Racism and Inclusive Excellence (MARIE) program. Ashish also participated as an AI and Tech Policy Summer Fellow this summer. Last summer, Ashish was selected as a Summer Institute for Technology Ethics (SITE) Fellow hosted at Santa Clara University as 1 of 24 international scholars provided with a two-week residency to explore questions about AI ethics and philosophy. Ashish also serves as a Graduate Student Representative at George Mason University through the George Mason University Graduate and Professional Student Association.
While at Cal Poly Pomona, Ashish received numerous recognitions and awards. As an undergraduate student, Ashish was honored as the 2016 Michael and Eileen Considine President's Council Scholar for outstanding student achievement – considered the most prestigious scholarship series at CPP. Ashish received the D. Scott Mercer Scholarship from the College of Business Administration for two consecutive years for stellar academic, scholarship, and leadership work (2015-17). Ashish was also awarded the Wagner Fund Scholarship (2015), the CIS Leadership Award (2016), and the CIS Scholar Award (2017). The Kellogg Honors College significantly influenced Ashish's early research exposure.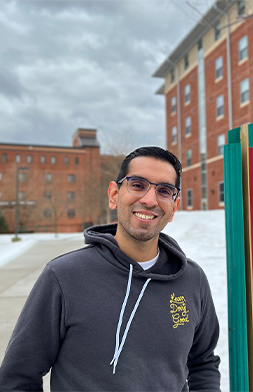 As a graduate student in the MSBA program at Cal Poly Pomona, Ashish worked on several research projects related to emerging technologies, including student self-efficacy in high-impact practices and software-defined networks. Ashish was awarded the Mercer Graduate Business Scholarship through the College of Business as a full ride for his master's degree. Ashish served in several advisory positions at PolyTransfer, the Kellogg Honors College, and the College of Business at Cal Poly Pomona.
Ashish is always interested in interacting with and providing resources to other first-gen, first-to-college, transfer students or any other combination of student identities.