Classroom and Workspace Cleaning
Safety Protocols and Facilities
We are guided by our commitment to protect the health and well-being of our campus community. The campus is aware of the changing nature of the situation and is following the recommendations from public health agencies, including the Los Angeles County Department of Public Health and the Centers for Disease Control (CDC).
We are implementing numerous safety protocols. Cleaning and disinfecting by Custodial Services is high priority. Halting the spread of COVID-19 and its variants is a shared responsibility, and by working together we can keep everyone safe and achieve our goals. 
What Does Custodial Services Do and How?
Custodial Services provides routine cleaning consisting of the following tasks and frequencies for state-supported space:
| | | | | | |
| --- | --- | --- | --- | --- | --- |
| Service | Classrooms, Halls and Labs  | Conference Rooms | Offices | Hallways and Lobbies | Stairwells and Elevators |
| Remove debris | Daily | Daily |   | Daily | Daily |
| Empty trash | Daily | Daily | Weekly | Daily | |
| Empty recycling containers |   |   | Weekly |   | |
| Straighten furniture | Daily |   |   |   | |
| Dust furniture |   | Weekly | Upon Request |   | |
| Clean white boards | Daily | Weekly |   |   | |
| Clean white board trays | As needed | | | | |
| Spot clean furniture | As needed | | | | |
| Dust and spot-mop flooring | Daily | Daily | Weekly | Daily | Weekly |
| Vacuum carpets | Daily | Weekly | Weekly | Daily (Traffic areas) | |
| Clean glass surfaces | | | | Daily | |
| Clean drinking fountains | | | | Daily | |
| | |
| --- | --- |
| Service | Frequency |
| Restock supplies |   |
| Toilet paper | Daily |
| Paper towels | Daily |
| Hand soap | Daily |
| Toilet seat covers | Daily |
| General Cleaning |   |
| Remove litter and debris | Daily |
| Empty trash | Daily |
| Disinfect toilets and urinals | Daily |
| Clean all dispensers | Daily |
| Clean sinks, fixtures, and countertops | Daily |
| Clean glass surfaces | Daily |
| Clean sports locker room shower | Monthly |
| Floor Care | |
| Sweep floors | Daily |
| Dust-mop floors | Daily |
| Spot-mop floors | Daily |
| Machine-scrub floors | Quarterly |
Cleaning Protocols for Work Areas and Instructional Spaces
Cal Poly Pomona has implemented cleaning protocols for sanitizing common areas and academic spaces to prevent the spread of the COVID-19 virus. The levels are: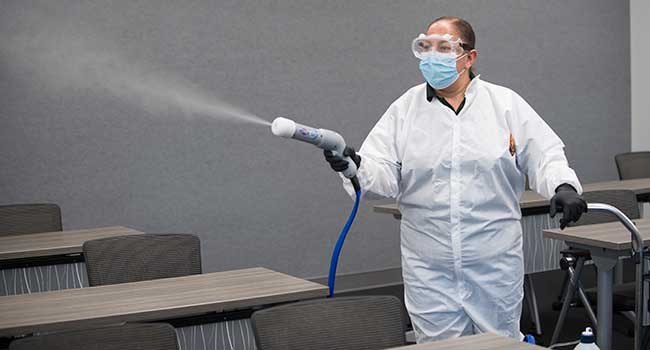 Routine cleaning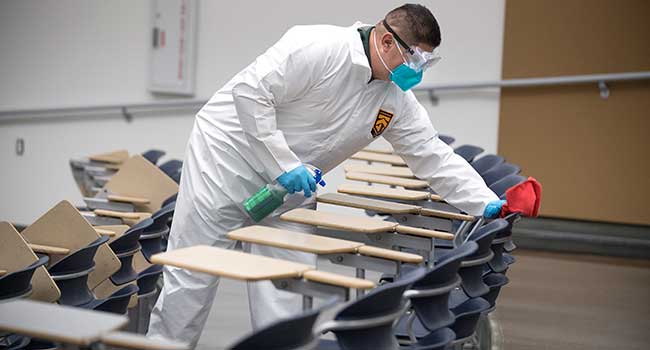 Cleaning of area with possible virus exposure