2020 Summer Courses Start May 24
Summer 2020 Dates Coming Soon
10-Week Session: May 27 - July 30
5-Week Session I: May 27 - June 25
5-Week Session II: July 1 - July 30

Important Dates for Students
Advising Period Begins: February 24
Priority Registration: March 2 - March 3
General Registration: March 4 - April 22
Advising Period Ends: April 22
Fees Due: April 23
Add/Drop Period: May 4 - June 3
Check back  for more information on the Course Schedule, Tuition Fees, Financial Aid, Payment & Refunds, Academic Policies, FAQs, and Housing.
In the meantime, please make sure your MyPlanner is filled out and schedule an appointment with your advisor. 
Housing
When you live on campus, you meet new people with different backgrounds, beliefs, and interests -- people who may become lifelong friends. You'll also learn about the diversity and cultural issues that surround you. These experiences, and your many friendships, are valuable in seeing you through the transition from student to working professional... and beyond!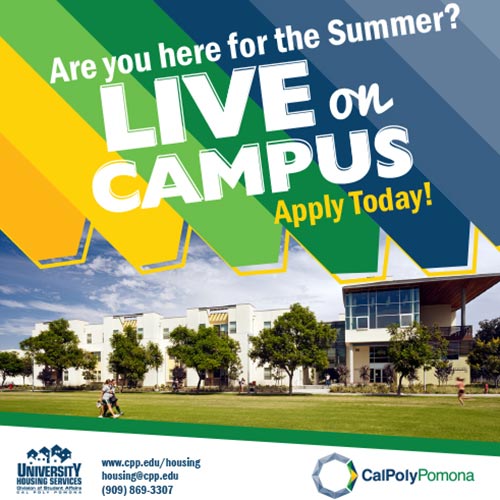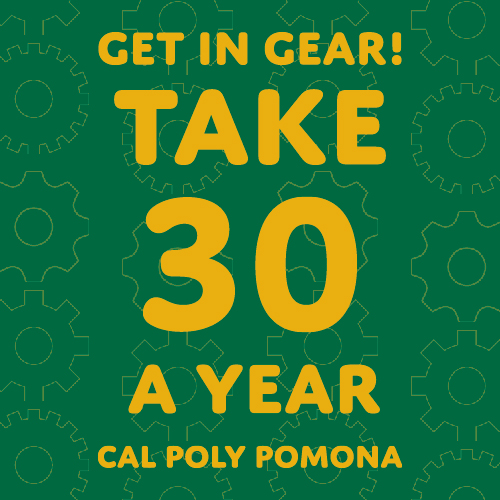 Students who plan for 30 units across an entire academic year – including summer – stay on track to graduate in 2 (for transfer) or 4 years (for freshmen). Visit the Take 30 website to learn about more benefits. 
Dining
Cal Poly Pomona has got your covered this Summer with numerous dining options! Click here for a list of establishments on campus that will be open this Summer.