Bicycling and Walking to School
Bicycling and Walking are cost effective and environmentally conscious ways to commute. You will get and stay fit!  The exercise you get on the way to and from school will help increase your energy and productivity at school. You'll arrive back home feeling refreshed and stress-free.
Bicycle racks are located throughout the campus.  The Rideshare Office has bicycle maps, repair kits, and a bicycle pump to get you back on the road if you have a flat tire.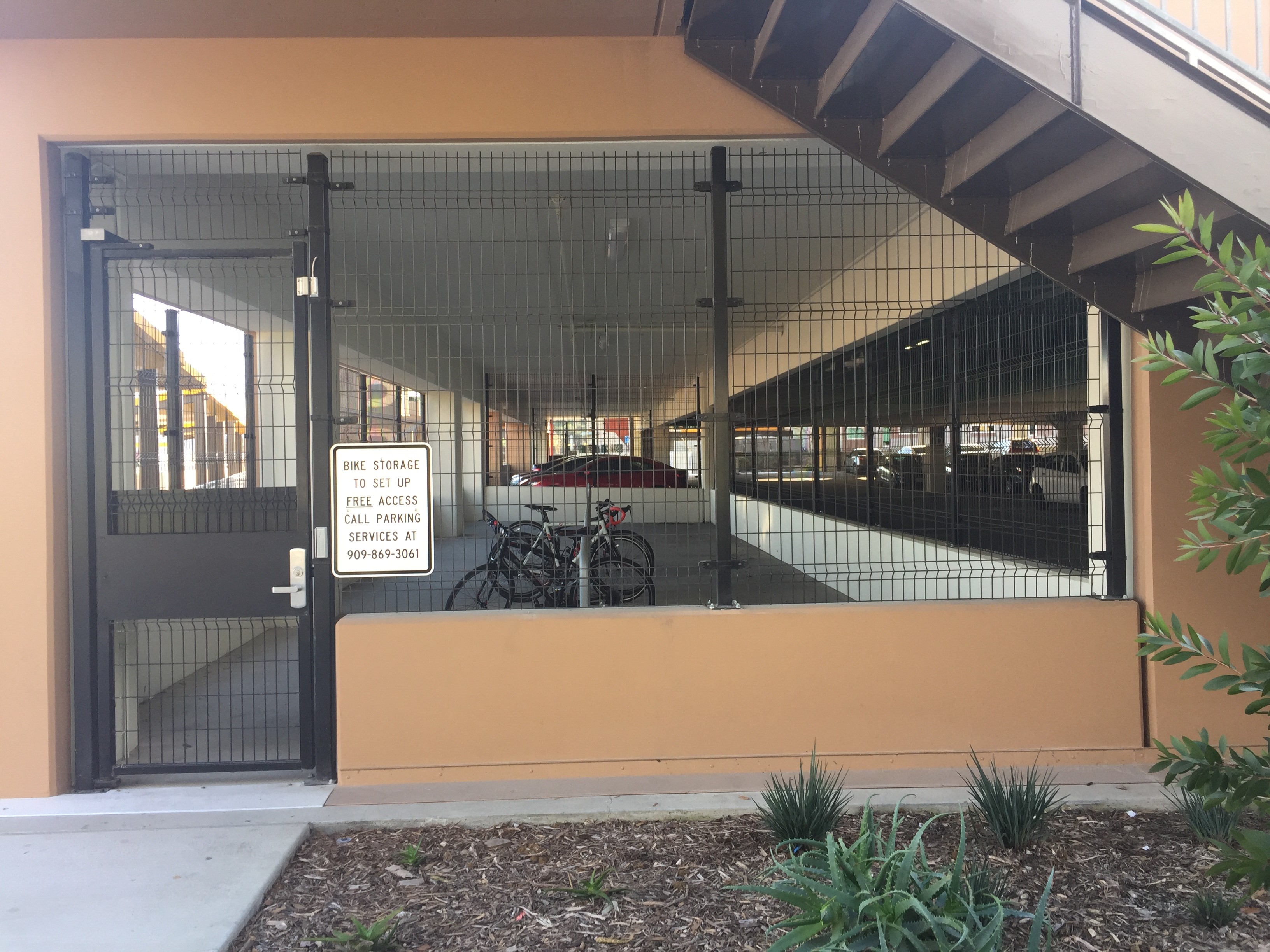 Bike Cage in Parking Structure 2
Cal Poly Pomona students and staff are eligible to park their bicycle in a secure bike cage located in Parking Structure 2.  You must have a valid Bronco ID to use this service.  24 hour access to the bike cage is free.  To set-up access, please visit the Rideshare Office.
Lock It or Lose It!

The best way to keep your bike safe from thieves is to lock it properly. Lock the frame with a sturdy burly chain or U-Lock, and secure the wheels (or other quick-release components) with your lock will ensure your bike is just the way you left it. Cable locks can be cut by theives.
Bicycle Safety Tips when Riding
Intersections

 

- take extra caution and pay attention to cross traffic and turning vehicles.
Right Hook

 

- be wary of right turning cars in front of you.
Door Zone

 

- give yourself enough distance between you and parked cars to avoid suddenly opening doors, even when you are riding in the bike lane.
Storm Gates and Gutters

 

- both can cause you to fall.  Avoid grates that can grab your tire and gutters full of debris.
Potholes and Sharp Objects

 

- avoid these because they can cause flats.
Rail Crossings

 

- the tracks can catch your front wheel and are slippery when wet. The safest way to approach rail crossings is at a 90 degree angle.
Riding at Night

 

- when riding at night you want to make sure others can see you. State law (CVC 21201) requires that you have a white front light and red reflector on the rear. Lights that blink increase your visibility and save batteries.
Bicycle Information
Pick your bike route, calculate the total mileage, how many calories you will burn, and topography information before you take your ride on your bike!
http://www.gmap-pedometer.com/
In the "jump to" box, enter your starting address and click "go." Then, on the left menu, click on "start recording." From here, you can begin to plot your route by double-clicking anywhere on the map. It's best to map/click in small segments, because if you create a long distance between points, the map will find the shortest distance between the two points and won't necessarily follow your particular route. You can save your route by clicking on "save route," and that will generate a URL specific to your data that you can bookmark, e-mail, etc. You can enter your weight for approximate calories burned, and turn on/off the elevation graph and mile markers.
A guide to bicycle paths around Los Angeles and Northern Orange County: 'Class I,' paved, separate right-of-ways, mostly in parks, along rivers, beaches, and lakesides.


http://www.labikepaths.com