Pre-2016 News Archive
2014 News Archive
Call to Artists
Posted April 17, 2014
Artists are encouraged to submit their work depicting the ways we perceive mental health and/or mental illness for the upcoming Art with Impact event.  Artwork may be a 8"×10" drawing, collage, painting, or photograph, etc.  Submissions are due by May 2, 2014 to Dr. Young Lee ylee@csupomona.edu  $20 Bronco Bucks will be awarded to 5 lucky artists.
Art with Impact
Posted April 15, 2014
The Access and disABILITY Alliance will partner with Active Minds to host Art with Impact on Wednesday, May 14, 2014, 5:00 - 7:00pm in the Music Recital Hall.  The film screening and art exhibit presents perspectives on mental health.  A dinner will be served prior to the event in the adjacent courtyard.
2014 disABILITY Awareness Day Event Schedule Announced
Posted April 8, 2014
Health Fair 11:00am - 1:00pm, University Park
Nutrition & Exercise Exhibit 3:00pm - 4:30pm, BSC Ursa Major
Keynote Address featuring Janelle Montano 5:00am - 6:30pm, BSC Ursa Major
2014 disABILITY Awareness Day to Feature Mental Health Educator Janelle Montano

Posted March 12, 2014
The AdA will host disABILITY Awareness Day on Tuesday, April 15, 2014. The day's events will include a HealthFEST, Nutrition Workshop, Yoga, and Keynote Address given by Janelle Montaño who will share her personal story about depression and how she sought help and support. Janelle found the support she needed to find balance in her life, and emphasizes that everyone can live a happy, healthy, and fulfilling life when they receive the right treatment for them. She advocates everyone's role in creating a community where people feel safe in speaking up and receiving help for their mental health. Janelle will also share her approach to finding balance and coping, including how yoga has become part of it.
2014 Diversity Champions Honored
Posted February 25, 2014
Industrial Engineering student Doron Feuer and Student Success and Equity Programs' Senior Coordinator for Advising Services Lea Manske are honored as this year's Diversity Champions. Doron has played an important role as an Ability Ally Training panelist and is a devoted advocate for students with disabilities who encourages students to utilize DRC services to maximize their academic potential.
A founding member of the AdA, Lea has contributed to disability awareness programming, serves on the University's Access and Compliance Team, and helped to develop the Ability Ally Training program.
2013 News Archive
2013 Diversity Champions Honored
Posted February 26, 2013
Sociology student Mike Lemus and Student Health Services Marketing Coordinator Debbie Jackley are honored as our 2013 Diversity Champions. Since joining the AdA, Mike (pictured) has been an active participant in furthering our mission of increasing disability awareness and creating an environment of inclusion across the campus community. He has been instrumental in steering programming, driving membership and fundraising. As co-chair of our Membership and Outreach Committee, Mike has represented the AdA at campus-wide events and conducted presentations to student organizations recruiting new members and expanding our AdA Friends group significantly. He has participated in the design of our Ability Ally Training Program, and as a facilitator, provides instruction and leads discussion among students, staff and faculty to create a network of allies across campus dedicated to promoting disability awareness and providing support to those with disabilities. As a founding AdA member, past Secretary and current Blackboard Administrator, Debbie has been instrumental in keeping AdA members and friends connected. She has participated in membership and outreach events, disability awareness programming, and lends her graphic design talents to promote all of our events.
Unity Luncheon to Feature New York Times Best Selling Author Terri Cheney
Posted February 6, 2013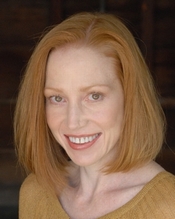 The AdA will host the 21st Annual Unity Luncheon on  Tuesday, February 26th.  Students, staff, and faculty are invited to attend the campus-wide celebration of diversity and unity.  Highlights of the event include the announcement of this year's Diversity Champions and the keynote address to be given by New York Times Best Selling Author Terri Cheney. 
As a successful entertainment attorney in Beverly Hills, Terri represented the likes of Michael Jackson, Quincy Jones, and major motion picture studios.  But beneath her seemingly flawless façade she was struggling with a dangerous secret:  ever since childhood, Terri had been battling a bipolar disorder.  Despite wild mood swings and repeated suicide attempts, Terri managed to keep her condition secret from everyone, but at a terrible price.  Finally, in an effort to save her own life, she wrote a searing account of her mental illness.  Manic:  A Memoir quickly became a New York Timesbestseller, was optioned by HBO, and translated into eight foreign languages.  
February is disABILITY Awareness Month

Posted February 1, 2013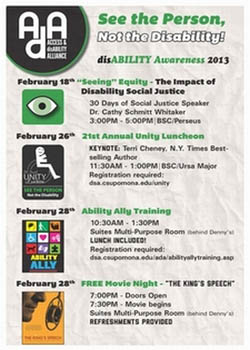 "See the person, not the disability" will be the theme of this year's disABILITY Awareness program, February 18-28, 2013.  Events include:  
"Seeing Equity, the Impact of Disability Social Justice" Monday, February 18th, 3:00 - 5:00pm, BSC Perseus
The 21st annual Unity Luncheon, Celebrating Campus Diversity Tuesday, February 26th, 11:30am - 1:00pm, BSC Ursa Major. Registration required: dsa.csupomona.edu/unity/
Ability Ally Training Thursday, February 28th, 10:30am - 1:30pm, UHS Suites Multipurpose Room (located behind Denny's). Lunch included. Registration required: dsa.csupomona.edu/ada/abilityallytraining
Free screening of "The King's Speech"  Thursday, February 28th, 7:00pm, UHS Suites Multipurpose Room (located behind Denny's). Refreshments provided.
2012 News Archive
2012 Diversity Champions Honored
Posted April 12, 2012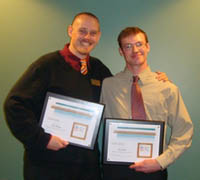 Cal Poly Pomona student, Paul Brooks (on right), and ARCHES Coordinator, Chad Bowman (on left), were honored at the Unity Luncheon as this year's Diversity Champions for their commitment to issues of diversity awareness.  Paul co-created and facilitated "A Day in the Life" training mirroring student's experiences with learning disabilities, conducting presentations campus-wide and nationally.  As a charter member and past President, Chad has been instrumental in the formation and growth of the AdA, including program planning and fundraising.
AdA Recieves Grant
Posted April 7, 2012
The AdA has been awarded a "Campus Campaign for Strengthening Student Emotional Health and Resiliency".  The funds will be used to support the creation of an Ability Ally Training Program which will aim to dispel myths and stereotypes about students with disabilities and to shape student, faculty, staff, and administrators' perspectives by: (a) focusing on ability versus disability; (b) identifying personal stereotypes, myths, and beliefs that shape personal perceptions; (c) offering an authentic view into the lives of students with disabilities through a student stories panel; (d) demonstrating similarities rather than differences; (e) providing students, staff, and faculty with an opportunity to discuss disability in a non-judgmental and safe environment; (f) allowing an open forum for questions and concerns working and interacting with individuals with disabilities; and (g) demonstrating appropriate language and terminology for discussing disabilities and resources.  The training will be made available to the campus community beginning Fall 2012.
Dr. Temple Grandin Annouced to Speak
Posted March 2, 2012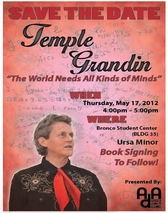 Mark your calendars!  The AdA is honored to announce that animal behaviorist and autism advocate Dr. Temple Grandin will speak in support of disability awareness on Thursday, May 17, 2012 from 4:00 to 5:00pm in Ursa Minor.  Dr. Grandin, a professor at Colorado State University, holds a PhD in Animal Science and is the bestselling author of nine books, including "Animals in Translation" and "Thinking in Pictures".  Her contributions to the humane handling of livestock, including the design of curved chute and race systems, are in use worldwide. She is the recipient of numerous awards including: the Meritorious Achievement Award from the Livestock Conservation Institute, the Industry Advancement Award from the American Meat Institute, the Lifetime Achievement Award from the National Cattleman's Beef Association, a Cowgirl Hall of Fame inductee, and was listed inTime magazine's "2010 100 Most Influential People in the World: Heroes". 
Dr. Grandin is a recognized autism advocate, herself a person with high-funcitioning autism.  She has served on the Autism Society of America's Board of Directors and travels the United States lecturing to parents and teachers regarding her experiences with autism.  Her articles and interviews have appeared in the New York Times, Time magazine, 20/20, The View, and on National Public Raido and the BBC.
Dr. Grandin's life story was most recently celebrated in the award winning HBO movie "Temple Grandin" starring Claire Danes. 
2011 News Archive
AdA Members Present at State-Wide Conference
Posted October 18, 2011
AdA members Chad Bowman, Dawn Finley, Kimberly Fuentes and Debbie Jackley presented at the California Association for Postsecondary Education and Disability Annual Conference on October 18th.  The presentation "Capitalizing on Cross-Functional Teams to Increase Disability Awareness Across Campus" focused on sharing strategies with attendees to develop similar organizations to the AdA to foster disability awareness and advocacy on their own campuses.
2011 Poster Contest Winner Announced
Posted March 3, 2011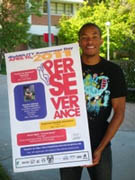 The artwork of CPP student, Chavail Alexander, will be featured on the 2011 disABILITY Awareness Day poster and promotional materials. Chavail's design was selected for best depicting this year's theme of "Perseverance".
Diversity Champions Named
Posted February 8, 2011
Cal Poly Pomona student, Kimberly Fuentes (pictured) and Career Center staff member, Dawn Finley, were named 2011 Diversity Champions for their commitment to issues of diversity awareness and unity at this year's annual university Unity Luncheon.
2010 News Archive
Ada Receives Team Award
Posted June 15, 2010
The Access and disABILITY Alliance was honored with the "Vice President's Team Award" in recognition of collaborative efforts in support of students and the Division of Student Affairs.
Alpha Sigma Takes Trophy
Posted January 16, 2010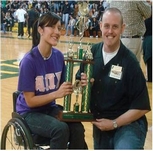 Britney Rojas, a second-year Civil Engineering student representing Alpha Pi Sigma was the first Greek to score a basket when the Greeks challenged the Cypress Chargers. The half-time exhibition wheelchair basketball game was part of AdA's disABILITY Awareness Month activities.
2009 News Archive
AdA Awarded Target Innovation Grant
Posted August 13, 2009
The Access and disABILITY Alliance has been awarded a $5,000 Target Innovation Grant for Diversity for enriching experiential learning and promting developmental growth. Events supported by Target Campus Grants directly influence the students' academic or extracurricular endeavors, making the previously impossible, suddenly realastic. Proceeds from the grant will be used to help fund our 2010 disABILITY Awareness Month programs and events.
Poster Contest Winner Announced
Posted December 7, 2009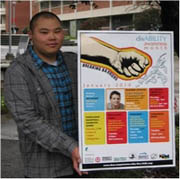 CPP student, Roland Tran, is announced as the winner of the AdA poster contest.  Roland's design was selected for best depicting the theme "Breaking Barriers". The artwork will be featured on the 2010 disABILITY Awareness Month poster, promotional materials and program. 
2008 News Archive
Theme Selected for Inaugural disABILITY Awareness Week
Posted December 18, 2008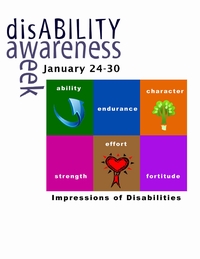 The AdA will host disABILITY Awareness Week "Impressions of Disabilities" January 24-30, 2009.  The theme speaks to the many perceptions of disability and creating awareness. The week's activities will include a keynote address by Amy Roloff of TLC's "Little People, Big World', an art exhibit, workshops, a resource fair and wheelchair basketball exhibition. The artwork for the event was designed by CPP staff member, Terri Brown.