Programs Archive
2015 disABILITY Awareness Month
Keynote speaker Jennifer Kumiyama, an actress, singer, advocate and Ms. Wheelchair California launched "Unlimited Possibilities" 2015 disABILITY Awareness month with her inspirational address.  Ms. Kumiyama who was born with arthrogryposis multiplex congenita, a congenital condition that causes joints to permanently lock in a bent or extended position. She shared how she has not let her condition keep her from pursuing her dreams, which have included several roles on television. She is most known for her role in "Aladdin: A Musical Spectacular" at Disney's California Adventure.
Other events included a screening of The Theory of Everything and discussion of the contributions made by Stephen Hawking led by Dr. Suketu Bahvsar; a library book display; "Veterans Mental Health 101" workshop for faculty and staff on mental health concerns that student veterans may face; "Art with Impact and Stigma Reduction" workshop featuring CPP student art; short films and a discussion centering on mental health; and "Pets Supporting People" featuring a lecture by Dr. Aubrey Fine, CPP professor and Animal Assisted Therapy expert, and Danny's Farm petting zoo.
This year's celebration was a collaboration of the AdA, Associated Students, Inc., Student Health & Counseling Services, Active Minds, Ability Awareness Advocacy Club, Veterans Resource Center, Danny's Farm, University Library, University Housing Services and Tri-City Mental Health.
Art with Impact
Art with Impact combined the showing of short films on topics such as self-harm, accessing mental health services, and the process of a mental breakdown and a showcase of artwork submitted by the campus community.  The event, designed to help break the stigma attached to mental health, promoted active discussion.   "Mental health is as important as physical health" noted Health Educator, Kristen Mar.  "It's also tied to overall wellness, and that's something that a lot of people aren't aware of."  The AdA partnered with Student Health and Counseling Services to host the event.
2014 disABILITY Awareness Day
 "Healthy Hearts, Healthy Minds" were celebrated at our annual disABILITY Awareness Day.  The day's activities began with a HealthFEST aimed at providing education and resources to the campus community and was followed by a Nutrition and Exercise Exhibit which brought the Greek Community together in a healthy competition in which organizations were challenged to present a healthy meal plan and an exercise plan that any student could easily incorporate into their daily schedule. Participants included Pi Kappa Phi, Alpha Kappa Alpha, Omega Psi Phi, and Kappa Delta with Alpha Pi Sigma winning the competition.
Keynote speaker, Janelle Montano, shared an inspiring story of how she struggled with her brother's suicide, found the strength to seek help, and created a toolbox of strategies to find balance and a healthy perspective in her life.  Her presentation also addressed the current stigma surrounding mental illness,  "Seeking help is a sign of braveness, not a sign of weakness.  No one should have to suffer in silence." she said.
The AdA, Active Minds, Associated Students, Inc., the Office of Student Life and Cultural Centers and Student Health and Counseling Services partnered to host this year's activities.
2013 disABILITY Awareness Day
Throughout her childhood and much of her adult life, best-selling author Terri Cheney hid a painful secret from her friends, family and colleagues — she had bipolar disorder. The condition caused her to swing from dark depression to manic highs, but Ms. Cheney also credits it with much of the success she experienced as a lawyer in the entertainment industry.  The disorder is often "correlated with creative thinking" she said as the keynote speaker of this year's disABILITY Awareness Day and Annual Unity Luncheon.
Ms. Cheney shared that eventually the effects of the disorder became too much for her to handle prompting her to seek out professional help and begin making changes to bring her life under control.  She believes one of the most powerful weapons she has against the disorder is disclosure, speaking out and telling others about her experiences.  "The disease thrives on shame," Ms. Cheney said, adding "No one should be afraid to be open about who they are."
2012 disABILITY Awareness Day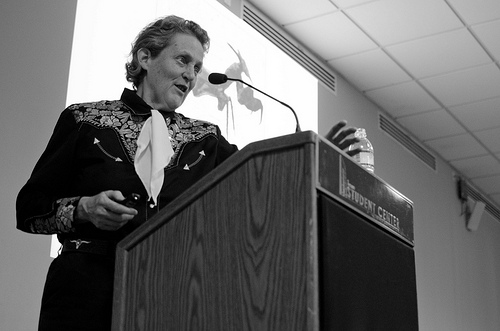 Over 300 students, staff, faculty and local community members flooded Ursa Minor to hear noted Autism Advocate and Animal Behaviorist, Dr. Temple Grandin, speak in honor of disABILITY Awareness Day. Many attendees lined up two hours in advance of the event to ensure seats, with an additional 75 attendees watching a live feed of the event in Center Court.

Dr. Grandin's address entitled "The World Needs All Kinds of Minds" focused on different kinds of thinking, including picture and pattern thinkers, in addition to shedding light on autism. Dr. Grandin warned of the risk of labeling people and encouraged that we "Do different, not less" advocating the need for hands-on classes and teaching work skills.

Cal Poly Pomona faculty and staff wishing to show Dr. Grandin's presentation for educational purposes may submit a request to Cathy Schmitt Whitaker at: clschmitt@csupomona.edu
2011 disABILITY Awareness Day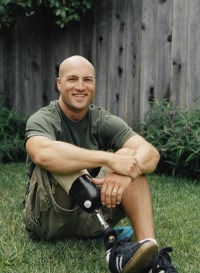 Former "Survivor" contestant, Chad Crittenden, shared his stories of perseverance as this year's keynote speaker. Growing up as a very active soccer player and athlete, Chad graduated from UC Davis with a major in International Relations and a minor in Spanish. After earning his teaching credential in Bilingual Education and teaching nine years at the elementary level, he discovered a tumor on the bottom of his foot and was later diagnosed with a rare and deadly form of cancer called Synovial Sarcoma which led to the amputation of his leg. Only nine months post-surgery, Chad went on to complete a triathlon and later to appear as a contestant on CBS' "Survivor: Vanuatu". In the years since, Chad has competed in more than 12 triathlons, as well as, several mountain bike and snowboarding competitions, the latter being the USASA Snowboard Nationals, where he picked up a bronze and gold medal. Chad's most recent, and, possibly most impressive endeavor was competing in the 2009 New York City Marathon. Additional disABILITY Awareness Day activities included Could it be Dyslexia? Workshop, Experience Disability Simulations, and a movie screening of "Forest Gump".
Americans with Disabilities Act (ADA) 20th Anniversary Celebration & Reception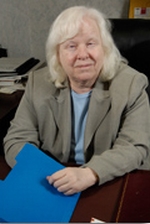 The October 29, 2010 event celebrated the 20th anniversay of the passing of the Americans with Disabilities Act. Brenda Premo, Director of Western Univeristy of Health Sciences Center for Disability Issues and the Health Professions, who was present at the 1990 signing of the ADA recounted the events leading up to the passing of the ADA, her involvement as a member of the National Council on Disability, and the significance of the legislation. The program also included a student demonstration of assistive technology and faculty presentations of accessibility in the classroom.
2010 disABILITY Awareness Week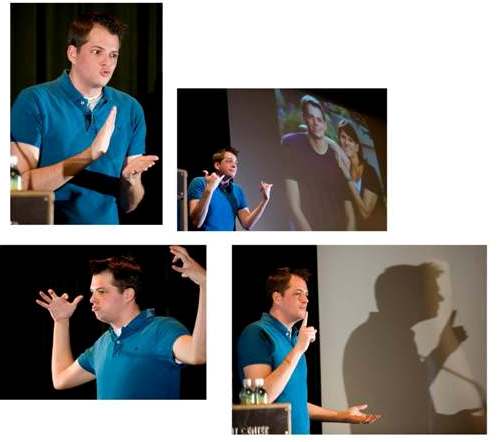 Luke Adams kicked off disABILITY Awareness Month with a keynote address sharing his experience as the first deaf contestant on CBS' "The Amazing Race". The month's activities included a "Breaking Barriers' Art Exhibit, "My Life as a Person with a Disability" panel discussion and workshop, Wheelchair Basketball Exhibition Game between Cal Poly Greeks and the Cypress Chargers, a screening of the movie "Adam", "Classroom Experiences as Seen Through the Eyes of Learning-Disabled Students" workshop and the dramatic performance "Scrambled Eggs" which presented the problems and triumphs of those working their way through mental illness.
2009 disABILITY Awareness Week: "Impressions of Disabilities"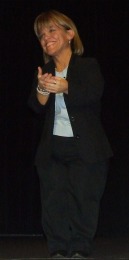 The AdA hosted the university's inaugural disABILITY Awareness Week "Impressions of Disabilities" on January 12-30, 2009. The week's actvities included a wheelchair basketball exhibition game and challenge between the Cypress Chargers and CPP VIP faculty and staff, including President Ortiz, an art exhibition, "sex and Disability" Discussion, "A Day in the Life: What it Means to Live with a Learning Disability" Workshop and Resource Fair. The highlight of the week was the keynote address given by Amy Roloff of TLC's "Little People, Big World". The reality star spoke to a packed Ursa Major where she shared her experiences and observations, and inspired individuals to be the best that they can be, regardless of their environement, the perception of others and any barriers that may come their way.