Resource Directory
Campus Resources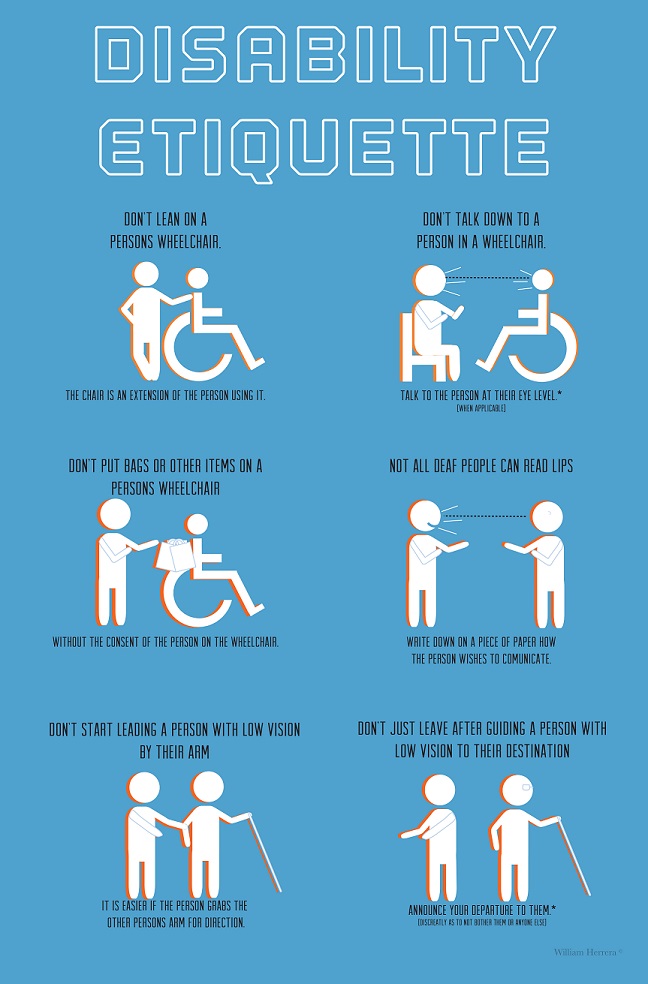 Click here to view a pdf of this disability etiquette infographic created by CPP student William Herrera
Click here to view a text only version of this infographic
Accessible Technology Initiative (ATI):
Provides information and resources to ensure accessibility of web, instructional materials, & information communication  Technology (ICT) procurement.
Phone Number: (909) 979-6484
Website: http://www.cpp.edu/~accessibility/
Achievement, Retention, & Commitment to Higher Education Success (ARCHES):
Provides academic & personal support services to students with disabilities to help facilitate graduation.
Phone Number: (909) 869-2386
Location: Building 1 Room 214
Website: http://www.cpp.edu/~drc/arches
Counseling & Psychological Services:  
Offers individual, couples & group therapy, workshops, outreach services, non-credit courses and relaxation training.
Phone number: (909) 869-3220
Location: Building 66 Room 116
Website: https://www.cpp.edu/~caps/index.shtml 
Disability Resource Center:
Provides academic accommodations & support services to students who have mobility, visual, or hearing impairments, chronic health conditions, & attention, learning or psychological disorders.
Phone Number: (909) 869-3333
Location: Building 9 Room 103
Website: http://www.cpp.edu/~drc
Office of Equity & Compliance (OEC): 
Guides, directs, assists and monitors the administration, faculty, and staff to ensure fair and equal treatment of all individuals, including compliance with the American with Disability Act (ADA) and state disability laws for all faculty and staff matters.
Email: officeofequity@cpp.edu 
Phone Number: (909) 869-4646
Location: 121-2701
Website: https://www.cpp.edu/~officeofequity/ 
Studio 6:
Studio 6, a service of eLearning, is an updated computing lab open to faculty and staff for Learning Technology training and assistance.
Email: studio6@cpp.edu | blackboard@cpp.edu 
Phone: (909) 869-3099
Location: Bldg 1, Room 205C (look for the teal door) 
Website: https://www.cpp.edu/~facultycenter/studio6/ 
Veterans Mental Health 101 Workshop Presented by Veterans Affairs:
The workshop for CPP faculty and staff held on April 29, 2015 discussed mental health concerns student veterans may experience as they adjust to the classroom environment.  To view the slide show presented by Veterans Affairs, please click here: Veterans Mental Health 101 Presentation
Community Resources
Ability First:
Provides recreational, socialization, and employment programs and services for people with disabilities.
Phone Number: (909) 621-4727
Location: 480 South Indian Hill Blvd, Claremont, CA
Website: https://www.abilityfirst.org/ 
Braille Institute:
Nonprofit Organization provides services & programs for people who are blind & visually impaired, including adaptive equipment & mobile apps.
Phone Number: (323) 663-0867
Location: 741 North Vermont Ave. Los Angeles, CA 90029
Website: http://brailleinstitute.org/
Disability Etiquette Guide:
Link to printable guide provided by the United Spinal Association covering a vast range of disabilities.
Website: http://www.unitedspinal.org/disability-etiquette/#Introduction
Greater Los Angeles Agency on Deafness (GLAD):
Provides a variety of services including: peer counseling, independent living skills, health education, employment assistance, & interpreting services to those who are deaf & hard of hearing.
Phone Number: (323) 478-8000
Location: 2222 Laverna Ave., Los Angeles, CA 90041
Website: http://www.gladinc.org/
Service Center for Independent Living (SCIL):
Services include: Self-advocacy training, assistive technology, independent living skills training, & information & referral services.
Phone: (909) 621-6722
Location: 107 Spring Street, Claremont, CA 91711
Website: http://scil-ilc.org
Public agency serving Claremont, La Verne & Pomona. Services include: psychotherapy, clinical case management, medication support, peer-to-peer support, education, linkage & referral, vocational training & support, & socialization activities.
Phone Number: (909) 623-6131
Location: 2008 North Garey Ave., Pomona, CA 91767
Website: http://www.tricitymhs.org