Egg Hunt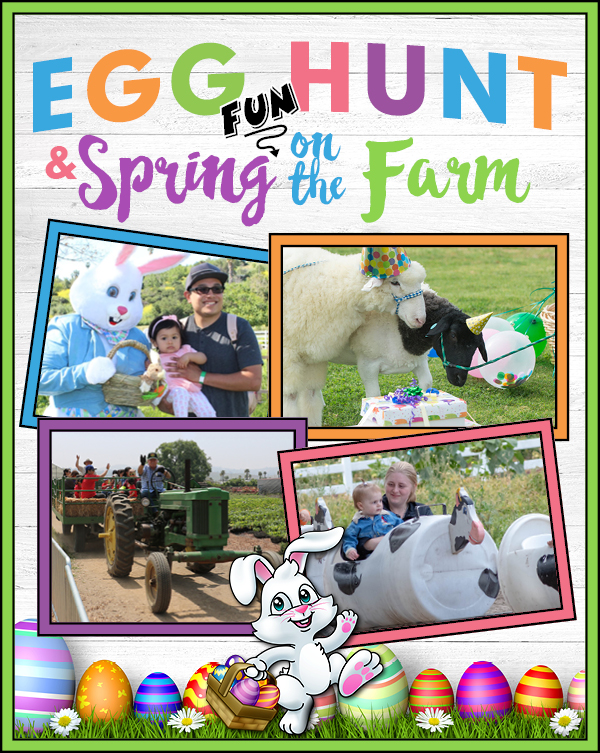 Egg Hunt & Spring FUN on the Farm

Look for us in Spring 2024
The Egg Hunt and Spring Fun on the Farm event is a fun time to visit Discovery Farm and enjoy a day of exciting activities at AGRIscapes.

General admission includes all activities listed below::
• Egg Hunt - Each Egg Hunt has a limited capacity.
• Petting Farm - Feed cup(s) not included.
• Hay Rides
• Cow Train - Limited to Children 12 and under.
• WAPA Antique Tractors & Engines
• More Fun and Activities

PARKING INFO:
From CA-57: Exit Temple Ave. and go West for one mile.
Enter on South Campus Drive from the corner of Temple Avenue. Follow signs to parking.
From the I-10: Exit Kellogg Drive. After one mile, turn right On South Campus Drive.


In addition to the rides, tractors, and petting farm, the event also will feature:
• Oreo the Lamb's 3rd birthday party at noon.
• A farm stand with fresh strawberries,
• Demonstrations of goat milking, weaving, and other home-made crafts.
Admission is required for everyone and to reserve a spot for children – infant to 12 years old – in the egg hunt.

Multiple egg hunt time slots are available for reservation. You must arrive 30 minutes prior to your selected egg hunt time and bring your own basket or bag to collect eggs.

After the hunt ends, each child will turn in their eggs to receive a bag with candy and prizes, and golden eggs for the lucky winners.

Tickets are $12 per person, with children under 2 years of age admitted free of charge with a paid adult. Tickets are ONLY sold online; no admission tickets will be sold onsite.

The event will take place from 9 a.m. to 3 p.m. at AGRIscapes, 4102 S. University Drive, in Pomona.
The best way to keep in touch is to join our email list or follow us on Facebook or Instagram.
For questions, email us at: agriscapesinfo@cpp.edu