Spring on the Farm Field Trips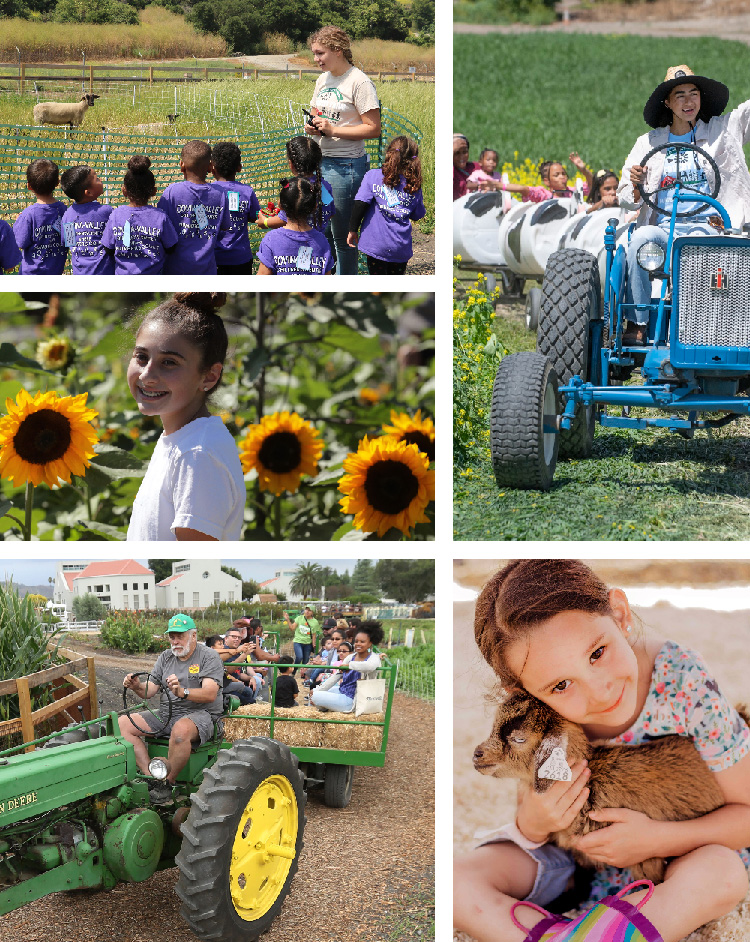 Spring on the Farm Field Trips

April 18 - May 3, 2023
Spring is a great time to visit the Farm! This year our Spring Field Trips will be more exciting than ever with educational enhancements in our popular Children's Garden!
CHILD PACKAGE - $13 per participant
Field Trips Include:  A basket of Strawberries, Walking Tour of Discovery Farm, Hay Wagon Ride, Children's Garden Activities and Petting Farm.
ADULT PACKAGE - $9 per Adult
Gives an accompanying adult access to all activities in Child Package except picking a basket of strawberries - Only Parents/Chaperones that have been registered by the School or Group may attend a Field Trip.
COMPLIMENTARY
1 Teacher and 1 Aide for each group of up to 25 children will not be charged to participate in activities.   (DOES NOT INCLUDE A BASKET OF STRAWBERRIES)
*If your group/class has special needs children, their aide will not be charged to participate.

HOME SCHOOL GROUPS/ MOMS CLUBS:
Required to pay as one group. Wristbands will be given out to lead contact to distribute.
Signing up for a Field Trip Is Easy in 3 Steps:
1. Check the Availability Calendar to Find Dates that Work for Your Group.
2. Fill out the Field Trip Reservation Form and request your Preferred Dates.
3. We Will Contact you to Confirm the Details of Your Trip.

*Due to the hands-on learning environment of these field trips, groups may need to be split into smaller units.
Spring Field Trip FAQs:
COVID-19 POLICY: We will be following current LA County Health and Cal Poly Pomona (CPP) Guidelines. YOU WILL BE NOTIFIED IF THERE ARE ANY CHANGES IN THE GUIDELINES.

HOW LONG IS A FIELD TRIP? Usually between 1½ - 2½ hours, allow extra time if you will take a snack or lunch break. We request that you arrive 15 minutes PRIOR to your reservation time to allow for check-in.

WHAT ABOUT PARKING? Buses and cars will be provided with Free Parking. Directions and information will be provided in advance. Look for signs upon entering AGRIscapes on South Campus Drive ONLY.

DO YOU REQUIRE LIABILITY WAIVER FORMS? Yes, ALL field trip participants including adults must fill out and return the Liability Waiver form that will be provided – One per family (everyone must be listed). Unfortunately we will not be able to allow those without the completed forms to participate.

WHAT METHODS OF PAYMENT DO YOU ACCEPT? Payment can be made with Cash, Checks (Payable to the Cal Poly Pomona Foundation) or Credit Cards. Check and Credit Card refunds are not possible.

IS THERE A PICNIC AREA & TABLES? Yes, and they are available for free on a first-come basis.

WHERE ARE YOU LOCATED? The AGRIscapes Outreach Center is located at 4102 S. University Dr. Pomona, CA 91768 next to the Farm Store. Enter on South Campus Drive from via Temple Avenue.
Email us at: discoveryfarm@cpp.edu