Booze-Free Beverages Top 2019 Bronco Startup Challenge
Apr 20, 2019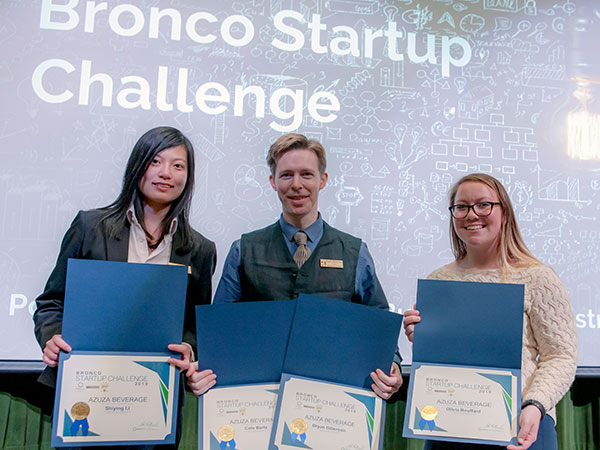 All of the taste without the inebriation convinced judges an alcohol-free craft beer line deserved to win Cal Poly Pomona's annual business competition.
Members of AZUZA Beverage, a cross-discipline project involving students from the College of Science, Huntley College of Agriculture and the College of Business Administration, offered judges samples of its guilt-free brew on the way to winning the 2019 Bronco Startup Challenge.
Shiying Li, Olivia Bouffard and Bryan Giberson stood on the Bronco Student Union stage April 18 and delivered a polished version of the AZUZA pitch used to defeat 75 teams across the country during the Draper Competition for Collegiate Women Entrepreneurs weeks earlier. Using a proprietary process, AZUZA's Brew Rx system removes alcohol from any craft beer.
With the win, AZUZA received a $1,000 to put toward growing the company. Members credit engineering professor Kenneth Lamb, Idea House & Co. COO Matt Ryczek and Pasadena Angels director Kiem Tjong for mentoring the group. Campus entrepreneurship hub, the Student Innovation Idea Lab also played a prominent role in preparation.
Nikko Tech, an adjustable privacy cover for glass controlled via smartphone app, accumulated the most audience votes to win Fan Favorite. Other ideas from the five finalists included a bag designed specifically to be used during music festivals, programmable mood lighting and high-end maternity clothing line anchored on sustainability.
Prior to the finalist pitches, computer science alumnus and AT&T technical staff member Hagop Bozawglanian was the featured guest during a fireside chat. Bozawglanian's entrepreneurial experience also includes project owner team for ECOMP and Microsoft Advisor to assist with startup companies. He has been involved with the event since joining PolyFounders as a student.
PolyFounders is a College of Business Administration organization founded in 2012 to connect entrepreneurial students of different majors. It has been involved in planning the Bronco Startup Challenge since its 2014 inception. The Broncos Maker's Club also assisted in organizing 2019's event.
Photos from this year have been uploaded to an album on the CBA's Facebook page. The 2020 Bronco Startup Challenge is scheduled for April 16. A full list of the 2019 finalists is available below.
AZUZA Beverages (Winner)
A breakthrough for lovers of craft beer wanting to enjoy their favorite brew without the spirits, AZUZA is a Brew Rx system that strips beer of the alcohol while preserving the hoppy aroma and malt backbone. The process can be performed on any beer with the AZUZA team offering judges non-alcoholic samples of today's most popular brands.  
Nikko Tech (Crowd's Choice)
Privacy is a swipe away with Nikko Tech, a glass overlay for windows and monitors dimmable through an accompanying smartphone application. When visibility is most important, Nikko Tech allows users to turn the glass completely transparent. In instances where discretion is necessary, the glass can be darkened to the desired level via Andriod or iOS.
PLUR Pack
Borrowing a popular rave acronym for, "Peace, Love, Unity and Respect," PLUR Pack is built to maximize the music festival experience by keeping important belongings safe and secure. Compartments for the essentials and durable construction ensure worry-free storage well past when the music stops.
Project Lite
Illumination has never been easier or more affordable than with Project Lite, a modular LED light system configurable as a stand-alone unit or in a stackable array. Project Lite offers a class-leading up to 60 zones of adjustably as it seamlessly integrates into popular platforms like Google Home and Amazon Echo at an expected price point well below the current market rate.  
TomikoKathryn
Targeting active females 25-45 with a household income above $120,000, TomikoKathryn is ready to take a slice of the high-end maternity clothing market. TomikoKathryn strives to encourage mothers to live their most fulfilled life through sustainable and empowering garments. Unique athletic styles with no-compromise quality of luxury brands is attractive in more ways than one.