Jessie Vallejo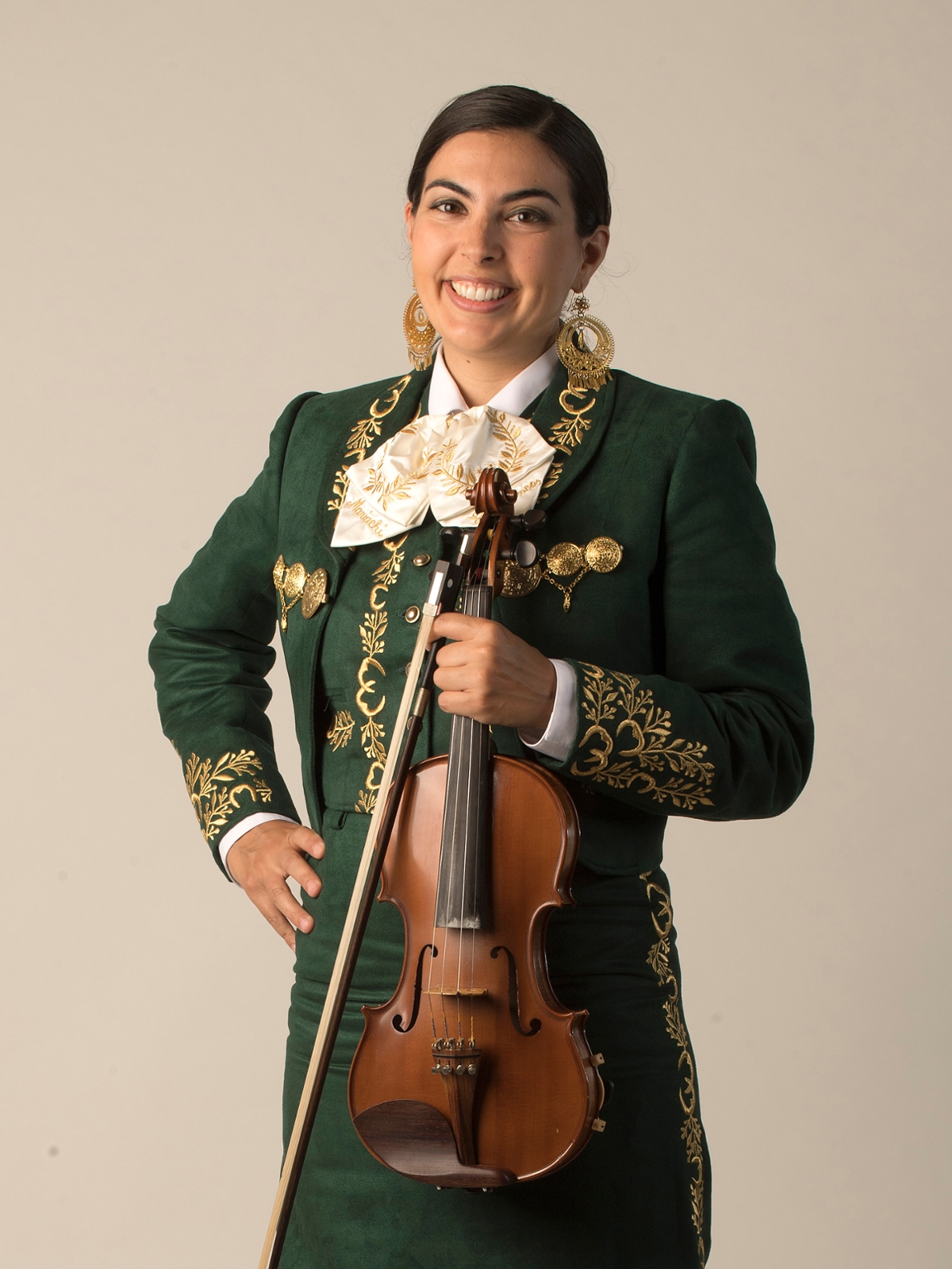 Contact Information:
Faculty Office Telephone: (909) 869-4501
E-mail: jmvallejo@cpp.edu
Music Department Office: (909) 869-3548
Fax #: (909) 869-4145
Education:
Ph.D. in Ethnomusicology, University of California, Los Angeles
M.A. in Ethnomusicology, University of California, Los Angeles
B.M. in Music Education, concentrations in Performance and Spanish, Crane School of Music, State University of New York at Potsdam
Subjects:
Bio:
Dr. Jessie M. Vallejo is currently an Associate Professor of Ethnomusicology and Director of Mariachi Ensembles in Cal Poly Pomona's Music Department. Vallejo teaches across the Music Department's curriculum, including the following courses:
World of Music
Musics of Mexico
Mariachi Ensembles
Theory, History, and Design of Musical Instruments
Ethnomusicology: Theory, History, & Field Methods
Service Learning Integration
Senior Seminar
Careers in Music
Senior Projects
Creative Projects
Beginning and Intermediate Strings
Dr. Vallejo's primary research focuses on a hemispheric approach to Amerindian studies, which draws from her work with Kichwa-Otavaleño and Kanien'kehá:ka musicians. Her secondary research areas examine issues related to mariachi music and integrating ethnomusicological approaches in K-12 music education programs. She has conducted fieldwork in Ecuador, Mexico, Cuba, Colombia, Spain, the United States, Canada, and Hotinonshón:ni territories. Jessie has presented her research at local, national, and international events across California and the United States, as well as in Bangkok (Thailand), Limerick (Ireland), Guayaquil (Ecuador), Astana (Kazakhstan), St. John's (Newfoundland, Canada), and Mexico City.
Dr. Vallejo is currently working on manuscripts about Indigenous cultural-linguistic revitalization projects and mariachi. Dr. Vallejo has co-authored an article examining interdisciplinary approaches to theorizing spacetime [Smithsonian Folklife Magazine / Smithsonian Magazine] and she has also worked as an applied ethnomusicologist, co-producing, annotating, and providing photography for Smithsonian Folkways' 2013 release ¡Así Kotama!: The Flutes of Otavalo, Ecuador.
As a violinist and vocalist, Dr. Vallejo performs regularly with Los Angeles-based mariachi groups. She has been a member of Mariachi Tesoro led by Rebecca Gonzales, who was the first woman to play with a professional show mariachi group. Dr. Vallejo's performance highlights include performing with Mariachi Tesoro as one of four headlining groups at the Albuquerque Mariachi Spectacular, sharing the stage with Mariachi Sol de México de José Hernández, Mariachi Nuevo Tecalitlán, and Mariachi Vargas de Tecalitlán. As a member of Tesoro, she opened for Mariachi Los Camperos de Nati Cano in 2018.
Other notable mariachi events in which Jessie has performed include Long Beach Mayor Robert García's inauguration at the Terrace Theater, the Stephenson Memorial Concert Series during College Convention at Berea College (Berea, KY), and Mexican baile folklórico events at the John Anson Ford Amphitheater (Hollywood, CA) and the Alex Theater (Glendale, CA). Dr. Vallejo may also be seen collaborating with rock and fusion acts—El Mariachi Manchester and singer-songwriter Nancy Sanchez—on the stages of the Viper Room (LA), La Cita Bar (LA), The Echo (LA), The House of Blues (Anaheim), Romano's (Riverside), and The Observatory (Santa Ana). When she was the Assistant Director of Mariachi de Uclatlán, she helped organize the ensemble's trip to Havana, Cuba, where the student ensemble performed with maestros Jesús "Chuy" Guzmán, Natividad "Nati" Cano (Mariachi Los Camperos de Nati Cano), and Havana-based mariachi groups at the Casa de Las Américas' Ché Guevara Hall.
Jessie Vallejo has performed Andean and South American music at the Kennedy Center Millennium Stage and the Smithsonian Folklife Festival stages (Washington, DC), and also for Dances of Peru dance company's production Once Upon a Time in Peru at the Redondo Beach Performing Arts Center (Redondo Beach, CA). Jessie was selected to study the Chinese two-string fiddle (erhu) at the Central Conservatory's two-week intensive summer program in Beijing, China, and she has performed silk and bamboo music at the Huntington Gardens (Pasadena, CA) and LACMA (Los Angeles) with the UCLA Chinese Music Ensemble. While Jessie was a member of the Crane Symphony Orchestra, she performed at Carnegie Hall (New York City). Dr. Vallejo may also be heard singing back-up vocals on the L.A. BlueGrassHoppers' self-titled album. Prior to entering the field of ethnomusicology, Vallejo was a music teacher in Syracuse metropolitan area New York State public schools.
One of Dr. Vallejo's favorite hobbies is cooking and learning new recipes from friends she meets while traveling. Some of the recipes she learned while living in Otavalo, Ecuador are featured in The Ethnomusicologists' Cookbook: Complete Meals from Around the World, volume 2, edited by Sean Williams.
As a public transit enthusiast and activist, Jessie Vallejo has been a featured storyteller for BUSted Storytelling events. Jessie serves on Cal Poly Pomona's Transportation Advisory Council, and she enjoys exploring new places via their public transit systems.
Dr. Vallejo received her M.A. and Ph.D. in Ethnomusicology from UCLA and her B.M. in Music Education with a minor in Spanish from the Crane School of Music at SUNY Potsdam.
Languages:
English native language
Spanish fluent in reading, writing, and speaking
Kichwa advanced level in reading, writing, and speaking
Korean basic level in reading, writing, and speaking
Professional Memberships: