Visit Us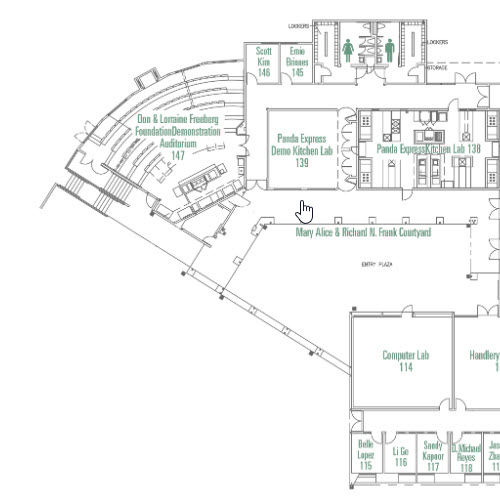 Maps

Click on the button below to view the maps of the different Collins buildings.  They are there as part of being extra hospitable for our students. We go the extra mile to show them exactly where they can find exactly who they are looking for.
The Collins College Tours
The Collins College of Hospitality Management thrives in a high-tech learning environment with 43,000-square feet of privately funded facilities. The buildings feature kitchen laboratories, seminar/conference rooms, classrooms, a food and wine education center and the Restaurant at Kellogg Ranch.
The college offers tours for prospective students and their parents throughout the year. During the tour prospective students learn about our curriculum, co-curricular and career opportunities, scholarships, student life and get a complete tour of our facilities.
Reservations are required for all tours.
*Please note that the tour of The Collins College does not include a tour of the entire Cal Poly Pomona campus or detailed information regarding admissions, financial aid, housing or other university departments.
To get more information on other departments besides The Collins College please contact the respective department directly. 
The Collins College 360 Tour
Cal Poly Pomona Tours
For a comprehensive introduction to Cal Poly Pomona, we suggest booking a tour with the university's Visitor & Information Centers. These tours take prospective students and their parents throughout the beautiful 1,438-acre campus and offer insightful information about the university.
*Please note that the tour of Cal Poly Pomona through the Visitor and Information Center does not include a tour or detailed information about The Collins College.