Career Services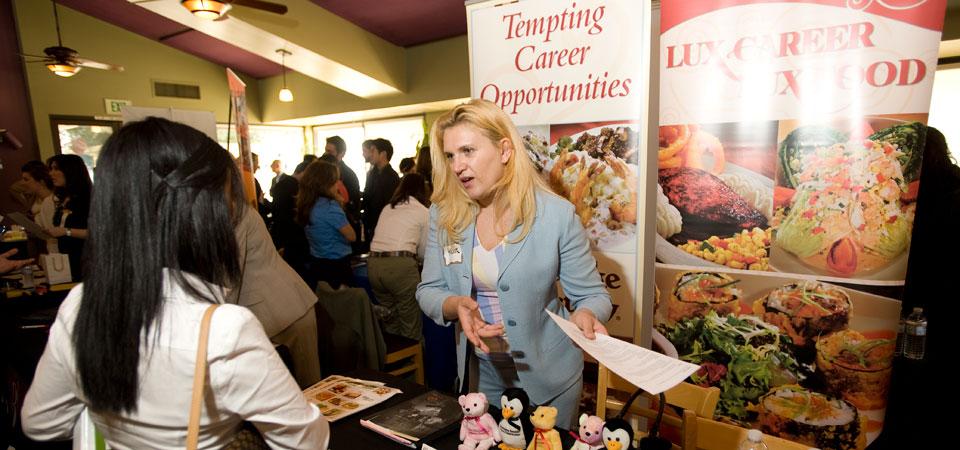 Slide1
A recruiter from The Cheesecake Factory talks with students during Hospitality Career Expo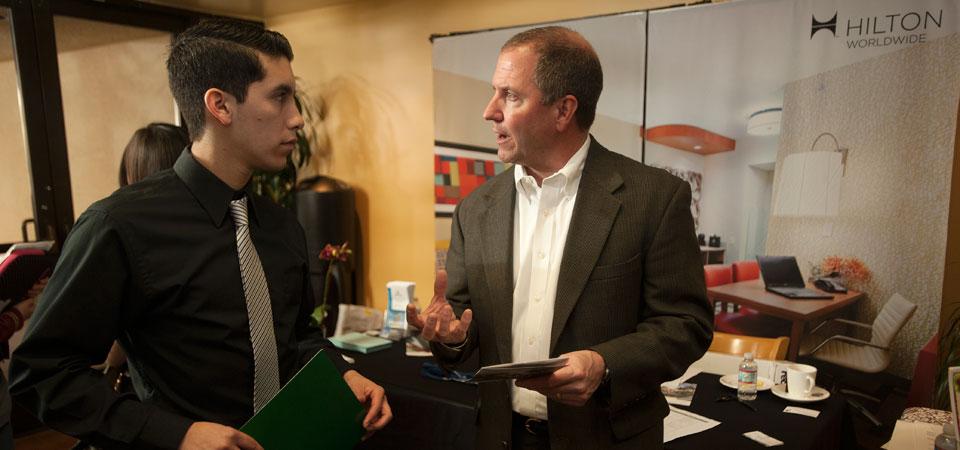 Slide2
A recruiter from Hilton Hotels talks with students during Hospitality Career Expo
Previous
Next
The Collins College is dedicated to providing students numerous opportunities and services to foster their professional development. Career Month and the Hospitality Career Expo occur every February.
Contact collins@cpp.edu or (909) 869-2275.
Career Counseling By Appointment
Make an appointment to receive any of these services below. Each counseling services takes approximately one hour.
Resumes, Cover Letters and More
Assistance available with starting, refining and polishing resumes, cover letters, thank you notes, letters of introduction and more.
Career Exploration and Job Search
Our career counselor can work with you individually to explore career options, create a job search strategy and/or help make academic and professional decisions.
Career and Grad School Research
You may use the Career Center reference library to make major-to-career choices, learn about companies and industries, or research graduate school programs.
Mock Interviews
Prepare for your next interview by practicing with a career counselor! You will receive on-the-spot feedback and may have the interview recorded for your review.
Assessments
Professional interpretation of career assessments, Myers Briggs Type Indicator, Strong Interest Inventory and StrengthsQuest are available. A small fee applies for these assessments. Skill Sort and Value Sorts are also available to help you hone in on your marketable attributes.
Drop In Counseling
No appointment? No problem! You may have a career counselor or peer advisor review resumes, cover letters and/or get familiarized with career resources to get started on their job search. 

Monday thru Friday, 11 a.m. to 3 p.m., Career Center, 97-100 
Monday, 10:30 a.m. to Noon, The Collins College, 79B-2210B
On-Campus Resources for Students
Zero in on a great job without leaving campus. When you log into Bronco Connection, check for employers interviewing for jobs and internships as well as Information Sessions.
Career Center Clothes Closet
Operated by the   Cal Poly Pomona Career Center, the Career Closet can provide you with access to gently used and ready to wear professional clothing attire required for an interview, attending a career fair, a conference, or for the first week of work. The attire for the Career Closet is provided by the generous donations from faculty, staff, alumni and employers to help students like you succeed at Cal Poly Pomona.
Mentor Program
The   Mentor Program  is an exciting opportunity that matches students with Board of Advisors members and established alumni to develop opportunities that include networking, career and professional development . This program is offered in the fall to sophomores, juniors, seniors, and graduate level students. A minimum overall GPA of 2.75 or higher is required to participate in the Mentor Program