College of Professional and Global Education
What's Happening at CPGE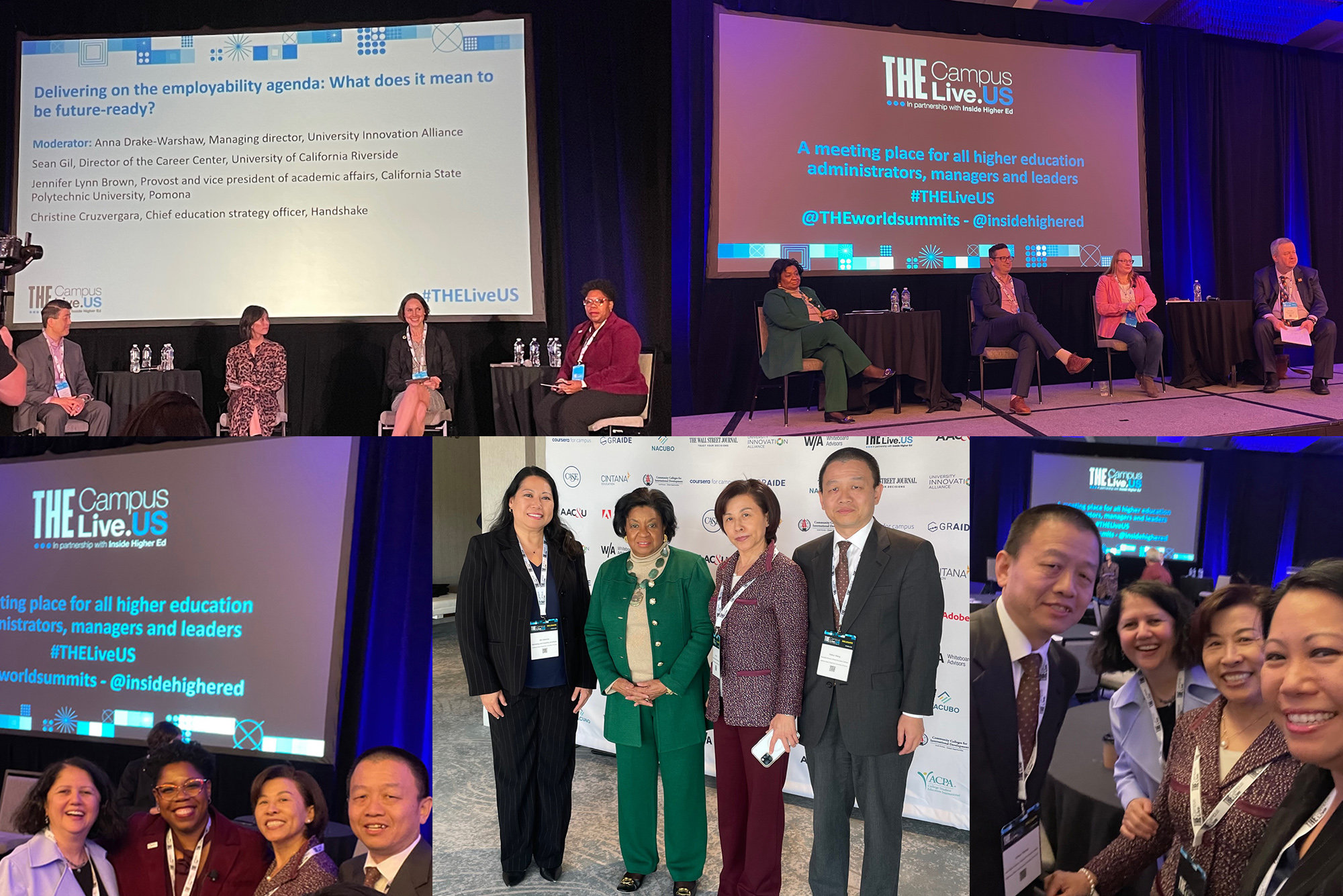 THE Campus Live 2022
On November 9-10, 2022 CPGE staff attended Times Higher Education (THE) Campus Live US at the Hilton Los Angeles Culver City, where CPP President Dr. Soraya Coley and Provost Jennifer Brown were invited speakers. 
Organized by the teams at Times Higher Education and Inside Higher Ed, THE Campus Live US united senior administrators from a range of positions across US institutions to take on the sector's shared challenges. Among the subjects included were: the future of hybrid, innovation and industry, internalization and global outlook, student success and inclusion.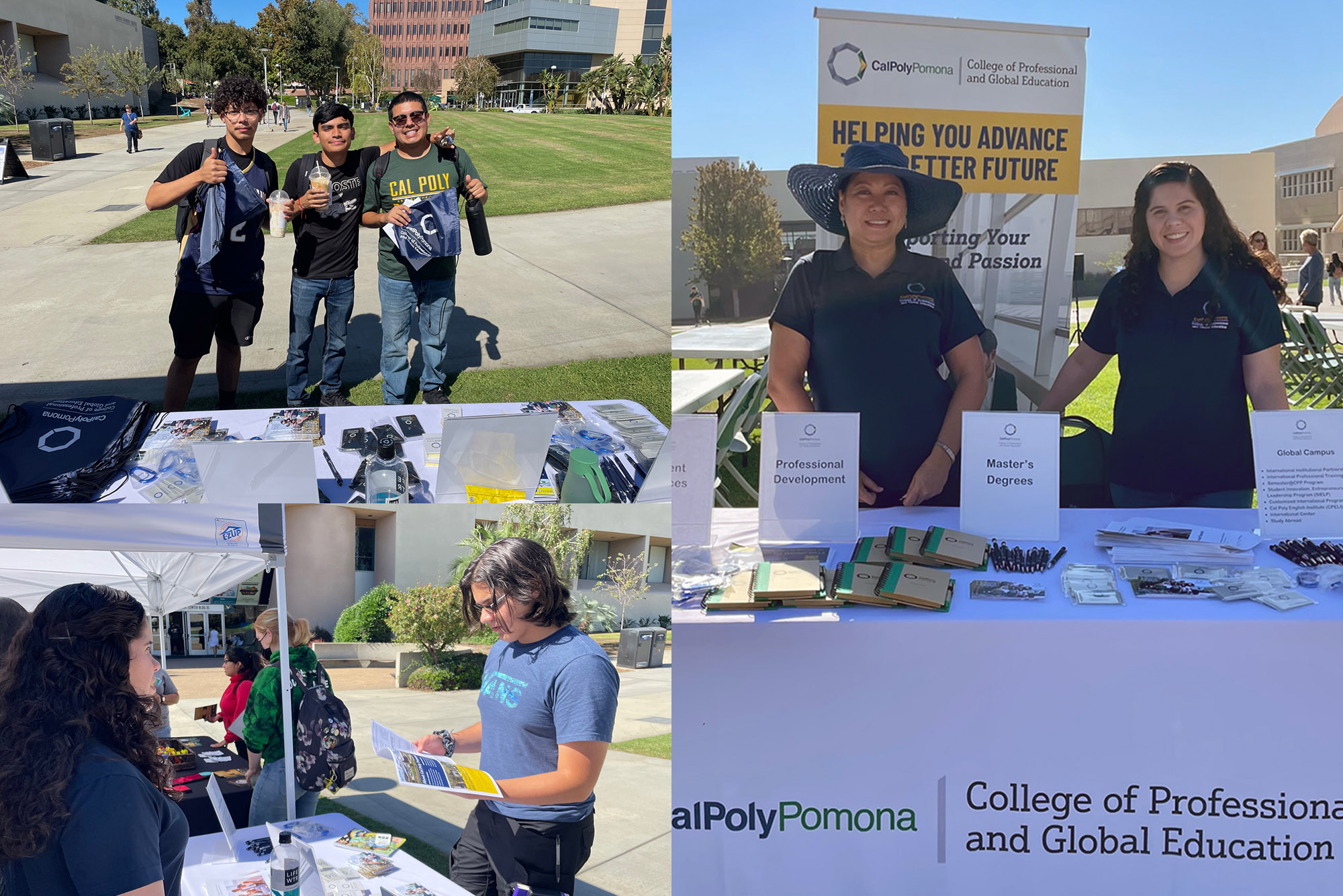 Transfer Students Resource Fair
To welcome new Cal Poly Pomona transfer students, CPGE participated in the Transfer Students Resource Fair on October 18. Hosted by the ASI (Associated Students Incorporated) as part of the National Transfer Student Week, the purpose of the event was to offer transfer students resources to make their transition to the university easier and to make connections with other transfer students. 
CPGE staff answered questions about master's degree programs, handed out flyers and postcards with QR code to help students connect to our website, and provided promotional materials. National Transfer Student Week offered the perfect opportunity to highlight transition struggles and successes as well as celebrating transfer students' accomplishments.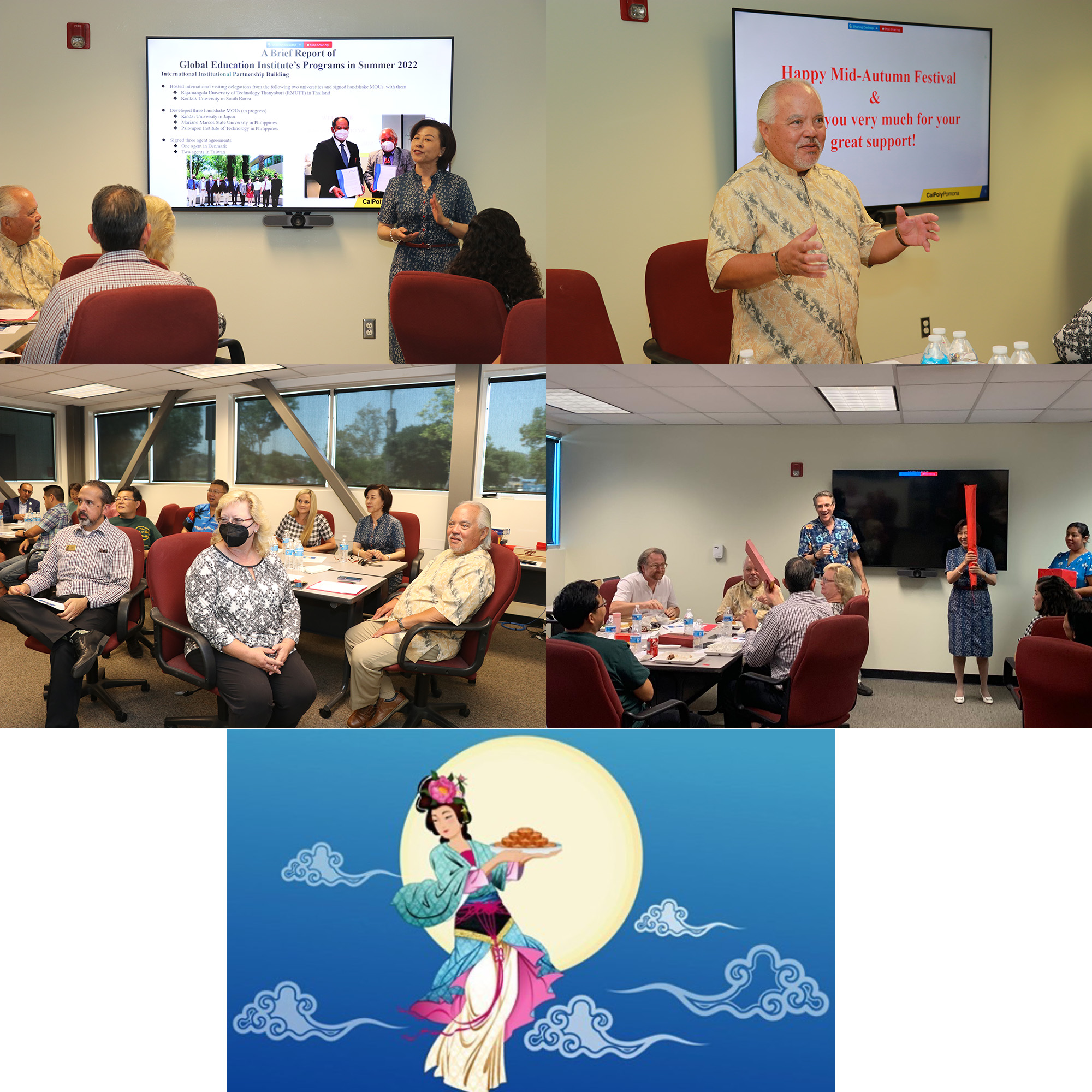 Mid-Autumn Celebration
The Global Education Institute at The College of Professional and Global Education hosted a Mid-Autumn Festival celebration in early September, which included food and a presentation about the rituals, traditions, and meaning behind this Chinese celebration. 
Around the world, the Mid-Autumn festival is celebrated like Thanksgiving Day, which is for celebrating the harvest and expressing gratitude. A special part of this celebration is the sharing of moon cakes which are an indispensable delicacy during this time of year. 
The history behind the Mid-Autumn Festival is intricately linked to legends of Chang E, the mythical Moon Goddess of Immortality. According to the Records of Rituals, an ancient Chinese book recording customs and ceremonies, the Chinese Emperor should offer sacrifices to the sun in spring and the moon in autumn. The 15th day of the 8th lunar month is the day called "Mid-Autumn". This year, the Mid-Autumn Festival fell on Saturday, September 10, 2022.  The festival celebrates three fundamental concepts that are closely connected:
Gathering, such as family and friends coming together, or harvesting crops for the festival. It's said the moon is the brightest and roundest on this day which means family reunion. Consequently, this is the main reason why the festival is thought to be important.
Thanksgiving, to give thanks for the harvest, or for harmonious unions.
 Praying (asking for conceptual or material satisfaction), such as for babies, a spouse, beauty, longevity, or a good future
CPGE and CPP community members were able to participate in this celebration as a community to learn more and express gratitude.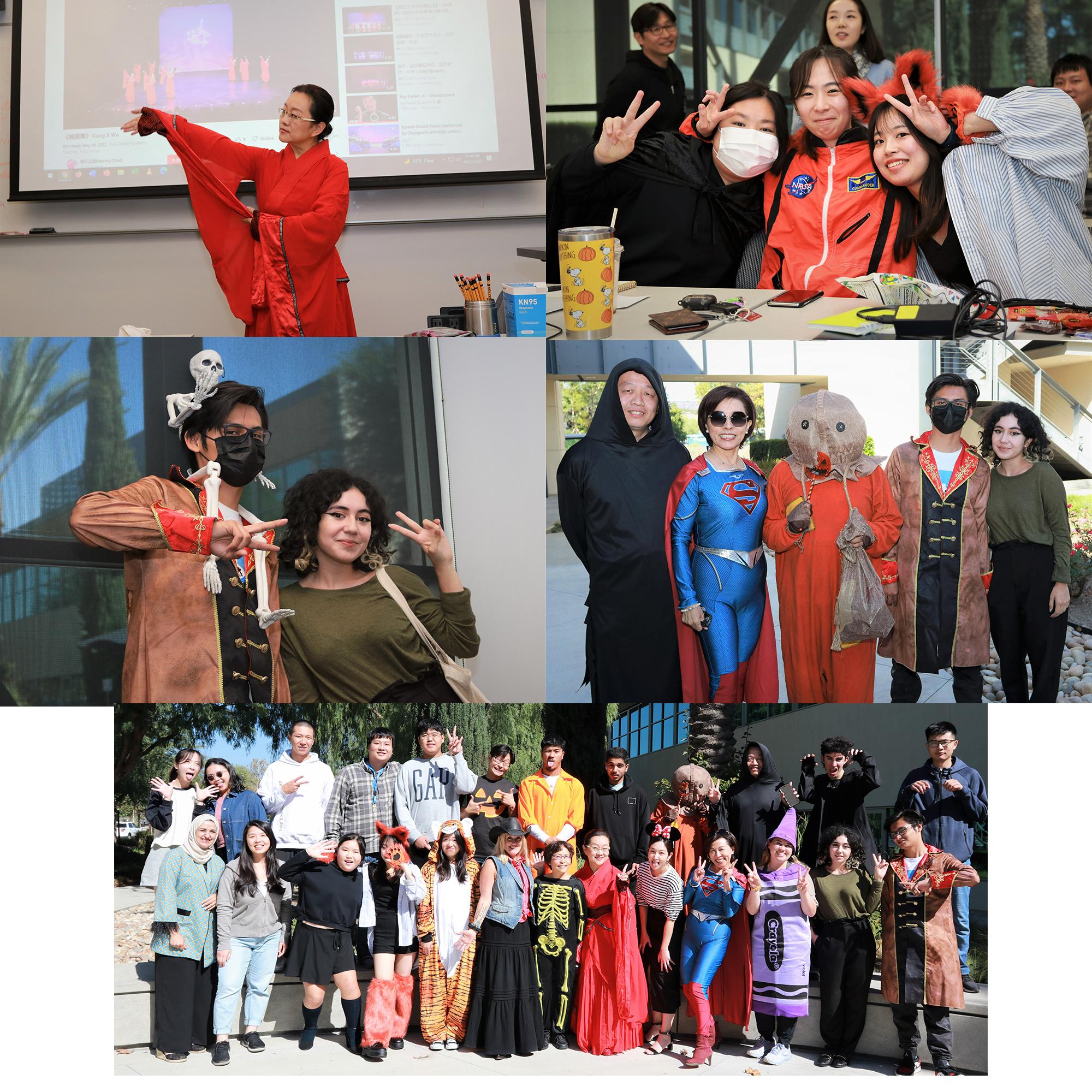 Halloween Celebration with CPELI Students
Cal Poly English Language Institute students had a Halloween Celebration Lunch with CPGE staff members where they learned about the holiday's festivities and American culture. They enjoyed lunch, a presentation on Halloween traditions, a dance performance, and a board game. We would like to thank everyone who took part at the event and wore fun costumes, Happy Halloween!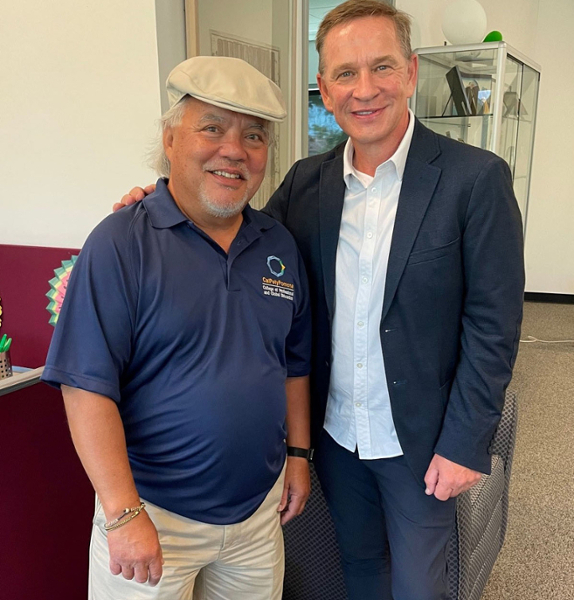 Farewell and Welcome
Bon Voyage Dean Erik Rolland
The College of Professional and Global Education (CPGE), would like to thank Dr. Erik Rolland for his impactful leadership and vision, that guided our college to our new name.  We extend a heartfelt thanks and appreciation for his work and leadership over these past two years, and we wish him continued success as he embarks on his new journey starting July 1, 2022!   
Welcome Onboard Our New Interim Dean, Dr. Richard Navarro
We are happy to announce that Dr. Richard Navarro has agreed to serve as the interim dean of the College of Professional and Global Education, effective June 15, 2022. 
Dr. Richard Navarro brings extensive international and higher education leadership experience to this interim post. Dr. Navarro is a professor of education and the college graduate coordinator in the College of Education and Integrative Studies. Dr. Navarro is also the Cal Poly Pomona representative and Chair of the CSU Academic Council on International Programs. Recently, he served as Chief of Party of the USAID Project for Productivity through Higher Education in El Salvador. From 1997 to 2003, he served as the Dean of the College of Education and Integrative Studies at Cal Poly Pomona.
CPGE looks forward to working together with Dean Navarro to further advance our programs and offerings. Welcome!
Photo credit: Dr. Richard Navarro (left) with Dr. Erik Rolland (right)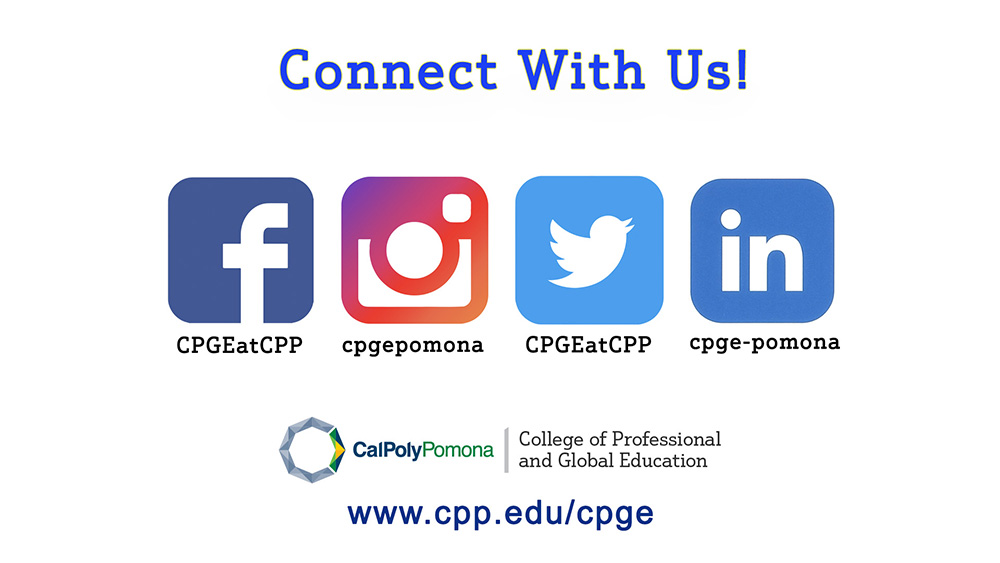 Request More Info
Want to learn more about us and our programs? Fill out the form below and we'll contact you to share more information and answer any questions.
CPGE Footer


3801 W. Temple Ave.


Bldg 220C-140



Pomona CA 91768
https://www.cpp.edu/cpge
Phone: 909-869-2288
Email : CPGEinfo@cpp.edu
Office Hours:
Monday – Friday 8:00 AM to 5:00 PM