Tableau Resources
IRPA utilizes Tableau as a tool to provide interactive data visualization dashboards and models to support continuous improvement at CPP.
Tableau Login for Faculty and Staff
Detailed Tableau dashboards are available to faculty and staff through the below authenticated portal.  Dashboad data is current and reflects production data as of midnight of the previous day.  
COVID-19 Work From Home / Off-Campus
To all CPP employees working from home or off-campus due to the COVID-19 (coronavirus) crisis, Tableau is only available when you are connected to valid CPP VPN (Virtual Private Network). For information on setting up a VPN connection please reference the eHelp VPN article.
Tableau Finding Guide
The Tableau Finding Guide is an additional resource that helps in identifying which dashboard can best meet your need.
Video Tutorials
Academic Research and Resources (ARAR) has created video tutorials and handouts for the Tableau Dashboards. 
ATI Compliance Statement
Accessibility Assurance. We are committed to accessibility and strive to provide information that is easy to navigate and fully accessible. Please contact us with any questions or suggestions. To view PDF files, click here to download Adobe Reader.
Frequently Asked Questions (FAQs)
For Tableau Finance or HR Position access please visit Budget Services and submit a Finance/HR Position Tableau Access request.
For all other Tableau dashboards and Data Warehouse access please submit an IRPA access request.
Tableau and Data Warehouse are available on-campus, or off-campus with a valid VPN (Virtual Private Network) connection.  For information on setting up a VPN connection please reference the 
eHelp VPN article
.
If you see the following error when logging in to Tableau, close all browser windows and then try again.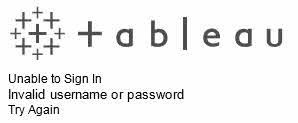 For more information, please contact: irpa@cpp.edu
For a specific contact person, please see our team.