Issue 2 (2017-18)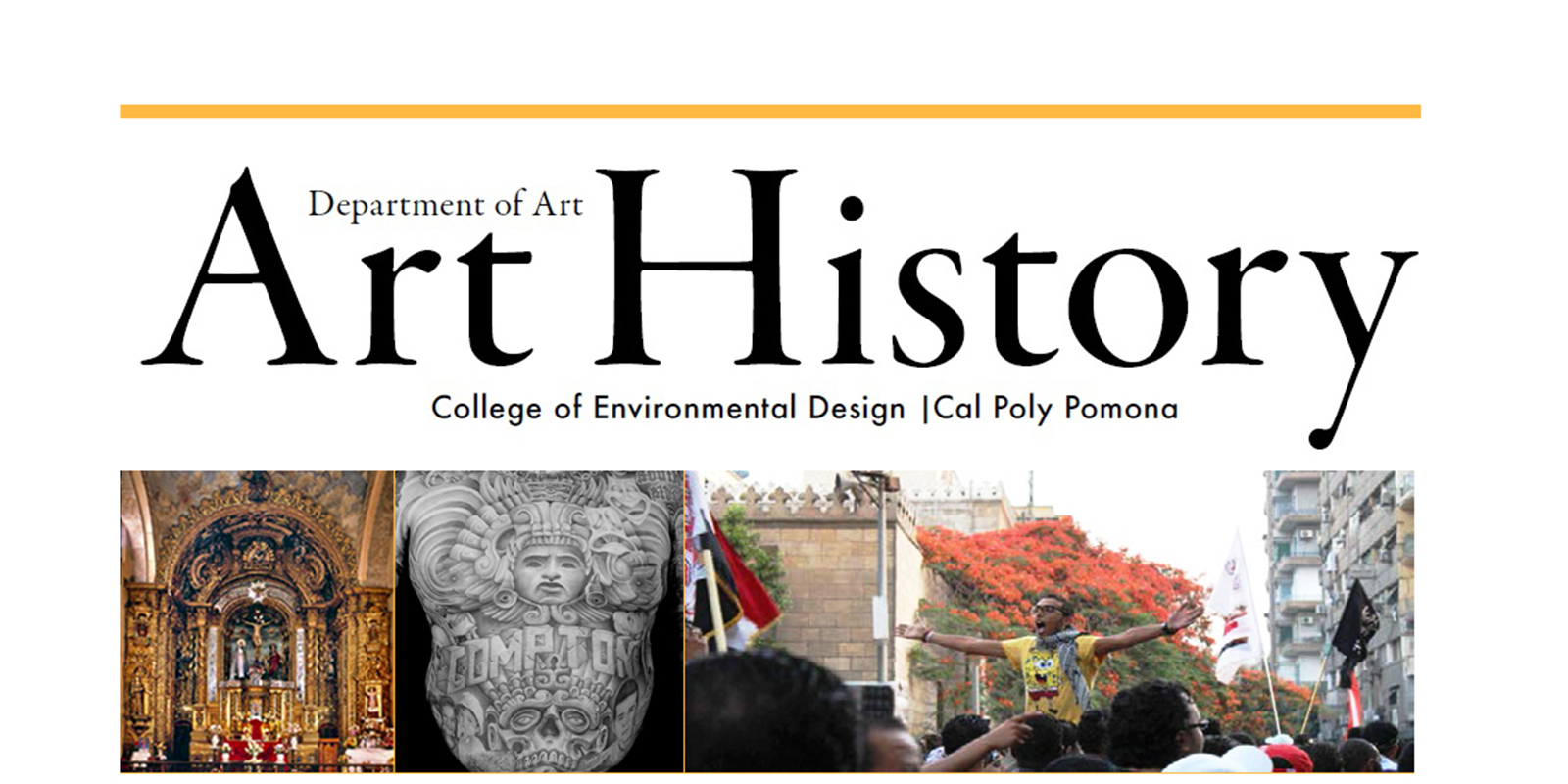 The Art History program at Cal Poly Pomona is the only one of its kind to offer an independent B.A. in the CSU system in Southern California. This gives our students due recognition for their expertise in the field when they apply for employment or to graduate programs.
This publication provides highlights of the department's year. Browse this edition for student and alumni news, and background on the specialties and research areas of the department's art historians. This issue also contains the Art History Papers Directory of this year's graduating seniors.
ART HISTORY PAPERS
Frangonard: Playing with Eroticism,

 

by Kimberly Andrade ('18, art history):

 

"Comparisons to Fragonard's corpus will demonstrate how the playful role he commonly gives women in his paintings changes in The New Model to a vulgar commodity."
Fashion via the Arab Spring,

 

by Kyle Smith ('18, art history):

 

"My research looks at critical writings about fashion to see past examples of the relationship between politics and fashion. It also relies on show reviews from selected designers and trend analysis reports to study the direction fashion was moving before the Arab Spring and where it went afterwards"
The Caves of Ani: An Underground Representation of Ani's Multicultural Values,

 

by Atineh Movsesian ('18, art history):

 

"As a result of continuous invasions, Ani exhibits a blend of Armenian, Byzantine, Georgian, and Islamic cultural characteristics. The city existed not only above, but also underground in 800 caves, which are believed to have existed since 400 BCE and were inhabited throughout the Middle Ages."
The Origin of

 

Maria Lactans

 

in Coptic Art,

 

by Marina Megalla ('18, art history):

 

"When addressing iconography, I examine the impact of the Egyptian goddess Isis, specifically, Isis nursing Horus (Isis Lactans), and her cult."
Southern California Ink-orporated,

 

by Sierra Mychael Arguelles ('18, art history):

 

"How did this gang-related cultural badge become an accepted, sought-after style? This paper tells the story. To tell it, I traced the separate histories of Chicano style and Traditional style."
SHARE YOUR NEWS!
The department encourages students and alumni to share their scholastic, professional and research updates. Email your announcements to Assisant Professor Karlyn Griffith at kmgriffith@cpp.edu.
AH Newsletter - Issue 2 (ArtHistoryCPP_Newsletter_Issue2.pdf)