Overview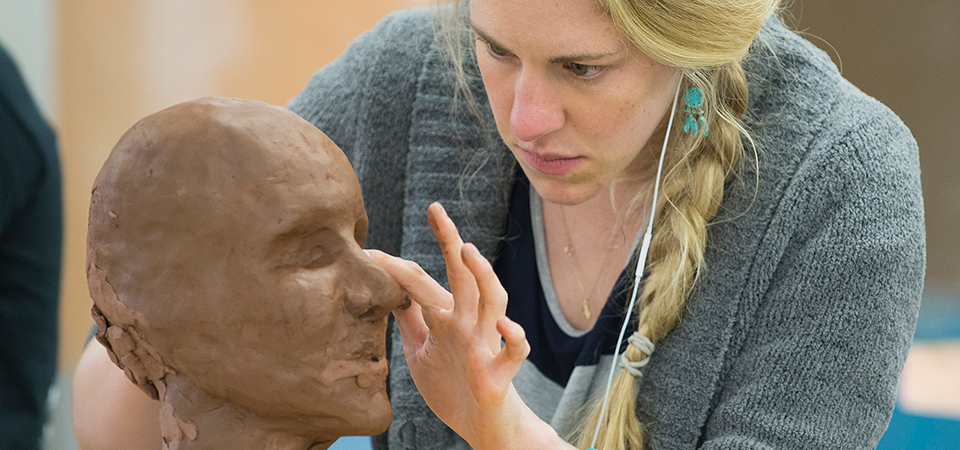 The Department of Art offers two undergraduate majors:
Minors in Art History and Studio Art are also offered through the Bachelor of Arts program.
The Department of Art is an accredited institutional member of the National Association of Schools of Art and Design.* Total curriculum must include 60 units of upper division courses. A grade of C- or better is required in major courses. Many courses are available for the general university student.
All undergraduate and graduate students entering College of Environmental Design majors are required to purchase a computer that meets departmental specifications. Financial aid for this computer purchase is available to students qualifying for Federal Student Aid (requested via the FAFSA application).
*Cal Poly Pomona is currently accredited by the National Associations of Schools of Art & Design (NASAD) and as of November 11, 2022 has probationary status. 
As per the NASAD Commission Action Report from November 11, 2022:
"The Commission notes the failure of California State Polytechnic University, Pomona to address successfully the previously cited and continuing issue of non-compliance pertaining to health and safety. The institution is reminded of its responsibility to maintain compliance with all applicable standards on a timely and ongoing basis. The Commission requests that the institution review with the utmost care the issue noted below, develop a cogent and focused reply demonstrating its compliance with standards, and provide the reply to the Commission for review. 
With regard to this issue, the Commission acknowledges receipt of the institution's Response dated October 4, 2022 in reply to the NASAD Commission Action Report dated May 24, 2022, specifically regarding its efforts to address the ongoing and long-standing health and safety issues in ceramics (see NASAD Handbook 2020-21, Standards for Accreditation II.F.1.g and i.) and notes that the information provided at this time was insufficient to ascertain the institution's compliance with applicable standards as noted below. The Commission notes that information addressing cited concerns and compliance with standards as supported and documented by detailed information has been requested now on four separate occasions (see NASAD Commission Action Reports dated November 13, 2020; May 25, 2021; November 12, 2021; and May 24, 2022). The Commission notes that the issue with regards to ceramics remains unresolved at this time."
"The institution will remain on probation through November 1, 2023 pending receipt of evidence that confirms that appropriate steps have been taken by the institution to ensure that the facility issue noted in Action 1, item #1 above has been resolved. Before probation can be removed, the institution must submit further and definitive information that satisfactorily demonstrates its compliance with standards cited in Action 1, item #1 above (see NASAD Handbook 2021-22, Bylaws,  Article I., Section 3.C.)."
"Probation is not an adverse action. However, notice of probation is forwarded to the U.S. Secretary of Education, the appropriate state licensing or authorizing agency, and the appropriate accrediting agencies at the same time the institution is notified, and the public within twenty-four hours of notification to the institution (see NASAD Handbook 2021-22, Bylaws, Article I., Section 3.D)."