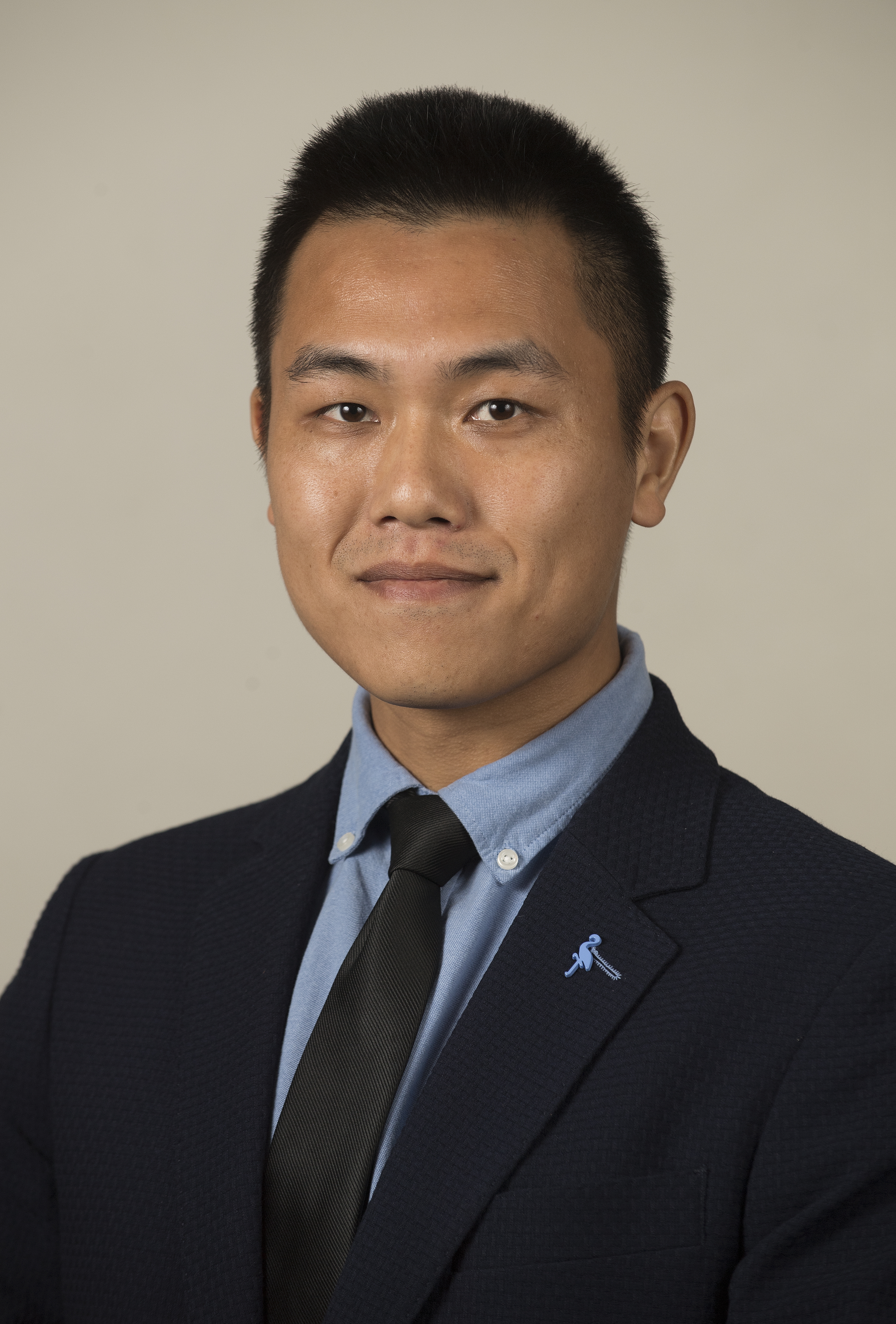 Simeng Li
Assistant Professor, Civil Engineering, College of Engineering
Email
Phone number
909.869.4787
Office location
Office hours
M W | 09:50 AM - 11:20 AM
Education
Ph.D., Civil Engineering, Florida State University, 2019
Biography
Dr. Simeng Li joined the Department of Civil Engineeirng at Cal Poly Pomona as an Assistant Professor in August 2019. His area of research and teaching interests focus on environmental and water resources. Dr. Li obtained his Ph.D. in Civil Engineering from Florida State University in August 2019. At Florida State, he conducted his dissertation work with Professor Dr. Gang Chen, focusing on the fate and transport of nitrogen in agricultural fields. Dr. Li's peer-reviewed papers have been published in the Journal of Cleaner Production, Waste Management, Journal of Analytical and Applied Pyrolysis, and other scientific and engineering journals. He has also reviewed more than one hundred manuscripts for these journals and reviewed textbooks for the Cambridge University Press since 2017. Dr. Li is a member of the American Chemical Society, Water Environment Federation, and Association of Environmental Engineering and Science Professors.


Teaching
CE 2061 Fluid Mechanics
CE 3201 Environmental Engineering
CE 3201L Environmental Engineering Laboratory
CE 3211 Water Resources Engineering
CE 4241 Environmental Remediation
CE 5241 Environmental Remediation
Selected Publications
Book:
Chen, G., Li, S., Tang, Y. Environmental and Hydraulic Engineering Laboratory Manual, Ross Publishing, ISBN: 978-1-60427-137-9, August 2017.
Peer-Reviewed Articles (* denotes corresponding author):
Li, S.*, Duran, K., Delagah, S., Mouawad, J., Jia, X., Sharbatmaleki, M. (2020) Energy efficiency of staged reverse osmosis (RO) and closed-circuit reverse osmosis (CCRO) desalination: A model-based comparison. Water Supply. DOI: 10.2166/ws.2020.208.
Makhtoumi, Y.*, Li, S., Ibeanusi, V., Chen, G. (2020) Evaluating water balance variables under land use and climate change projections in the Upper Choctawhatchee River Watershed in Southeast US. Water, 12(8), 2205.
Wu, Y., Li, S.*, Chen, G. (2020) Impact of humic acids on phosphorus retention and transport. Journal of Soil Science and Plant Nutrition, DOI: 10.1007/s42729-020-00308-9.
Li, S., Wu, Z., Wu, Z., Liu, G*. (2020) Enhancing fiber recovery from wastewater may require toilet paper redesign. Journal of Cleaner Production, 261,121138.
Li, S.*, Chen, G. (2020) Effectiveness of dicyandiamide as a nitrification inhibitor in biochar-amended soil. Pedosphere, 30(3), 352-362.
Li, S.*, Chen, G. (2020) Agricultural waste-derived superabsorbent hydrogels: Preparation, performance, and socioeconomic impacts. Journal of Cleaner Production, 251, 119669.
Li, S.*, Li, R., Tang, Y., Chen, G. (2019) Microwave-induced heavy metal removal from dewatered biosolids for cost-effective composting. Journal of Cleaner Production, 241, 118342.
Li, R., Zhang, Z., Li, S., Tang, Y., Wei, C., Chen, G*. (2019) Cadmium-bacteria complexation and subsequent bacteria-facilitated cadmium transport in saturated porous media. Journal of Environmental Quality, 48(5), 1524-1533.
Li, S.*, Harris, S., Anandhi, A., Chen, G. (2019) Predicting biochar properties and functions based on feedstock and pyrolysis temperature: A review and data syntheses. Journal of Cleaner Production, 215, 890-902.
Li, S., Wu, Z., Liu, G.* (2019) Degradation kinetics of toilet paper fiber during wastewater treatment: Effects of retention time and microbial community. Chemosphere, 225, 915-926.
Li, S.*, Chen, G. (2019) Contemporary strategies for enhancing nitrogen retention and mitigating nitrous oxide emission in agricultural soils: present and future. Environment, Development and Sustainability, DOI: 10.1007/s10668-019-00327-2.
Li, S.*, Chen, G. (2018) Using hydrogel-biochar composites for enhanced cadmium removal from aqueous media. Material Science & Engineering International Journal, 2(6), 294-298.
Li, S.*, Chen, G., Anandhi, A. (2018) Applications of emerging bioelectrochemical technologies in agricultural systems: A current review. Energies, 11(11), 2951.
Li, S.*, Chen, G. (2018) Factors affecting the effectiveness of bioelectrochemical system applications: Data synthesis and meta-analysis. Batteries, 4(3), DOI: 10.3390/batteries4030034.
Li, S.*, Barreto, V., Li, R., Chen, G., Hsieh, Y.P. (2018) Nitrogen retention of biochar derived from different feedstocks at variable temperatures. Journal of Analytical and Applied Pyrolysis, 133, 136-146.
Li, S.*, Chen, G. (2018) Thermogravimetric, thermochemical, and infrared spectral characterization of feestocks and biochar derived at different pyrolysis temperatures. Waste Management, 78, 198-207.
Li, S.*, Chen, G. (2018) Effects of evolving quality of landfill leachate on microbial fuel cell performance. Waste Management & Research, 36(1), 59-67.
Yuan, H., Li, S., Song, C., Chen, G.* (2017) Cry1Ab adsorption and transport in humic acid-coated geological formation of alumino-silica clays. Water, Air, & Soil Pollution, 228(10), 387.
Grants
United States Department of Agriculture (USDA), National Institute of Food and Agriculture (NIFA), Hispanic-Serving Institution Education (HSIE) Grants Program. "An Experiential Leanring Approach: US Wool and Water Re-Use for Sustainable Development." 8/2020-7/2024: $241,109
United States Department of Interior, Bureau of Reclamation, Research and Development Office. "Evaluating Contaminants of Emerging Concern's Fate in Portable Reuse Membrane Treatment". 1/2020-12/2021: $141,393
California State Polytechnic University Pomona, Special Projects for Improving the Classroom Experience (SPICE) Program. "Incorporating Lab-Based Design Competition into CE 4241/5241 Environmental Remediation as a Seedbed of Innovative Future Engineers and Scientists." 08/2020-07/2021: $23,257
Eastern Municipal Water District. "Purified Water Replenishment Brine Concentration Pilot Project." 8/2019-7/2020: $45,000
Association of Environmental Engineering & Science Professors (AEESP) Foundation. "Sustainability at the Food-Energy-Water Nexus Project." 1/2019-6/2019: $750