Contact
Directions to the Consulting Center for Statistics and Applied Mathematics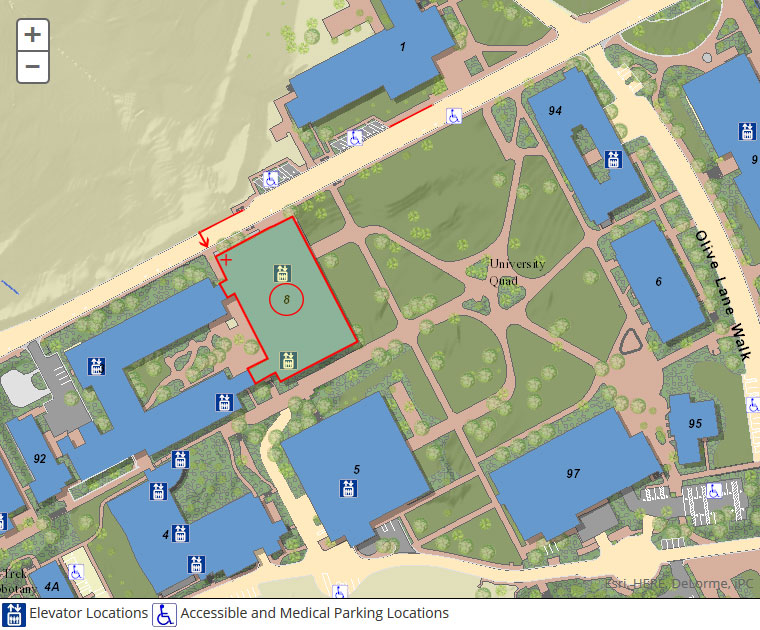 On Cal Poly Pomona campus, our office is located at building 8 (College of Science;  O ) room 149. We are at the north-west corner ( + ) of the building. Easiest access os to enter the building via the north-west entrance ( ↓ ).
From I-10 Fwy, exit onto Kellogg Dr (toward Cal Poly) and turn right onto S. University Dr.
From CA-57 Fwy, exit onto Temple Ave (toward Cal Poly) and turn right onto S. University Dr.
Temporary Parking Lot

(free 30-min parking)

: see the map ( — ). Daily parking permit can be purchased through the campus information booth at Kellogg Dr.
Upon your arrival, please call the Center and tell us about the car (color or type/brand of car). We will go outside the building to meet with you.
Contact Information
Location: Building 8 Room 149
Phone Number: 909-979-5560
Address: Consulting Center for Statistics and Applied Mathematics (8-149), California State Polytechnic University, 3801 West Temple Ave, Pomona, CA 91768 USA

Contact Person:

Dr. Hoon Kim (Statistics), Dr. Hubertus von Bremen (Applied Mathematics)
Please download and fill out the form. Please e-mail to one of (or both) the Co-Directors as an attachment.