Jessica Burns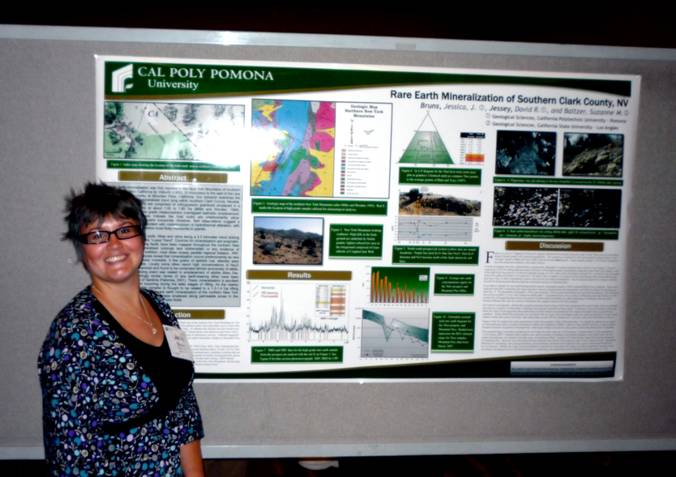 Jessy Bruns received her Bachelor's degree in Geology in Winter, 2012 after completing two significant research projects. Results of her her senior thesis, entitled "Rare Earth Mineralization of Southern Clark County, Nevada" were presented at the Logan, Utah GSA conference in May, 2011. Jessy's poster won a prize for 2nd place at that venue.  An earlier research project, entitled entitled "Neogene Basaltic Volcanism in the Southern Owens Valley, CA: Implications to Tectonics of the Eastern California Shear Zone'" was presented in an undergraduate poster session at the Geological Society of America Cordilleran Meeting in Anaheim, CA on May 29, 2010. This research with Dr. David Jessey involved a detailed petrographic and geochemical examination of basalts from four volcanic fields in the Owens Valley, CA; Ricardo, Coso, Darwin and Big Pine.
Jessy's senior thesis document. The photo above shows Jessy in front of her award-winning poster from the 2011 Utah GSA meeting. Jessy has also authored a peer-reviewed paper on her 2010 research. GSA poster.
Jessy transferred to Cal Poly Geology Department from Mt. SAC Community College. The opportunity to work and study the geology of the eastern Sierra Nevada has fulfilled a lifelong dream. Her interest in geology and the Owens Valley began in her childhood. Her grandfather was a miner in the siver mines of the Crede District in Colorado and stories of his exploits always fascinated Jessy. She wanted to learn more about his life and job. Her interest in the Owens Valley comes from family ownership of a cabin near Mammoth Lakes, CA. Jess has often stayed at the cabin and come to love the Owens Valley.
Upon graduation Jessy is considering two options; graduate school to specialize in economic geology or, if the opportunity presents itself, a dream job as a geologist with a mining company. Jessy is currently (Summer 2012) employed as a consultant by an Australian energy and minerals consortium. In that capacity, she has been involved in the evaluation of rare earth prospects throughout the American Southwest.