CASHNet Frequently Asked Questions
Why are you charging service fees?
Cal Poly Pomona is not charging the service fee.  Credit card transaction costs are significant.  Due to the budget crisis and as a cost-cutting measure, the university will no longer accept credit card payments for registration and tuition.  Credit card payment processing has been outsourced to a third party, CASHNet.  CASHNet will process the university's credit card payments and will charge a service fee of 2.75% for registration and tuition payments.  Service fees are non-refundable.
There is no service fee charge for parking, housing and other fees.
CASHNet will accept MasterCard, American Express, Discover, and VISA.  
Top
With the implementation of CASHNet, we will also be able to offer online payment options for miscellaneous fees.  These will include graduation application, transcripts, orientation, enrollment confirmation deposit, graduation writing test fee, etc.  In addition to being able to pay in person, students will be able to pay these online with no convenience fee charge.
I am having trouble paying online. What is the problem?
You can temporarily disable Pop-Up Blocking by:
Internet Explorer: If the error message "Pop-up blocked. To see this pop-up or additional options click here. . ." is displayed on the information bar just below the toolbar, click on the error message and select "temporarily allow pop-ups." Then click on the Make a Payment button.
You can permanently allow Pop-Up Blocking using the following steps:
Internet Explorer: Go to Tools, select the "Pop-Up Blocker" option and "Turn Off Pop-Up Blockers." Then click on the Make a Payment button.
Mozilla Firefox: If you receive the error message "Firefox prevented this site from opening a pop-up window" on the information bar just below the toolbar, click on the Options button to the far right and select "Allow pop-ups for www.csupomona.edu/~broncodirect," and then click on the Make a Payment button.
Safari: Open Safari, click on the Safari menu and uncheck the "Block Pop Up Windows" option.
Please note that additional pop-up settings related to specific toolbars, such as Yahoo Toolbar or Google Toolbar, may require additional setting changes.  If this occurs, please refer to eHelp for assistance with Pop-Up Blockers.
How do I make sure my payments are applied correctly?
When you are transferred from BroncoDirect to CASHNet, it will show your outstanding balances.  You need to choose the balances you want to pay and enter the corresponding amounts.  For example:
Choose Registration Fees and Tuition to pay your registration fees and,
Choose Housing for your housing charges.  You need to select the term you are paying for in housing.
I do not want to pay the service fee. What are my alternatives?
You can pay registration fees and tuition in person at the Cashiers' Office using cash or checks;
You can mail checks to the Cashier's Office (please DO NOT mail cash).
You can pay by electronic checks (eChecks) online with no convenience fee charge.
You can apply for the Installment Payment Plan (paying by eCheck, check or cash).
Instructions for paying by eCheck:
Sign on to BroncoDirect.
Click on Student Center.
Click on "Make a Payment." This will take you to a CASHNet site; ALLOW POP-UP.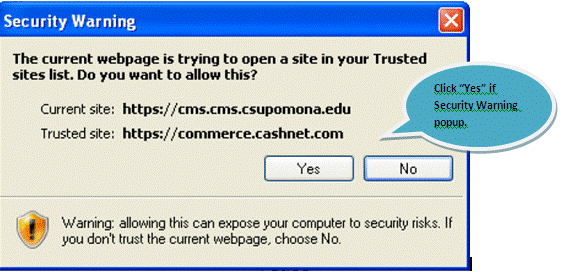 Click on "Click here to make a payment"
Click on items you want to pay, such as Registration and Tuition, Parking, Housing, CEU.
Enter the amount you want to pay. Note that you will not be able to change the amount for parking;
Click on "Add to Items in Cart".
Click on "Checkout".
Click on "Enter new electronic check information.".
Enter your account number.
Confirm your account number by entering it again.
Check the appropriate account type: checking or savings.
Enter the routing number (see illustration below).
Please refer to the sample check below to assist in identifying your bank's routing number and your bank account number.

Enter the account holder name.
If desired, enter a name for this payment method to be saved for future use.
Click on "Continue Checkout".
Review the payment information; there is no convenience fee charge on eChecks.
Click on "Submit Payment";
Click on "View Printable Receipt" and print if desired'.
Click on "Email Another Receipt" (for example, to a parent).
Enter email information on the Script Prompt.
Sign off. You will be returned to the BroncoDirect sign-on screen.
ECheck payments may be returned by your bank for reasons such as:
Account has been closed or frozen.
Lack of sufficient funds.
Incorrect or invalid bank routing number.
Incorrect checking account number.
Please make sure that your account is active and has sufficient funds and that you enter the correct bank routing and account number (refer to illustration above). 
There will be a $30 return fee for insufficient funds, repeated "account closed" notifications and incorrect routing and bank account numbers.