lovestories2023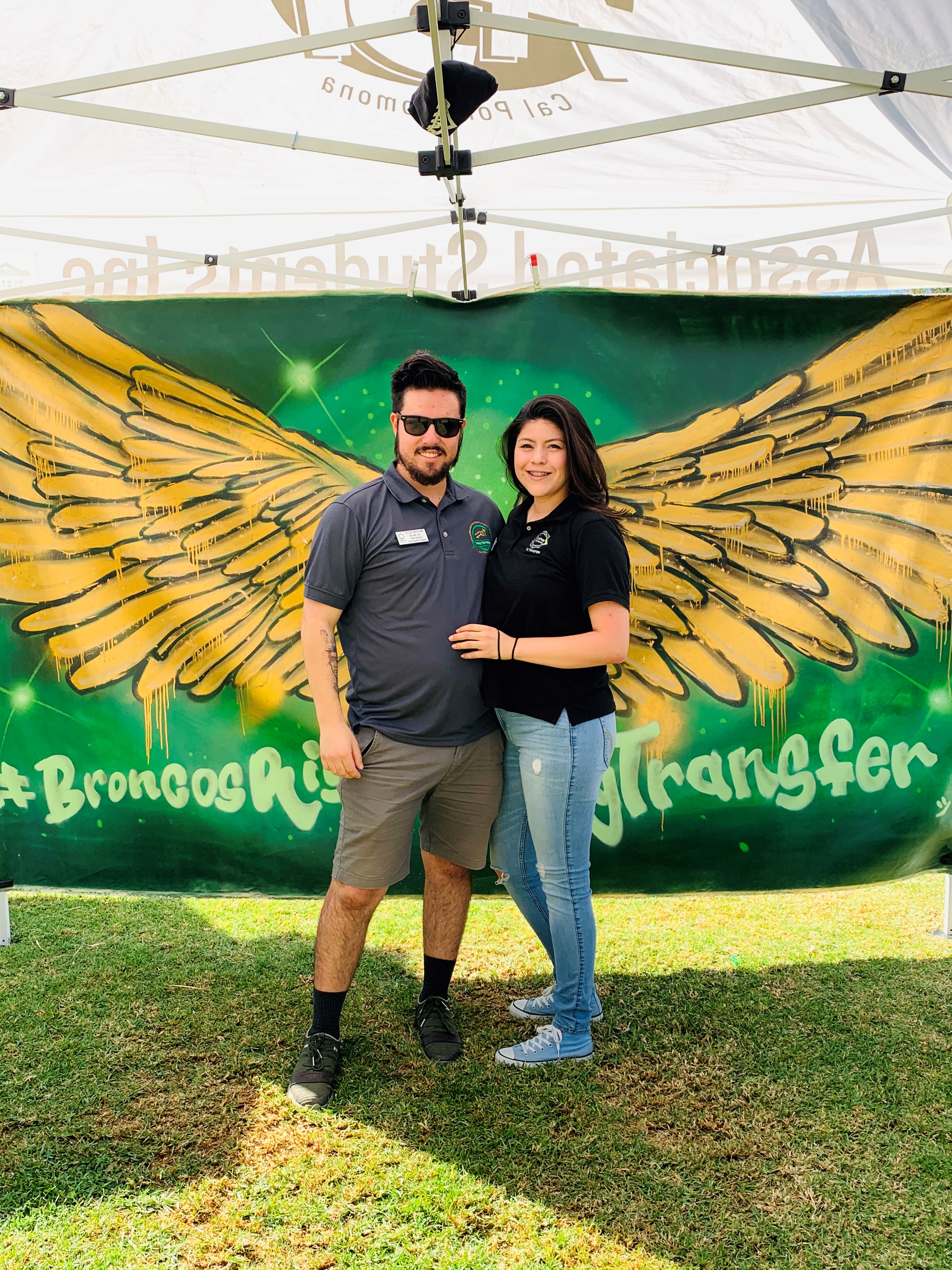 Edna & Kyle

My name is Edna L. Brown and I graduated in the Spring of 2021. My now-husband, a Northern California native, and I transferred to Cal Poly Pomona and met in the Fall of 2018. It was a cold afternoon when my mentor and best friend, Cristal Landa (CPP c/o 2020), called me into the old PolyTransfer Lounge. When I walked in, she had A Star is Born's "Shallow" waiting to be sung on karaoke, and, even though I loathe being put on the spot, who was I to say no to Lady Gaga? My husband (Kyle C. W. Brown) was in the study area working on his assignments. He heard me, but I'm not sure he saw me until later. We owe PolyTransfer so much. We gained a sense of belonging, we gained the best of friends (who were a part of the wedding), and we gained unconditional love. Kyle and I have faced it all-long study hours, financial insecurity, housing insecurity, a global pandemic, etc., but we faced it all together.  
On February 13th 2021, just a few months before graduation, Kyle asked me to be his wife. On May 29th, 2022, in the beautiful Northern California mountains, we said "I do." We are happy, we are resilient, and we are forever grateful to have crossed paths at Cal Poly Pomona.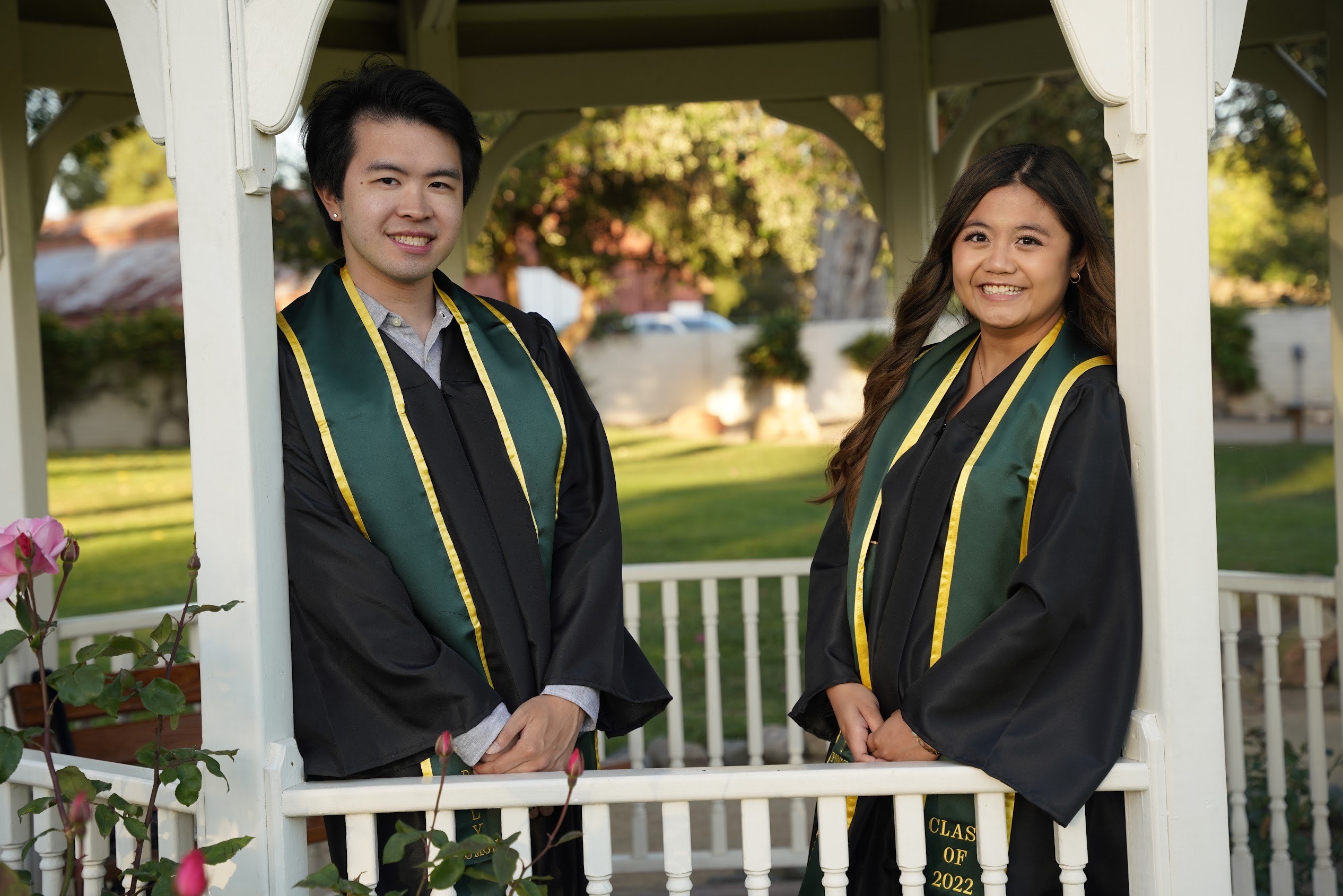 Erin & Paolo

We met the first day of freshman orientation in 2018 in the same little break-off group (I think the group name was Jericho?). After hearing my fun fact of being a Disneyland pass holder, he came up to me and we talked and ate lunch bunch of new homies. When he told me that "we should go to Disneyland sometime" I literally never thought we'd speak again. Little did I know he was going to end up being my best friend:) We started dating a little more than a month after we met and have been going strong ever since. Without the little group we had from orientation we probably wouldn't have even known that we have so much in common. Now we are working in our respective professional fields and reminiscing on the years we had at Cal Poly Pomona! Honestly no one goes into college thinking they'll find the love of their life, but i feel so lucky and happy that I did.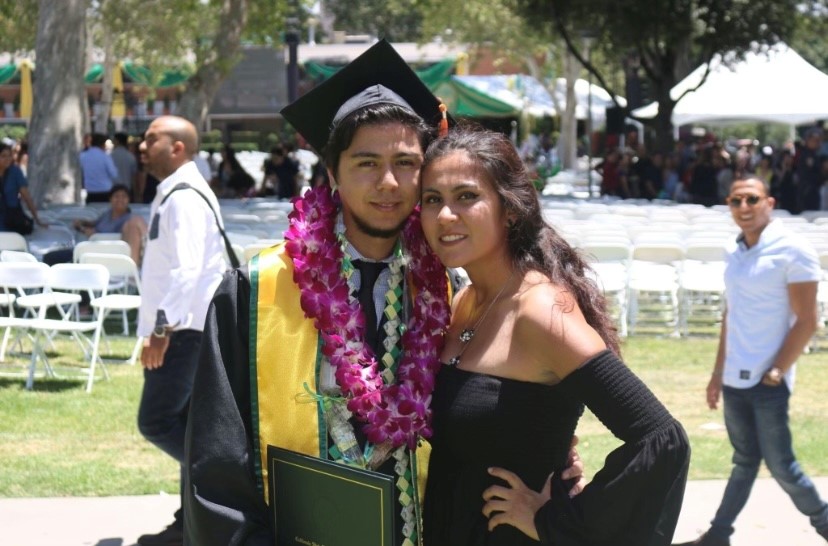 Dalina & John

My now husband John and I met at Cal Poly Pomona's campus in the summer of 2016. 
John was a student athlete and competed for the Broncos on both the cross country and track team from 2012-2016. He majored in electronics and computer engineering and graduated in the spring of 2018. My name is Dalina and I majored in Kinesiology and graduated in 2017. John and I were Instagram friends for a few years before I reached out to him for help with coaching high school cross country. Our first date/meeting was at Cal Poly while we walked around campus getting to know each other. One thing led to another and we became an official couple! During our time together we graduated and I became a teacher and John an engineer. On December 17th 2020, John said we should go to Cal Poly like we did for our first date. After walking around and enjoying the campus, John got down on one knee and proposed! We recently got married November 12th 2022 and still to this day visit Cal Poly Pomona to walk the campus and reflect on the wonderful memories.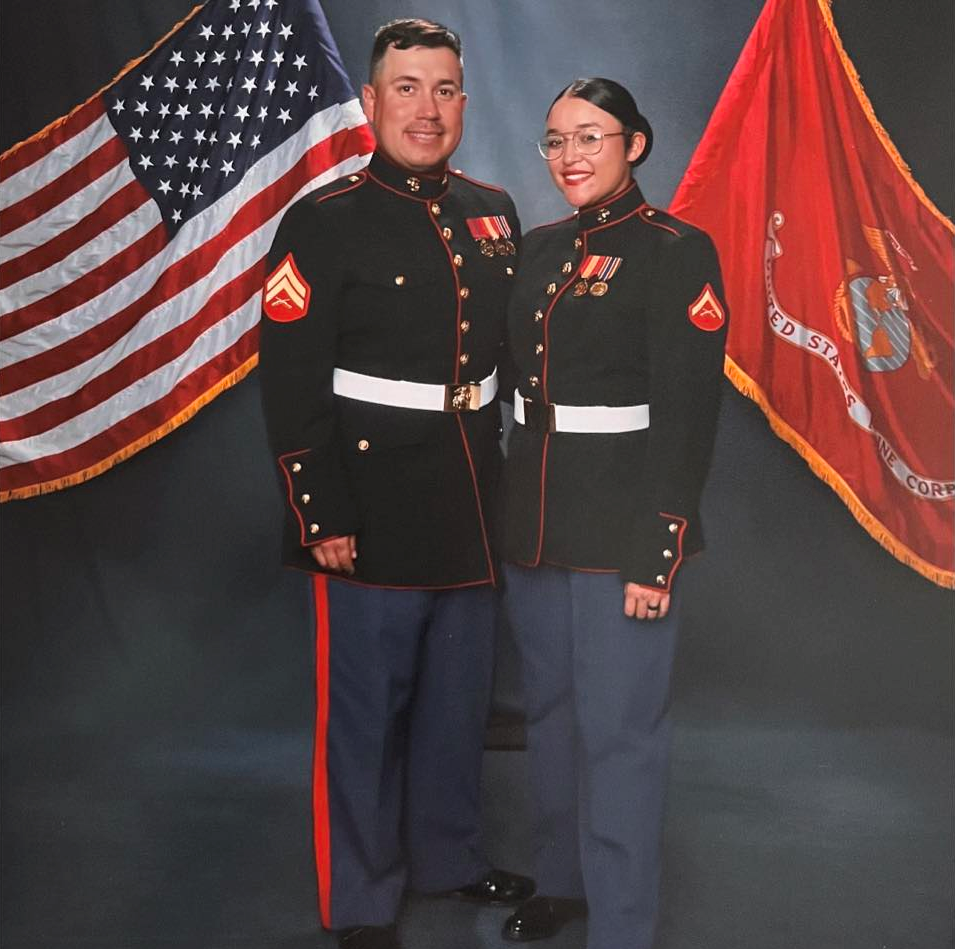 Mary & Eddie

I transferred from the University of Michigan to Cal Poly Pomona fall semester of 2018. I met my (now) husband my first day of class in the music department for String Fundamentals with Dr. Riviere. I had just come from my 7 am jogging class and was sweaty and bright red, but Eddie says it was love at first sight. We were both music education majors so we had a majority of classes together. We began talking, and became best friends very quickly.
He invited me to join the Bronco Pep Band and Kappa Kappa Psi, and I did because I wanted to make friends and become more involved in the music department. He was actually my Big in the KKY co-ed fraternity.
We began dating a few months after we met, got engaged a year later, and married December 27, 2020. We celebrated our 2 year wedding anniversary over this holiday season!
After graduating with our B.A. in Music Education from CPP, we both joined the United States Marine Corps band, and are stationed in Parris Island, SC. We are both pursuing our Master's degrees.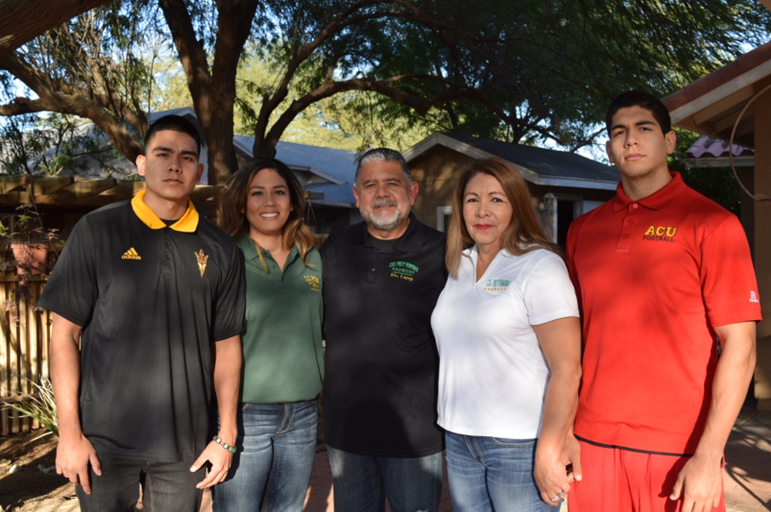 Maria & Diego

My husband, Diego C. Lopez, and I met in our first year at Cal Poly Pomona, in 1981. I graduated in 1985 from the school of business, BS Business Administration with an emphasis in Operations Management. Diego graduated in 1986 with a degree in Physical Education, a minor in Biology and a Teaching Credential. We dated for two years and got married September 16, 1983. Next September we will be celebrating 40 years of marriage. My daughter Karina R. Lopez is also a Cal Poly Pomona graduate, class of 2012.
We have four children, Julian is the oldest, UC Riverside graduate, Karina, Cal Poly Pomona, Alex, Arizona State University, 2018, and Mickey, Arizona Christian University, 2018, Alex and Mickey are twins.
We reside in Yuma, AZ. Diego is a retired CA school administrator, and currently teaching 8th grade science. I work part-time as an independent human resources and safety consultant.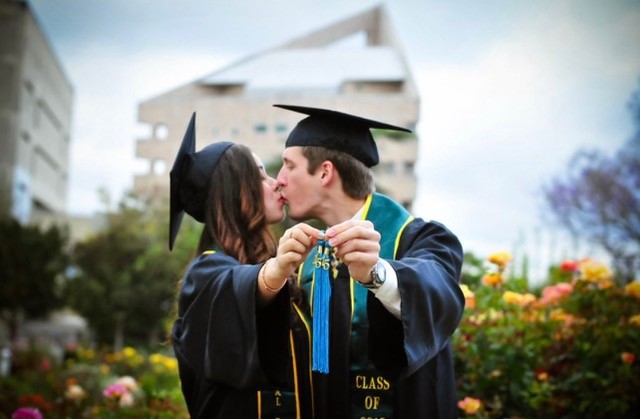 Christopher & Raquel

We met at the end of our freshman year, spring quarter 2012, at a Political Science Club meeting in the College of Letters and Arts and Social Sciences' (CLASS) building. Raquel was a board member of the club at the time and I mustered the courage to go up and talk to her. I learned that we shared the same major and she minored in Business Law. I eventually "copied" her minor, as she jokes to this day, and from then on we took almost all the same classes together. Later, I was able to convince her to work with me at Cal Poly Pomona's Annual Fund. She later became the ASI Senator for CLASS and I became the president of the Poli Sci Club. 
We became great friends! After spending most of my days with her in classes, to almost working all my evenings with her on campus, I knew she was the one for me. We enjoyed each other's company almost every minute and did not get sick of each other. We officially became a couple in November 2013 and graduated together in June 2015. Nine years later the love is still strong, and we recently became engaged! Presently, we live on the east coast near Baltimore and D.C., but we make regular trips back home to SoCal to be with family, see friends and fellow Broncos, and of course visit CPP!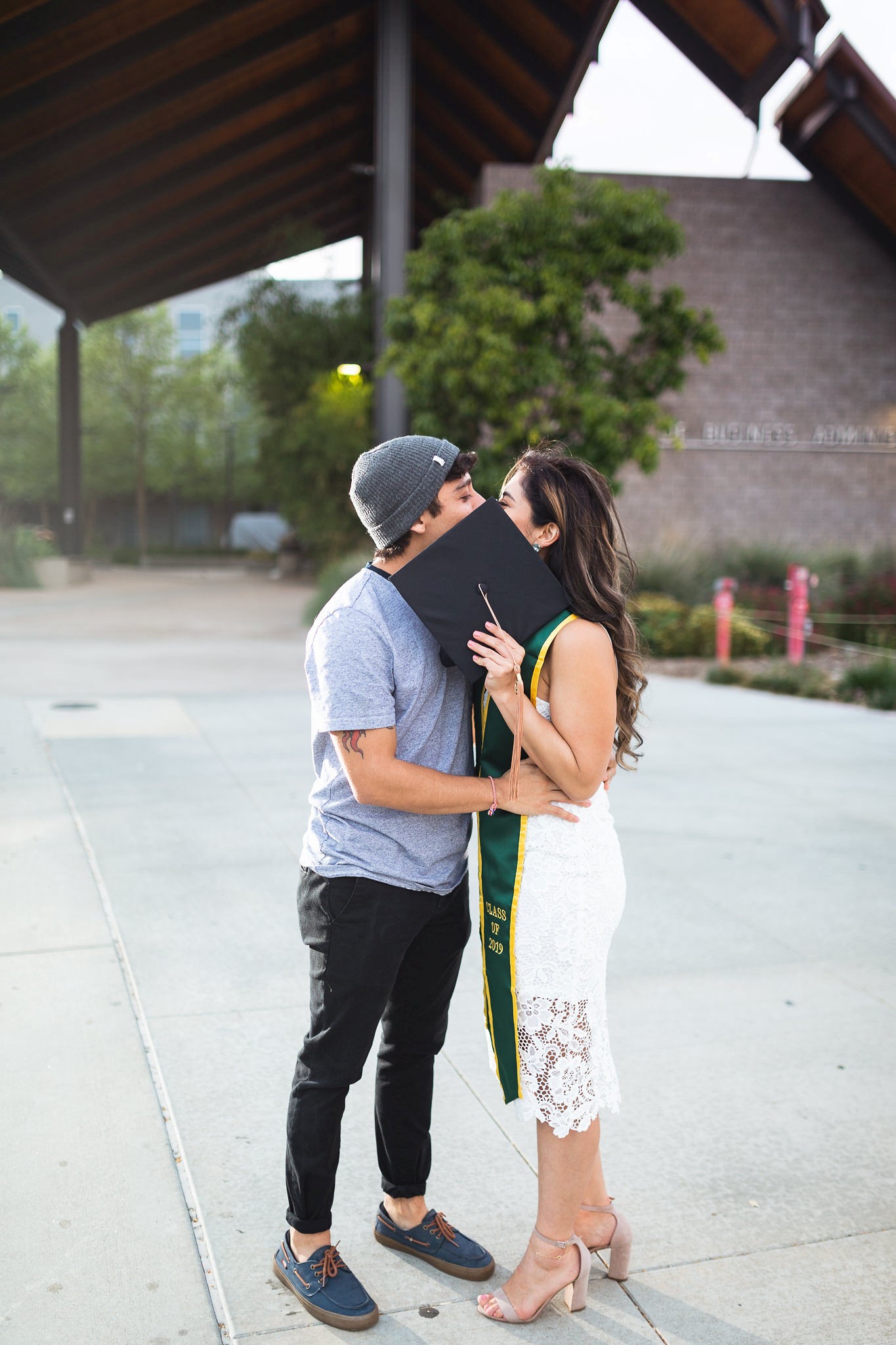 Larissa & Jose

My name is Larissa (Class of 2019) and my boyfriend's name is Jose (Class of 2021). We met at Cal Poly Pomona in 2018.

How we met: Funny enough I got out of class early one day so we could go visit the CBA 50th anniversary event in the Rose Garden. That's where I first saw Jose at an LBSA booth. I knew I had to see him again, and funny enough we actually had a class together and he sat a few seats behind me and we didn't even know it. Our first date was a fun hike up to the CPP letters where we got to look up at the stars and talk for a few hours.

We've been going strong ever since!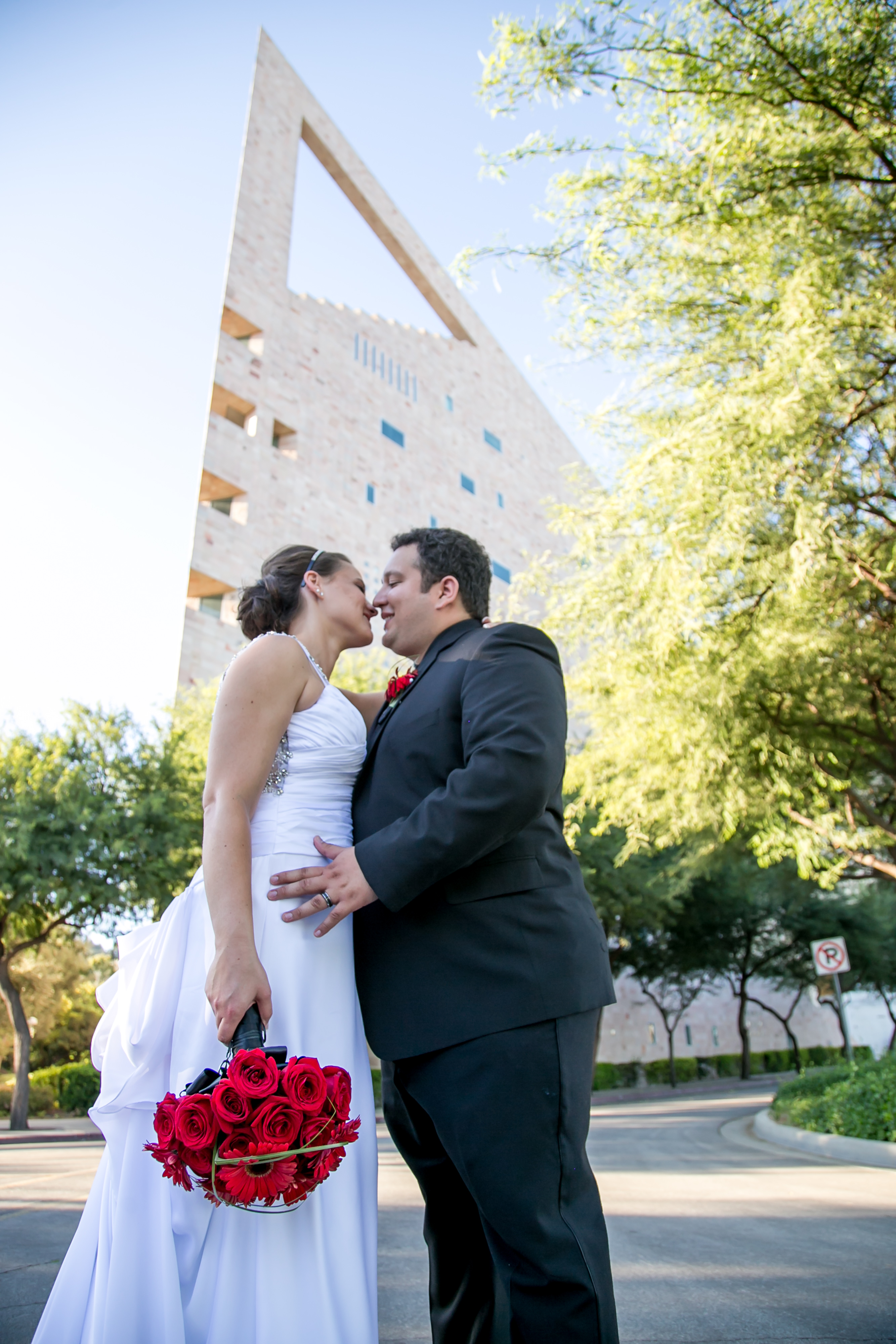 Lily & Erik

My husband and I met at Cal Poly our freshman year (May 1st, 2010) in the Newman Club, aka the Catholic club. He was studying engineering while I studied Food Science. We were both going to an event called the Faith Olympics, which was a single day Greek olympic inspired event between Newman clubs in the LA/OC area, and we happened to be in the same carpool. We met in the car on the drive over to the event and immediately clicked. We spent the entire day hanging out and getting to know each other, and the other club members didn't believe us when we told them we had only just met that day. 
That summer we spent our weekends driving back and forth between Covina, where my husband is from, and San Diego, where I grew up. We dated for the rest of our time at CPP and eventually get married in the summer of 2015. Our wedding photos were taken in the Japanese garden, and our reception was held at Kellogg West. We even served kegs of beer from Innovation Brew Works at the bar!
Our time at CPP played such a huge part in our relationship. We have so many good memories there, from first meeting each other, to playing co-ed intramurals, hanging out in the suites, and even having a class together. Cal Poly will always have a special place in our hearts.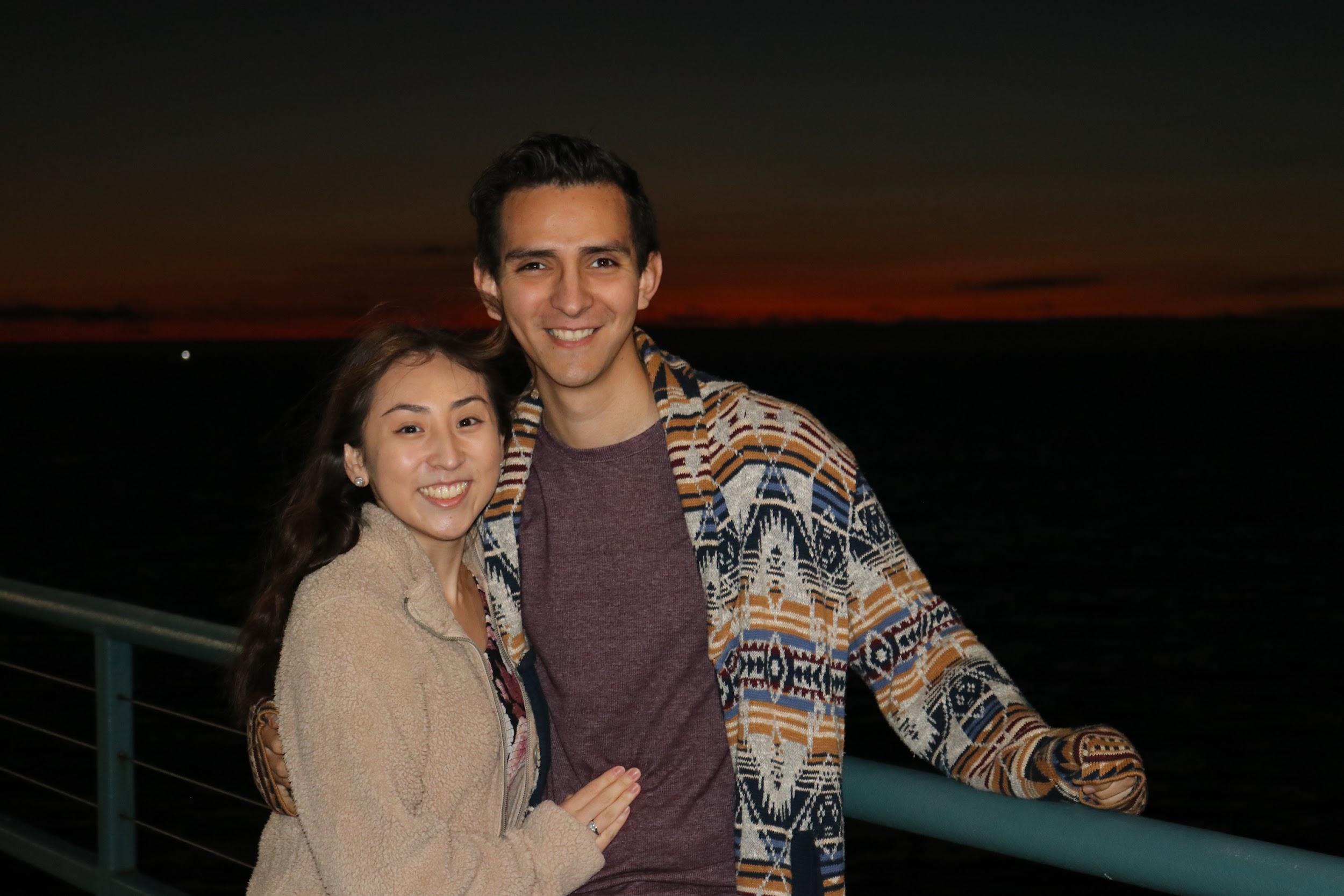 Dana & Alex

In the Fall of 2016 we commenced our journey at Cal Poly Pomona but little did we know that we would meet the love of our lives that year. We met in Professor Casey's freshman english class during our first quarter where she encouraged us to connect with our other classmates. After class that day Alex decided to ask for my number.
He then proceeded to ask me to go to lunch with him (sadly I said no). I remember he would also walk me to my car even if it made him a little late for his next class; he would then run off to try to make it on time. Although we did not get together during that time, Alex left a positive impression on me, that would make the difference in the years to come.
About 4 years later in March 2021, with no contact since freshman year, we noticed each other online on Facebook Messenger and I casually told my sister about him that night. The next night, out of nowhere Alex decided to send me a message. It seemed crazy that we had both thought about each other around the same time!
A lot had changed in that time but we decided to meet up later that month when he visited home from the Air Force. We met, we laughed, and the rest was history.
We have since been together in a long distance relationship for a year and a half and making plans for a future together when he completes his commitments with the Military. We are happier than we could have ever imagined and are eternally thankful for professor Casey who facilitated our interaction. Love is sometimes hidden in the places one least expects.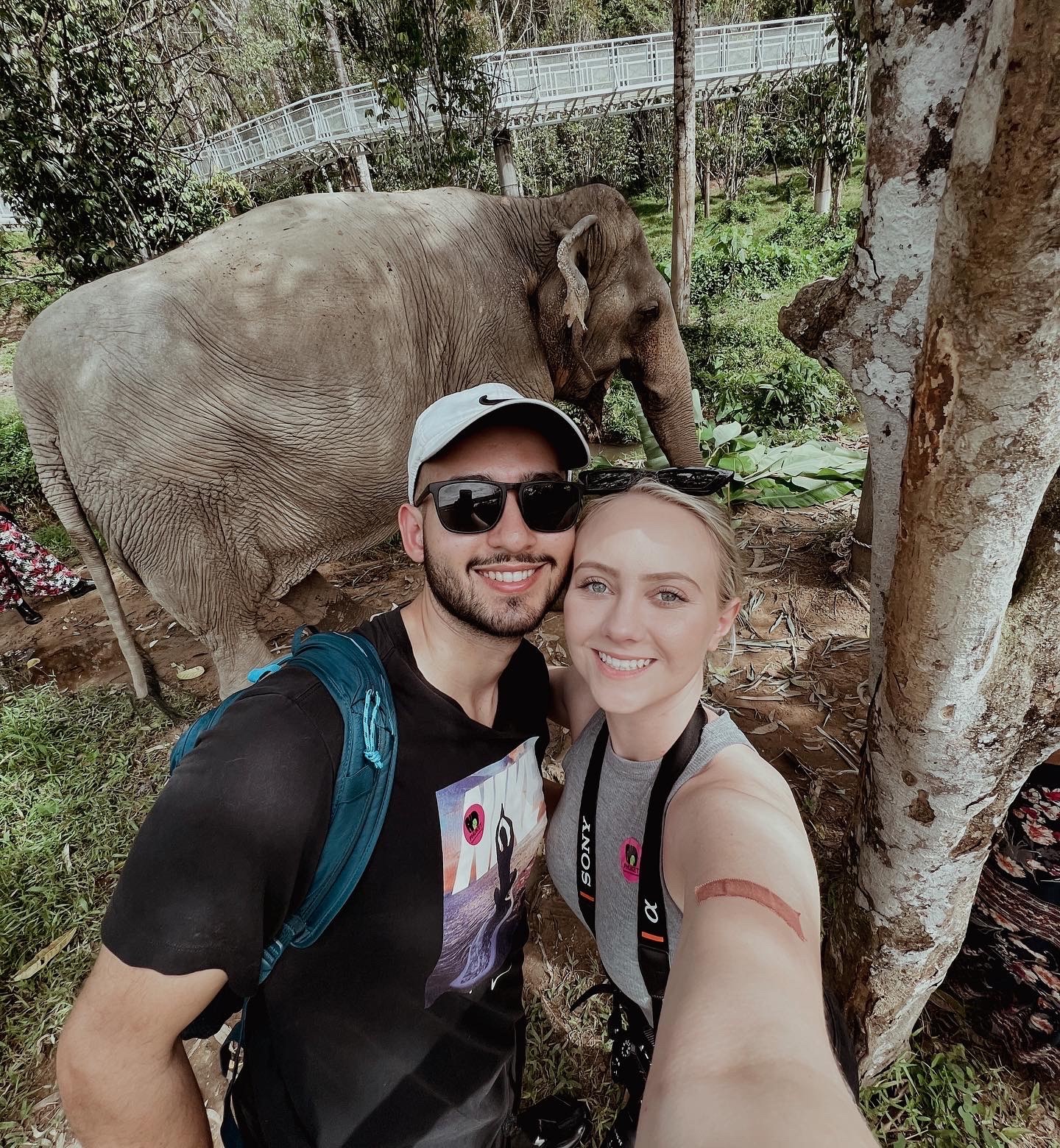 Catherine & John

I met John at the CPP Village on January 31st, 2021. Campus was still mostly shut down following covid outbreaks from the holidays, but we both happened to be there. He was playing basketball with his friends… well, as much as he could with a broken wrist. I was there trying to find interviewees for a video story I was doing for The Poly Post. Inevitably, John was one of the students I interviewed, and the rest is history! 
I graduated in May 2021 with a Communications; Multimedia Journalism degree. John graduated in December 2021 with a Mechanical Engineering degree.
We dated, got engaged and finally got married on 11.12.22. We got married in beautiful La Jolla and honeymooned in breathtaking Thailand!!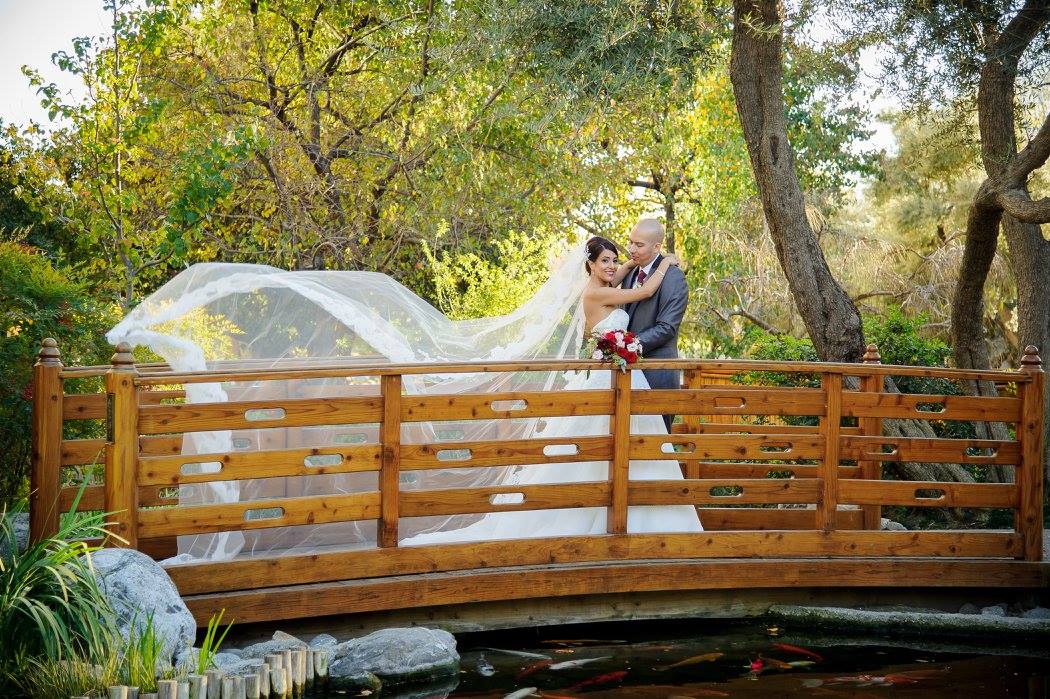 Alex & Natalie

Alex and Natalie met at the crosswalk going towards to parking structure in 2018. He proposed at the Japanese garden 8 years ago. I said "I love you" 1st on the CLA building!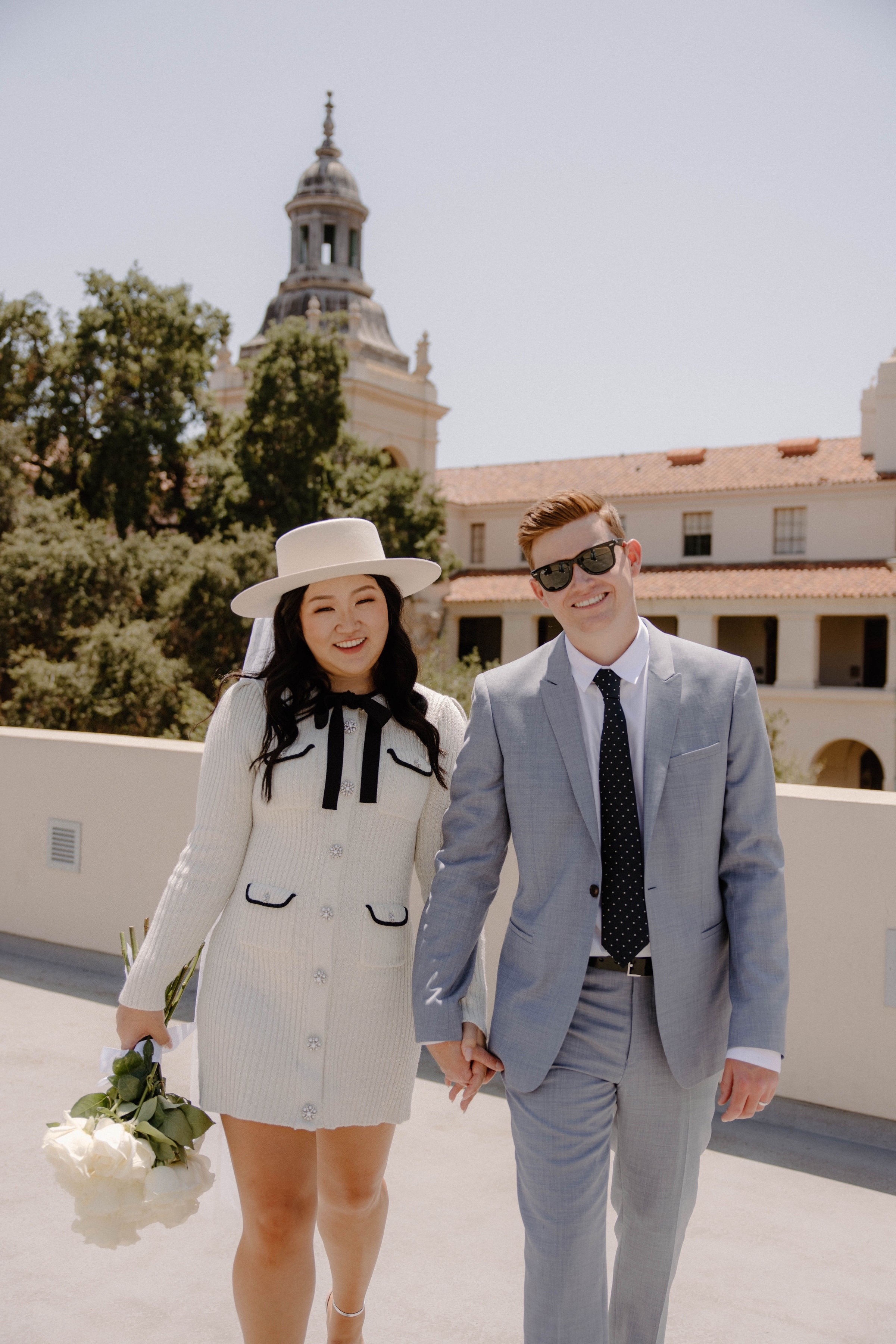 Grace & Michael

Grace and Michael met as two freshmen at Cal Poly Pomona in their first class ever. Upon walking in, Grace was immediately drawn to his surfer hair and white Sony Vaio laptop and chose her seat next to his. Michael was always at least 10 minutes early to class and Grace was ALWAYS 10 minutes late, so he always saved her a seat. After many hours spent together on group projects that semester, they lost touch for three years as they pursued different studies — Michael majored in Business and Grace in Communications. After passing each other on campus one day, Grace asked Michael to get lunch. Michael saw this as an opportunity and turned a casual catch-up lunch into their first dinner date. And the rest is history… #FunFact: Michael used to pack Grace dinner every night during their last semester since she had classes all day until 10pm. She still thinks he makes the best turkey sandwiches to this day!
Grace and Mike got married on June 14 last year and have two four-legged children, Freddie and Max.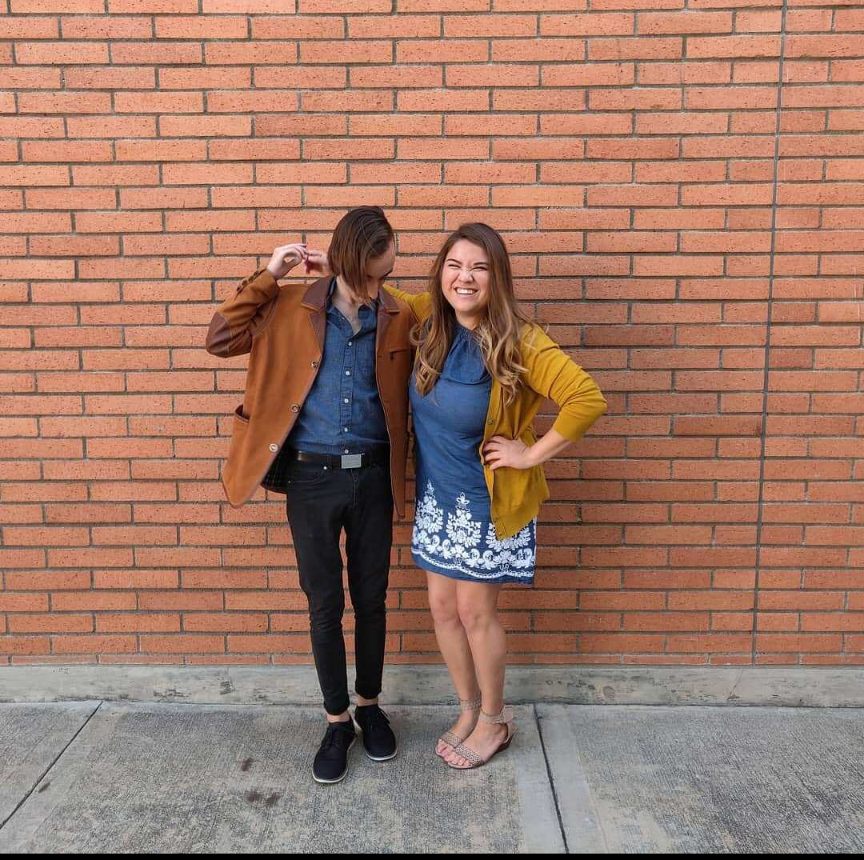 Hallie & Sean

My partner and I of 4 years met at CPP. I was a transfer Music Ed major in 2018 and Sean had been attending CPP for three years as a music major as well. Sean is a guitarist and was always a stage manager so I got to know him through our string classes and at concerts that first Fall semester.  He would also pop in to jam with our string ensemble class. (which would drive me insane) The next semester, he joined that string ensemble class and was an invaluable violist to our ensemble... so I couldn't be that mad. We also had Performance Seminar together that semester and that's where I really started to get to know Sean. I really admired what a fantastic musician he was and still is.  We started talking a little more and grabbed lunch together a few times. We both attended a grad party at the end of that semester, I went to the party with someone else but found Sean there and instantly knew that I came to that party with the wrong person.  About a week later, I called Sean to let him know that I had planned our first date and to pick me up the next day at 7 am.  And the rest is history!