Wendy Sullock Rogers '88 Architecture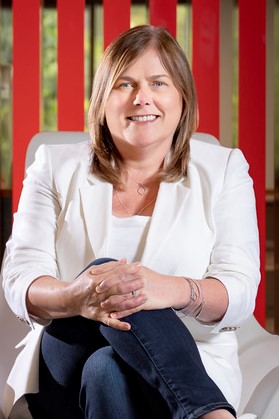 At age 7, a very young Wendy Rogers discovered her calling on a visit to a new home under construction in Studio City. A friend of her father's was the architect.
"That visit changed my life," Rogers says. "I knew I would become an architect."
Of the three California universities that offered architecture majors, Rogers chose Cal Poly Pomona. It was affordable, so she could keep a part-time job and commute to school for classes.
"Michael Folonis was my first- and fourth-year studio instructor," Rogers recalls. "He had a reputation for being tough. He challenged me to think about design differently. Fred Koeper, who taught architectural history, was brilliant and terrifying as well as a stickler for details."
Rogers says Cal Poly Pomona taught her to think conceptually and to solve problems. The architecture degree is a highly competitive, five-year program.
"I appreciate that Cal Poly Pomona makes this commitment," Rogers says. "It is still the most affordable architecture program in the state, and in my opinion, the best in the state. It also is the most diverse. This university is reaching students who would otherwise not be able to pursue this profession."
Rogers was named outstanding second-year student and was one of six students named a President's Council Scholar. She graduated in 1988 after completing an internship at LPA Design Studios in Irvine. The company president hired her, and she has remained there for her entire career. In 2017, Rogers was appointed CEO.
"At LPA, we are changing an industry," she says. "Our team of architects, landscape architects, interior designers and engineers work together to achieve more informed, higher performing designs. We use research and data to develop sustainable design strategies for long-term environmental benefits. We are changing lives by design."
Rogers is a member of the program's advisory committee, and LPA has supported an integrated studio on campus.
Rogers and her husband, Scott ('84, Architecture), have two children and live in Anaheim Hills.