The College of Education and Integrative Studies is a learning community focused on meeting the present and future needs of students in our communities. We educate students to become highly qualified and significant leaders in our society. We are committed to the principles of diversity, ethics and social justice, and life-long learning. Central to our mission are innovative and integrative thinking, reflective practice, collaborative action, and learning by doing.
A Donor Provides Funding to Support Equity and Social Justice in Schools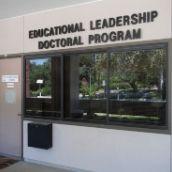 The Department of Educational Leadership in the College of Education and Integrative Studies will utilize donated funds to develop a report to be used to promote equity and social justice in K-12 schools.
Barbara Nakaoka, a retired school superintendent and current adjunct professor, provided the funds for the project, which is a nod to the importance of equity-minded leadership.
"The ultimate goal of this project is to address systemic racism and promote social justice through culturally responsive leadership," said Professor Betty Alford, chair of the Department of Educational Leadership.
The research team, which includes professors Betty Alford and Richard Navarro, along with assistant professors Taylor Allbright, Liane Hypolite and Eligio Martinez, will explore ways that educational leaders are seeking to promote and sustain racial understanding and justice. The group also will illuminate successful strategies from the perspectives of graduates of Cal Poly Pomona's Educational Leadership Doctoral Program, a program with a strong focus on social justice.
"This is a great moment to really do something significant to help all leaders in the school community," said Nakaoka. "Dr. Alford and her research team's approach to look at the needs, best practices, concrete steps forward, and a platform for further positive discussion and action to sustainable systematic change, is a thoughtful and practical way to catapult us to addressing this issue and getting results."
The research project is set to launch in August after CPP Institutional Review Board approval, with initial data collection through focus group interviews with Educational Leadership Doctoral Program graduates followed by individual, in-depth interviews regarding particular issues and promising practices. 
The findings of the report will be disseminated through an institute for educational leaders as well as through conference presentations and printed materials. For more information about the project, please email Professor Betty Alford at btalford@cpp.edu.