CPP Student RSCA Conference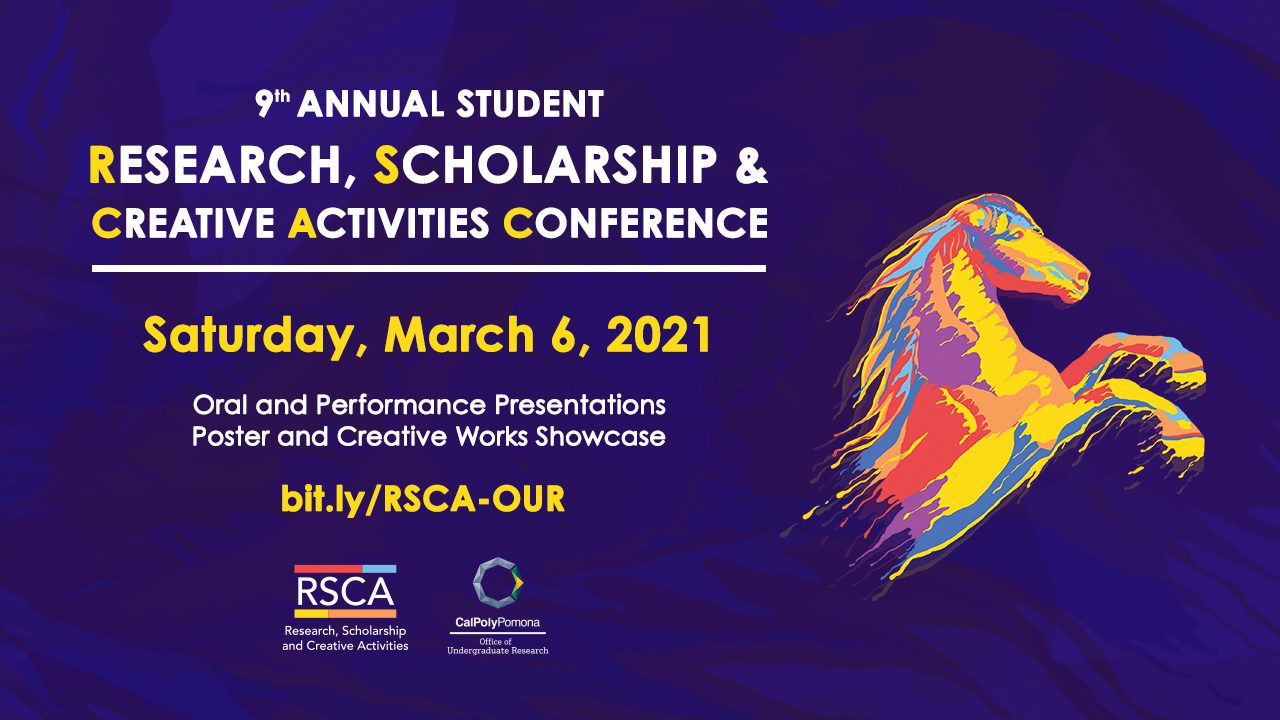 ---
Welcome to the 9th Annual
Student RSCA Conference
March 6, 2021
Virtual Event with Zoom Meeting Rooms
Time: 9:00 AM - 3:30 PM
The Cal Poly Pomona Student Research, Scholarship & Creative Activities Conference (CPP Student RSCA Conference) is an annual event that provides an opportunity for our undergraduate and graduate students to share their original research, scholarly and creative activities. All disciplines are represented – this is an opportunity to see CPP students at their best. Students who participate in this conference have the opportunity to be selected to represent CPP at the annual CSU Systemwide Student Research Competition.
This event will be held synchronously with presentations by student presenters followed by a Q&A for each project. Projects will be grouped by discipline categories and into sessions with up to 10 projects. There are two presentation formats students can choose from:
1) An Oral and Performance Session presentation with a pre-recorded 8-minute PowerPoint presentation that is played over the Zoom Meeting platform, followed by a live (virtual) 4-minute Q&A.
2) A Poster and Creative Works Showcase panel with a
2-minute elevator pitches by student presenters with a 3-minute Q&A after each presentation. 
After each student has had the opportunity to present, there will be a general discussion where presenters and audience members can ask follow-up questions and learn more about the student projects.
The Michi and Walter Weglyn social justice session invites papers that address how social justice is considered in your research. What is the social, political, cultural, economic, technological and scientific impact of your research in promoting equity and justice? The Weglyn award will be given to one research paper that has a clear intersectional approach in addressing social justice broadly defined. Weglyn is especially interested in projects that addresses resistance, resilience, and perseverance through collective action. Five $100 awards will be given out to research projects from all majors and one $100 for performing arts research. All projects are welcome from all disciplines and all creative and performing art submissions must meet the requirements for the Student RSCA Conference. Possible examples:
An engineering student can work on research that gives access to clean water to impoverished communities, addressing environmental racism and ecological inequalities for social justice.

Students in social sciences or humanities may look at the growing Black Lives Matter movement and its impact on identities.

Students in the performing arts may perform (music, theater, spoken word) write original poetry or a short story, or create imagery (graphic design, paint, etc.) for consideration.
Please select the cards below to learn more about and apply to present at the conference. The campus community is welcome to participate and we encourage student presenters to invite their family and friends to see them present their research projects. Contact the Office of Undergraduate Research at our-cpp@cpp.edu with any questions or concerns.
Current Conference
Past Conferences