Student Health (Medical) Services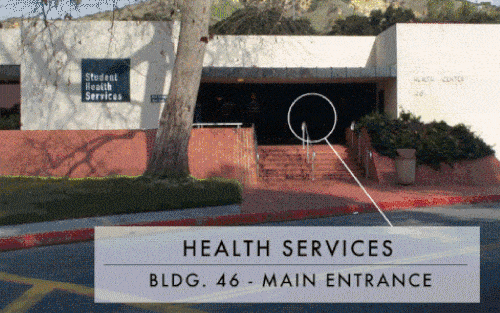 Let Us Keep You Healthy!

No matter where your illness or injury occurred, know that you can use our services as a Cal Poly Pomona student. Most of what we offer is at no charge to you. And whatever is at low cost is priced at our cost, and not marked up like outside facilities. Take advantage of what you pay for with your health fee.
Coronavirus (COVID-19) Update

February 27, 2020
Cal Poly Pomona medical personnel continue to monitor the latest information from county, state, national and worldwide health officials regarding Coronavirus (now called COVID-19).  The number of cases in the U.S. remains low, but public health experts expect that more cases will be identified and that the disease will become more widespread.  As of this time, there is no immediate threat to our campus or the general public, and people should continue to engage in their regular activities.
The following steps are recommended to prevent the spread of all respiratory infections, including COVID-19:
Wash hands regularly with soap and water for at least 20 seconds. If soap and water are not available use alcohol-based hand sanitizer

It is especially important to clean hands after going to the bathroom; before eating; and after coughing, sneezing or blowing your nose

Avoid touching eyes, nose, or mouth with unwashed hands
Avoid close contact with people who are sick
Stay home from work, school, and avoid other people if you become sick with respiratory symptoms
Cover your cough or sneeze by using a tissue, then throw the tissue in the trash
Clean and disinfect frequently touched objects and surfaces
Travel advisories related to COVID-19 have been issued for various parts of the world. If you have plans to travel abroad or domestically, see recommendations from the U.S. Centers for Disease Control here:
https://www.cdc.gov/coronavirus/2019-ncov/travelers/index.html
 If you have FEVER, COUGH, or TROUBLE BREATHING and you traveled outside of the United States, or had close contact with someone who recently traveled outside of the U.S. and was SICK, seek medical care right away. Follow these steps:
Make sure you CALL the medical clinic (including Student Health) before you come in to let them know that you are ill and that you traveled or had close contact with someone who traveled recently outside of the U.S.
Isolate yourself from other people and animals (like pets in the home)
Wear a facemask
Cover coughs and sneezes
Wash hands often
Avoid sharing personal household items
Clean and disinfect frequently touched objects and surfaces everyday
If you suspect you are sick with COVID-19, click here:
https://www.cdc.gov/coronavirus/2019-ncov/downloads/sick-with-2019-nCoV-fact-sheet.pdf
For more information about COVID-19 click here