News & Events
Tutoring services are being offered in both fully online and hybrid formats for Fall 2021. Email

 lrc@cpp.edu 

for general questions and visit

 CPP Connect 

or 

lrcscheduling@cpp.edu 

to make an online appointment. 
Tutoring is available Monday-Thursday, 9:00 a.m.-7:00 p.m. and Friday 9:00 a.m.-5:00 p.m. through Zoom. 

See Zoom Instructions to get started in LRC's online tutoring service. You may find a list of available courses through visiting CPP Connect or by clicking on the Available Courses link.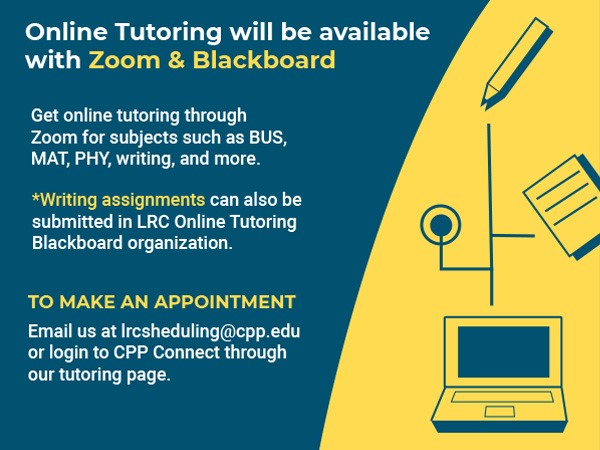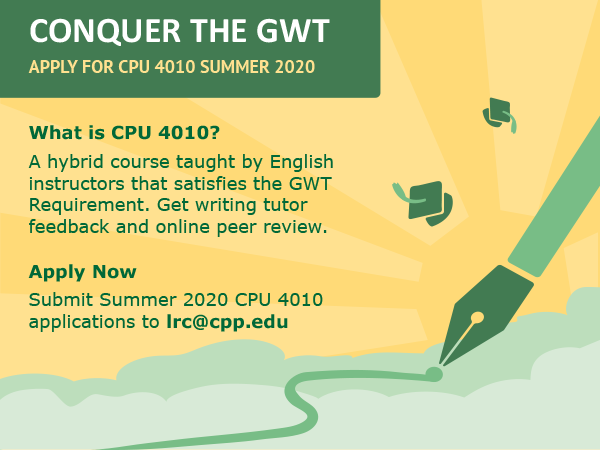 Submit Summer 2020 CPU 4010 applications to lrc@cpp.edu. 
Due to COVID-19
, the GWT requirement has been suspended as a condition of graduation
 for spring 2020 and summer 2020.  If you have questions about the GWT, please email studentsuccess@cpp.edu.