Current B2D Student Participants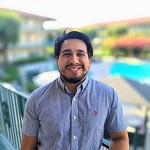 Will Cruz is a Master's student at Cal Poly Pomona, who is interested in biochemistry. Originally, from central California, he has been in the Pomona area for about four years. On his free time, he enjoys the outdoors, usually through hikes and camping. Another interest is learning about different cultures and learning different languages, with his current language goal being German. He is currently working in Dr. McCulloch's lab, studying the enzyme BaiCD.  Research Description: "The gut flora plays an essential part in aiding organisms digest their food efficiently; however, microbes also breakdown other molecules that can produce unnecessary, and sometimes harmful, products. An example of this is Clostridium scindens' conversion of primary bile acids to secondary bile acids. The enzymes needed for the metabolism of primary bile acids are encoded in the bile acid inducible (bai) operon. Will's current study focuses on the purification of the BaiCD enzyme. This enzyme takes part in an intermediate step with coenzyme NAD+; it is postulated that a double bond is added, priming the intermediate for the next enzyme, BaiE, resulting in dehydration at C7. The current goal is to purify the BaiCD enzyme so that a stable crystal can be formed and analyzed. A resolved 3-D structure of BaiCD will give insight into the catalysis of primary bile acids to secondary bile acids."

Nathalie Nadales is a Master's student in Dr. Nancy Buckley's laboratory at California State Polytechnic University, Pomona. Nathalie has a B.S. in Biology from Cal State Northridge. During her undergraduate studies, she was a MARC scholar and conducted cancer research, where they established the utility of an immune-competent tumor cell-free model for characterizing the mechanisms of breast cancer cell priming of the premetastatic niche and LCN2 as a promising therapeutic target for blocking breast cancer progression. For her graduate work, she will be investigating the effects of cannabinoids on the resistance to systemic Candida albicans (C. albicans) resistance in immune competent and immune compromised male and female mice. C. albicans is an opportunistic yeast pathogen that can cause invasive or systemic candidiasis and is a major cause of morbidity and mortality in the hospital setting. After obtaining her MS in Biology, Nathalie plans to pursue a PhD in Biomedical Sciences and contribute to the biomedical field, specifically cancer research. When Nathalie is not conducting research, she enjoys long hikes and a nice cup of coffee.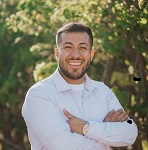 Christian J. Ordaz is a first-year graduate student at California State Polytechnic University, Pomona, in Dr. Nancy Buckley's laboratory. Christian has a B.S. in plant science with a focus on pest and disease management, served in the United States Marine Corps (USMC), volunteers as UCCE Master Gardener, and is a husband, and father of two young boys. His undergraduate research experience includes identifying the potential pest and disease threats on production and economy to California's coffee-growing industry. For his graduate work, he was inspired to switch to biomedical research because his wife is currently undergoing cancer treatment. Under the supervision of Dr. Buckley, he will be investigating garlic's influence and mechanisms of action on the immune system. His short-term plans include spending time with family, coaching soccer, and researching how biological dietary supplements can support the immune system. His long-term plans are to promote and support underrepresented students to pursue higher education and help discover effective natural cancer therapies.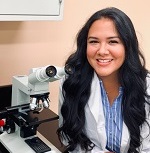 Ashley Ramirez is a first-year Master's student at Cal Poly Pomona. She enjoys being outdoors, especially in the mountains where she can be surrounded by pine trees. Ashley obtained her Bachelor's of Science in Biology with an emphasis in Microbiology at Cal Poly Pomona. She is currently conducting her  Master's degree research in Dr. Mercer's Parasitology Immunology research laboratory, in which they study the interactions between the parasite, Trichomonas vaginalis (Tv), and a type of white blood cell called neutrophils (PMN). Tv is a flagellated unicellular parasite responsible for causing the highly prevalent and understudied infection, trichomoniasis. However, the immune response to the parasite remains poorly undercharacterized. Her research project is determining whether PMN cell surface opsonin receptor, FcϒRIIa, a constitutively expressed IgG receptor, is required for trogocytosis of Tv. Additionally, She is determining the fate of these trogocytic bites of the parasite, within the neutrophil by studying whether PMN lysosomes are necessary for the digestion of Tv material, and sustained trogocytosis. Ashley's future goal is to teach and become a Principle Investigator at the university level where she can carry out vaccine development research and help spark a passion in underrepresented students to pursue the biomedical sciences.